NIU Alumni Association Announces 2022-2023 Board of Directors and Officers
The board elected Richard Escalante, '74, M.A.P.A. '78, as president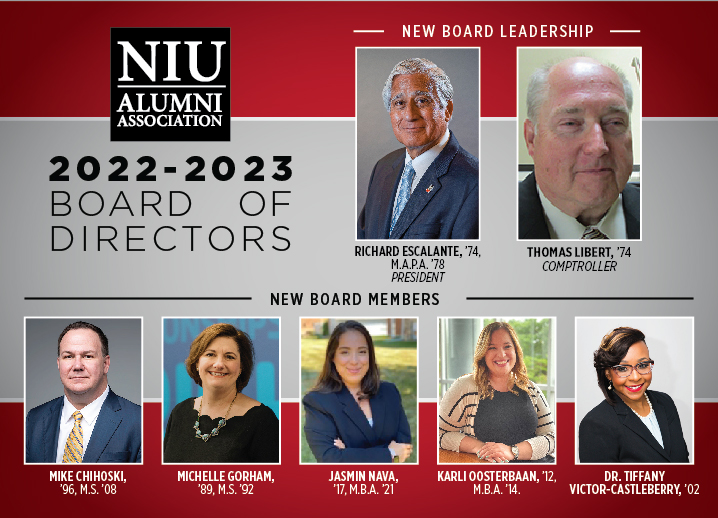 Richard Escalante, '74, M.A.P.A. '78, was elected by his peers and assumed duties as the NIU Alumni Association's board president on July 1, 2022, following his two-year term as vice president.

Escalante succeeds Joseph Sener, '93, M.S. '10, who will serve as the immediate past president. Sankat Patel, '00, remains as vice president, while Thomas Libert, '74, will serve as comptroller, succeeding Michael Hughes, '92, M.A. '93.

Joining the board were Mike Chihoski, '96, M.S. '08, Dr. Tiffany Victor-Castleberry, '02, Michelle Gorham, '89, M.S. '92, Jasmin Nava, '17, M.B.A. '21, and Karli Oosterbaan, '12, M.B.A. '14.

"I am so thrilled to introduce the new members of our NIU Alumni Association Board of Directors," said Executive Director of Operations and Alumni Engagement Reggie Bustinza. "These gifted individuals bring unique skillsets and perspectives to our organization, and I look forward to seeing all they will add to the mix."

"Our goal remains the same as it has been for many years—we want to build lifelong relationships with NIU alumni and friends and create opportunities for connection and interaction with the University community," Bustinza said. "I have no doubt that this group of directors will be able to help unite our alumni more than ever. Our future is bright, and I am excited about where they will lead us."

All new appointees began their term on July 1.
NIU Alumni Association
Board of Directors
OFFICERS
President: Richard Escalante '74, M.A.P.A. '78
Immediate Past President:
Joseph Sener '93, M.S. '10
Vice President: Sankat Patel '00
Comptroller: Thomas Libert '74
Secretary: Reggie Bustinza

BOARD MEMBERS
Marlo Barnett M.S.Ed. '12, Ph.D. '17
Kimberly Buchanan '95, M.A. '98
Michael Cahill '12, M.A.S. '13
Mike Chihoski '96, M.S. '08
Chad Fitz '01, M.A.S. '02
Michelle Gorham '89, M.S. '92
Paul Green '81
Pat Gregolunas '77, M.S. '11
Kristin Hamblock '08, M.B.A. '15
Marlon Haywood '10, M.S.Ed. '12
Donald Hubbartt '96, M.B.A. '01
Marty Johnstone '09
William McCoy '92
Kimberly Moore '01, M.M. '04
Vinay Mullick '00
Jasmin Nava '17, M.B.A. '21
Peggy Norton-Rosko '87
Karli Oosterbaan '12, M.B.A. '14
Mark Pienkos '72, M.S.Ed. '74
Sherry Reynolds-Whitaker M.B.A. '09, M.S.Ed. '13, Ed.D. '16
Valerie Salmons '74, M.P.A. '77
John Tsaras '14
Dr. Tiffany Victor-Castleberry '02
Fred Vinciguerra '88