Gary Timmins, '12, Named NIUAA's 2022 Outstanding Young Alumnus
By Tony Scott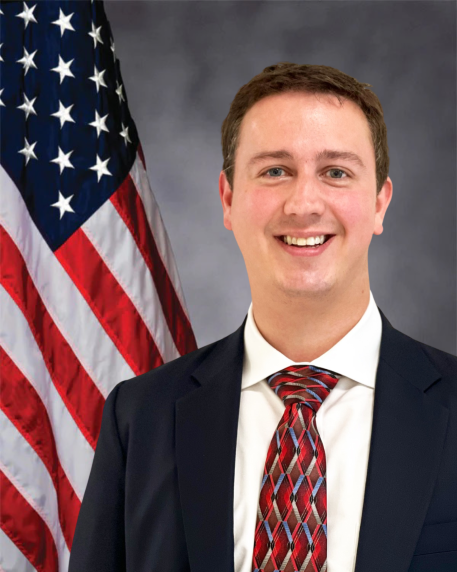 Gary Timmins, '12, a foreign affairs officer at the U.S. Department of State, is this year's Outstanding Young Alumnius Award winner.
Gary Timmins' career in government and public service began with a congressional internship through NIU.

"For as long as I can remember, I had desired a career where I could serve others -- although it really all began with NIU's Summer Congressional Internship Program," he said.

Timmins counts Christopher Jones, who at the time was the chairman of the Department of Political Science, as an impactful mentor.

"I think everyone has that one event or person that inspires and influences their life, and for me that was Dr. Christopher Jones and his U.S. National Security Policy course," Timmins said. "Had I not taken it, I would have never added political science as a second major nor applied for NIU's Congressional Internship Program, which ultimately launched my career in politics and foreign policy. I credit a lot of where I am today because of Dr. Jones and his mentorship."

His internship led to other opportunities, Timmins said.

"After interning for Congressman Mike Quigley, I sort of just never left," he said. "After the summer I came home and jumped on several congressional campaigns, which were fortunately all successful. I put my name in the hat to be Congressman Bill Foster's staff assistant and never looked back."

After many years working as a congressional staffer, Timmins joined the U.S. Department of State, where he currently serves as a foreign affairs officer.

"While the House of Representatives and the Department of State have their differences, there is certainly one thing that they do share -- the indescribable feeling that you are doing something positive for the greater good," he said.

It is because of his success and hard work that Timmins is receiving this year's NIU Alumni Association Outstanding Young Alumni Award.

Timmins grew up in suburban Melrose Park, Illinois, and moved to West Chicago, when he was about to begin middle school. His brother, Cody, received a bachelor's degree from NIU in 2018.

Timmins said the reason he attended NIU was because it was conveniently located in proximity to his family's home. He lived on campus all four years, living in Stevenson Towers. During his senior year, he was a transfer house leader for Stevenson Tower B4.

His time at NIU produced many memories, but he was especially inspired by his time being part of the Army Reserve Officer Training Corps, or ROTC, program.

"One of the most memorable experiences I had was the Army ROTC program," he said. "Understanding at the time that I wished to pursue a career in public service, the battalion leadership allowed me to complete all four years of the program, which would normally require a contract. Although I did not commission upon graduation like many of my peers, the knowledge and experience gained by helping to lead a cadet battalion were instrumental in shaping me to be the person I am today."

Also during his time at NIU, Timmins participated in the Political Science Department's Student Advisory Board, Model United Nations, the NIU at Oxford Study Abroad Program, and the International Honor Society in Psychology, Psi Chi.

"I was also selected as a delegate to the Student Conference on U.S Affairs (SCUSA) at West Point, which was certainly one of the highlights of my undergraduate career," he said.

Timmins is greatly appreciative for receiving this year's award.

"I credit a lot of where I am today because of Northern Illinois University and have tried to give back as best I could," he said. "I've been overwhelmed with appreciation to have been selected to receive my alma mater's Outstanding Young Alumnus Award, and I thank Matt Streb, Andrea Radasanu, and Anna Quider for their mentorship. There's a phrase we used to use a lot during the Army ROTC program here, which is Huskies Lead the Way, and it's certainly true."