Entrepreneur Jim Wong, '92, Honored With Alumni Achievement in Business and Industry Award


By Eva Richards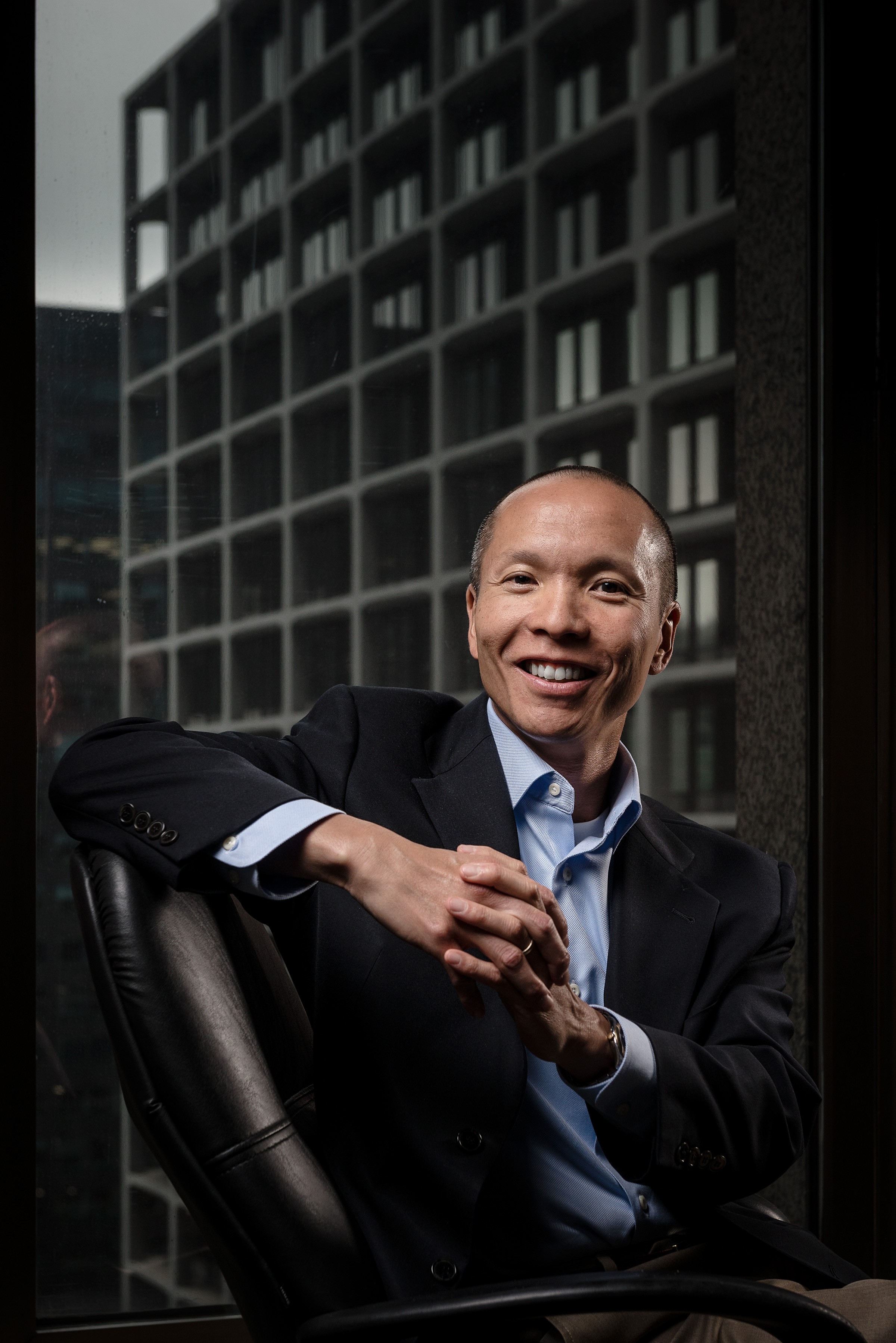 IIn the last 20 years, Jim Wong, '92, has started and grown two companies to successful exits with strategic and private equity companies.
Growing up in the northern Chicago suburbs, Jim Wong, '92, was not a stellar student, but his work ethic could not be matched when he believed in an idea. An innovator by nature, Wong was always searching for his next business or service venture.

"As a kid, I always had an entrepreneurial mindset. My grandparents were small-business owners, having owned restaurants before I was born. They lived with me, and I liked to ask them questions about that," he said.

In elementary school, Wong ran neighborhood businesses, like lemonade stands. Then, when one of his closest friends in grade school was diagnosed with leukemia, he decided to take on a larger project to help the child's family.

"I organized a neighborhood carnival in third and fourth grade to raise money for leukemia," he said. "I asked local businesses and convenience stores for donations, and people would come and spend money, play games and win prizes. I took the money we made and gave it to the family of my friend, who eventually passed away. They would donate it to leukemia research. Even then, I felt a passion for building something and starting something."

As a student at Maine East High School in Park Ridge, Illinois, Wong was motivated by competition, and he played basketball and baseball until injuries counted him out. When he quit playing, the new time in his schedule allowed for more business-minded planning.

"I started working in various jobs at a very young age," Wong said. "I worked in restaurants as a busboy and then a buffet manager, before working at a dry cleaner. There, I really started to learn about business itself, and I learned about customer service, production, keeping operations efficient, profitability, inventory management and accounts receivable. All those things really started to show me that that I had a passion for business and a passion for owning my own business."

That passion has served Wong well during the last two decades. Since 2001, he has started and grown two companies—known for their great people, sound business plans and accountable execution—to successful exits with strategic and private equity companies. Wong is the former CEO and founder of Brilliant, which is an award-winning search, staffing and management resources firm specializing in accounting, finance and information technology for the Greater Chicago area and South Florida labor markets. In 2018, Wong successfully sold the company to a Private Equity firm. Now, serving on Brilliant's board of directors, as well as on the boards of several middle-market companies, start-ups and nonprofits, he also works as a partner at WW Advisors, LLC, providing companies with strategic and management consulting. Wong also actively invests in middle-market and start-up companies.

Known as the ultimate connector, Wong has paired an enormous number of employers with candidates to fill some of the best accounting and finance opportunities in the country. His innovation, non-stop work ethic and business track record speak for themselves. In a formal luncheon next month, Wong will accept the NIU Alumni Association's Alumni Achievement in Business and Industry Award.

Always one to follow his own path, Wong had no plans to go to college. Instead, he worked full-time as a manager at a dry cleaning company after high school and planned to own multiple dry cleaners one day. As luck would have it, a run-in with an enthusiastic college student changed his fate.

"One of my older brothers' very good friends went to college and became a CPA. He worked for one of the "Big Four" public accounting firms. I was sharing with him my desire to be a business owner, and as we started talking, it was really clear that I felt comfortable with customer service, marketing, advertising and operations. The business areas that I felt I was weakest in were accounting and finance," Wong said. "He really encouraged me to start at least by going to community college and taking basic business and accounting classes. That was the start of it."

When Wong enrolled in night classes at Oakton Community College in Des Plaines, he realized something important about himself.

"I found that, when I am interested in something, I can become a good student," he noted.

After earning his associates degree, Wong knew NIU's accounting school was unmatched and decided to enroll.

"I felt NIU was the right fit for me because the students had more in common with me," he said. "Many of them were working jobs while being a student. At Northern these were hardworking students who were trying to balance college with work."

While at NIU, he met many impressive faculty, staff and students who furthered his network and taught him more about where he wanted to go with his career. Next, he headed to a coveted first job at Ernst& Young in Chicago, where he met his now-wife Kathy Harenza. Soon, however, Wong decided to get back in the dry cleaning business when he purchased a failing business.

"I ran into a dry cleaners equipment salesperson by coincidence who mentioned that he had a dry cleaner foreclosure, and did I know someone who might want to buy the business and turn it around. I started Signature Cleaners and took it from going out of business to being highly profitable before selling it in 1995," Wong said.

When Harenza decided to go to law school, Wong went to work for a very large recruiting company that placed accounting professionals and quickly became one of the top individual producers and recruiters. Wong then joined as part of management and eventually led their largest office in the country during his tenure from 1996-2000.

"By the time I left, I was responsible for the largest area in the country measured by people, revenue and profits," Wong recalled. "Being an entrepreneur, I knew I wanted more, and I decided to leave. I felt like there was a better way to do what they were doing. So, in 2001, I started Jackson Wabash Garelli & Wong, which was a headhunting and temporary staffing agency."

After growing the firm for five years, Wong sold the company to a $1-billion-dollar, publicly traded strategic buyer.

Then, in 2009, several of his former managers reunited to launch Brilliant.

"We had an outstanding team, and as a result, we were able to grow," Wong said. "Our management team was second to none, and the people they brought on in business development and recruiting were outstanding. They all steered the company where we were going. We had a vision. We knew there was a better way for staffing, and we would be the leader in every single market we served. And the mission was simple, as an organization—we wanted to make people's lives better."

Brilliant went on to immense success, being rated as the fastest growing Chicago business in 2015 by Crain's Chicago Business and the second-fastest growing staffing company in the country by Staffing Industry Analysts that same year.

Still, with his mounting successes, Wong credits NIU for helping him get his start.

"Looking back at my experience at NIU, the professors in the Department of Accountancy really helped me to understand the level of work and professionalism that I would need to bring into the corporate business world to be successful," he said. "Not only did they teach academically, but they really understood that a lot of us at NIU didn't have parents that came from professional backgrounds. They were great in imparting to us how the corporate world really worked. That was very helpful for me in all my business ventures."

For Wong, the NIU Alumni Association's award is a culmination of so many people's hard work.

"It's recognition for all the people who have helped me achieve my goals because there is not a chance I would have accomplished what I had without the support of the people I have worked with and my family," he said. "They deserve this recognition. For me, the award is really acknowledgment of my great colleagues and family support that I have received through the years."