Patterson Scholarship Puts Student On Path to Biomedical Research Success


By Tony Scott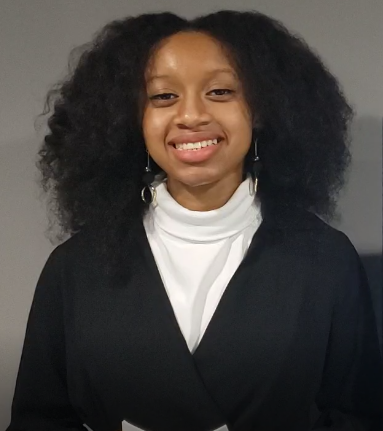 Brooke Benford is majoring in biomedical engineering who credits the Fanny Ruth Patterson Scholarship with motivating her to graduate and fulfill her goals.
Brooke Benford thinks she knew right away that she wanted to study biomedical engineering, her major at NIU.

"Ever since I was young, I was fascinated by the medical field," she recalled. "I remember one Christmas receiving a doctor's costume. I absolutely loved it and loved practicing my stethoscope skills on my patients (family members). During my senior year of high school, I took anatomy and physiology and remember having such a fun time studying the different parts of the body. I knew that in college I would study biomedical engineering which encompassed both my love for medicine and math."

Benford's ultimate goal is to have a career that she enjoys doing every day. She aims to graduate in May of 2023.

"I want to have a passion for what I do, which will keep me motivated to climb higher and work harder," she said. "My plan is to work at a biomedical company in the research and development department."

Benford credits her being awarded the Fanny Ruth Patterson Scholarship with helping her achieve these goals and motivate her to complete her senior year without having to worry about added financial stresses.

"I was truly appreciative to have received the scholarship," she said. "When I received the scholarship, I became more motivated to be successful and finish my senior year in school. To me, receiving the scholarship means that my hard work was being recognized and I would be closer to achieving my goals."

Growing up in Bolingbrook, Illnois, with her parents and two older sisters, Benford said a college education was always on her radar as a kid since both of her parents went to college. Her mom and two sisters have degrees from NIU. Her mother, Ann Lumpkins-Benford, '92, received a bachelor's degree in business, while her sister Brianna Benford, '19, received a bachelor's degree in biological sciences, and her sister Britany Benford, '19, received a bachelor's degree in art.

"My dad, Mark Benford, and my mom always wanted the best for us and to ensure we achieved the best for our education," Benford said of her parents. "I came to NIU because both my mom and two sisters received their bachelors from here. I decided to follow after them as they talked about the great experiences and opportunities they received from NIU."

While at NIU, Benford has been highly active in a variety of organizations, which have helped her build relationships and make connections.

"I have had a great time at NIU with building relationships, getting involved on campus, and having the chance to get experience with my major," she said. "Some of my favorite experiences here has been with my organizations John Henrik Clarke Honor Society (JHC) and the National Society of Black Engineers (NSBE). I joined the executive boards for these organizations and doing that taught me many skills that I've developed as a leader. They have also allowed me to make connections with people who encourage and help bring the best out of ourselves."

Benford said she wants her story to inspire future students, particularly Black women who are studying the sciences.

"To me it is very important that my story be told because I feel that it could help inspire the next female, the next Black, the next biomedical engineer, to strive for their dreams and never give up," she said. "When times are tough, you may find that support will come from places that you may least expect it."

Benford encourages donors to support the Fanny Ruth Patterson Scholarship to help students like her achieve their dreams. These students become alumni who pay their philanthropy forward.

"Their support will help to ease the struggles of the next generation of scholars," she said. "Our journeys through college may not always be easy. We face times that may leave us feeling a little lost. However, support can go a long way. Your support can help redirect us to find ourselves back on the right path. And when we find our way, we can eventually pay that same support forward. We want to create a pattern of helping each other and working together as a team."

The NIU Foundation is raising funds to ultimately help the Black Alumni Council fund the Fanny Ruth Patterson Scholarship in perpetuity. Click here to learn more and to give.