An Afternoon With The Expert, Featuring NIU Professor Victor Gensini, '08, M.S. '10
Sunday, Nov. 6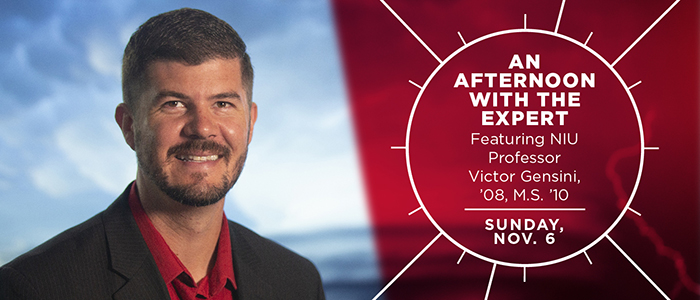 Join fellow NIU alumni and friends from 2-4 p.m. ET on Sunday, Nov. 6, in The Villages, Florida, as Victor Gensini, '08, M.S. '10, presents "Extreme Weather: The Science Behind Past, Present and Future Storms."

The event will take place at the SeaBreeze Regional Recreation Center, located at 2384 Buena Vista Blvd., The Villages, Florida 32162.

Dr. Gensini is a professor in the Department of Earth, Atmosphere and Environment at NIU. His research focuses on extreme weather (tornadoes, hail, heavy rain, heat waves) and climate variability.

Gensini has gained national media attention for his research predicting the likelihood of tornadoes, and he will share some of that research. He is also a key member of the University's Weather, Climate and Society Research Group, which studies how weather and climate extremes impact humans and our economy.

Network with fellow Huskies while enjoying light refreshments, beer and wine. There is no cost for this event, but RSVPs are appreciated.

Questions? Please contact Dana King, '05, at dking1@niu.edu or 815-753-5421.
Event Information
Cost: Free
Please RSVP so we know who is coming
When:
2:00PM - 4:00PM Sun 6 Nov 2022, Eastern timezone

Where:
SeaBreeze Regional Recreation Complex
2384 Buena Vista Blvd.
The Villages, Florida 32162
[ Get Directions ]
RSVP today!

The NIU Foundation follows the protocols and guidelines established by NIU regarding how to navigate the COVID-19 pandemic, which is based on the recommendations from the Centers for Disease Control and Prevention (CDC) and local public health organizations. NIU's protocols and guidelines are located at: www.niu.edu/protecting-the-pack.

The NIU Foundation and NIU Alumni Association recognize that the pandemic is, and will continue to be, a fluid situation and will abide by whatever mandates and guidelines that have been established at the local and state level.

We deeply respect and greatly appreciate our donors, alumni, community and friends. As we move forward – together – the NIU Foundation and NIU Alumni Association are committed to following the above guidance and making every effort to reduce any threat to everyone's safety, health and well-being.

We hope that you will decide to join us at an upcoming event and we look forward to seeing you.

Hand sanitizer and disposable masks will be available at our events. We encourage you to consider your health and personal well-being when deciding whether to attend.

Be well, and stay safe.