Maria Christiansen, '21, Awarded For Bravery In 2008 Shooting, As First NIU Police Latina


By Tony Scott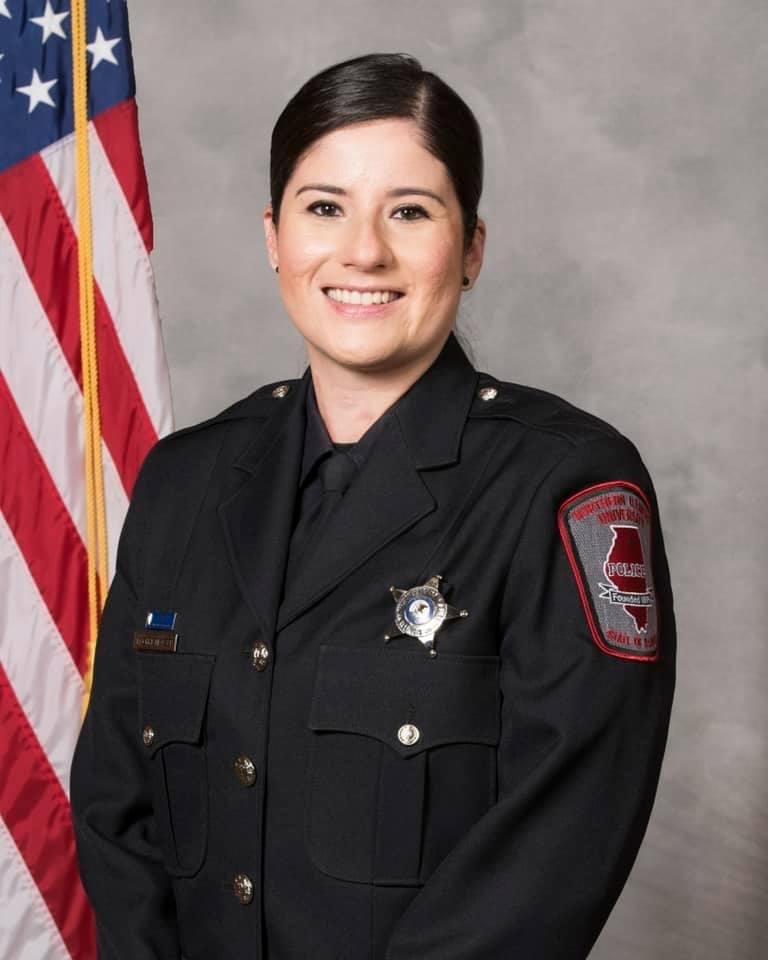 Maria Christiansen, '21, was recently recognized for her bravery as a survivor of the 2008 NIU shooting and also for being the first Latina to be hired by the NIU Police Department.
When Maria Christiansen, '21, was lying on the floor after being shot by a gunman in Cole Hall on Feb. 14, 2008, she said she was simply doing what she could to survive.

"I got shot and then I couldn't breathe; I was struggling to keep myself aware of what was happening," she said. "I just remember telling myself, just keep breathing, keep breathing. I was in this survival mode. I could hear all the chaos happening around me. But I was thinking, this was it. I didn't really think I was going to come out from that."

Christiansen, who was a student at the time, did survive the 2008 NIU shooting, after a lengthy hospital stay followed by physical therapy, and still has aftereffects from the incident.

"I had to go to physical therapy because I couldn't really move my left arm; some nerves got damaged," she said. "Most of the damage was in my neck area. Part of my face is still numb."

Christiansen, who had planned to go into law enforcement at the federal level prior to the 2008 shooting, joined the NIU Department of Police and Public Safety first as an intern and then as an officer at the age of 21. She retired from the force in 2021 after 12 years on the job as a police officer.

Christiansen was recently recognized not only for her bravery in surviving the 2008 shooting but for being the first Latina officer to work for the NIU department, by the Illinois Latinas in Law Enforcement organization.

At a September ceremony, Christiansen was recognized among several other Latina police officers in Illinois as being one of Las Primeras, the first Latinas hired in their departments.

Christiansen was also given a La Valiente Award, along with the family of Chicago Police Officer Irma Ruiz, who was killed in 1988 by a gunman who had entered an elementary school.

"I very honored to get that, and very thankful to them for acknowledging that," Christiansen said of the awards she received.

Born and raised in Guadalajara, Jalisco, Mexico, Christiansen moved to the U.S. with her family when she was about 12 years old in 1999; the family settled in Elgin, where she graduated from Larkin High School. She has an older brother, Jose Alfredo Ruiz-Santana, '10, and a younger brother, Julio Ruiz-Santana, '15, who both received degrees from NIU.

Christiansen first got interested in law enforcement after taking a sociology class in high school.

She originally wanted to work in the FBI in psychology, but after taking a psychology course, changed direction. Her advisor suggested sociology instead, but said she learned that the FBI would require some law enforcement experience.

While recovering from the 2008 shooting, she kept in contact with then-NIU Police Chief Donald Grady, and he suggested joining the NIU department, first as an intern.

"He put the bug in my ear," she said.

When she first began her tenure as a police officer at NIU, she was 21 years old, minimum age requirement, and around the same age as the students she was encountering on her shifts.

"I could relate to the students," she said. "So it wasn't hard to do policing because I understood where they were coming from, I understood their way of thinking. I think a lot of them felt comfortable coming up to me with any issues they had."

Christiansen said she quit policing in 2021 because of her two children – she has a six-year-old son and a nine-year-old daughter. She went back to NIU in 2021 and finished her degree. She began substitute teaching in her hometown school district in Elgin, and is currently a long-term substitute for a class of fourth grade students.

Teaching does run in her family – her mother and her grandfather were both teachers – but it wasn't something she thought of doing as a career until she began substitute teaching. She now wants to pursue teaching full-time once her children are older.

For young people looking to get into either public service or education, especially young women, Christiansen said to stay on task and don't be discouraged by detractors.

"My biggest thing is, don't get discouraged," she said. 'If that's what you really want to do, do it. Even if you're in doubt, just try it out. You might find you'll really want to stick with it."