Col. Paul Hettich, M.A. '92, Richard Hoehne, '84, Among NIU Grads With Long Military Careers


By Tony Scott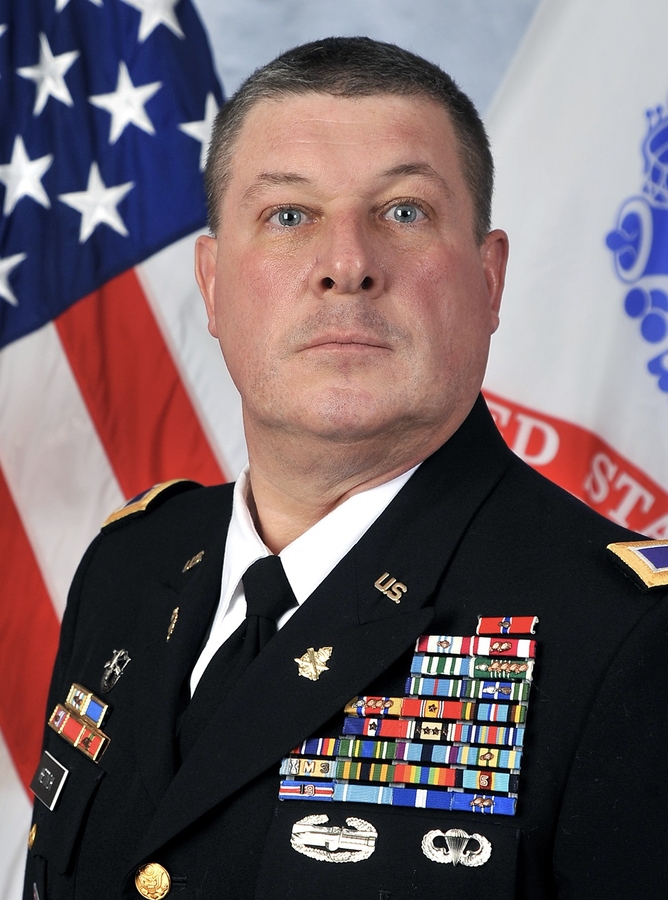 Retired Col. Paul Hettich, M.A. '92, served 30 years in the U.S. military until retiring in 2017.
One of the ways NIU students can attend classes at NIU while preparing to serve their country in the military is through the U.S. Army Reserve Officers' Training Corps, or ROTC, program. The program at NIU has had 660 students commissioned as officers in the active Army, Army Reserves or National Guard.

Among the examples of those who have attended ROTC and have had incredibly rich careers in the military and public service are alumni Col. Paul Hettich, M.A. '92, who received a master's degree in theatre arts and retired as a colonel in the U.S. Army after 30 years of service, and Richard C. Hoehne, '84, who received a bachelor's degree in economics and is now serving as deputy director of intelligence at United States Strategic Command (USSTRATCOM).

While Hettich didn't attend the ROTC program at NIU, he attended the program as a student at Loyola University Chicago and commissioned as a second lieutenant in 1987. He was recently inducted into the National ROTC Hall of Fame.

Hoehne attended the ROTC program at NIU during his time as an undergraduate and credits it and his time at NIU as being formative and fundamental to his successful career.


Col. Paul Hettich, M.A. '92

Hettich grew up in a military family of three children in the town of Antioch, Illinois. His father, Paul, was a first lieutenant in the U.S. Army and a professor of psychology, and his mother, Mary, was a director of nursing education. His brother, Philip, also served in the Army, and they served in Iraq together on two occasions. Hettich served five combat tours, and his brother served three, he said.

"We come from a military family, with relatives serving in all wars from the Revolutionary War to my cousin currently serving in Poland in support of Ukraine," he said.

Hettich's goal when he first joined the Army was to complete four years in the U.S. Army Reserves. He ended up serving a total of 30 years and seven days, between service in active duty, the reserves and service in the Illinois National Guard. He was mandatorily retired in 2017 as a colonel on active duty, he said.

"Ever since I was in grade school and especially in high school, I really wanted to join the military for patriotic reasons, as well as because I needed financial assistance for college," he said.

Hettich said that after his initial active duty in the Army, he was interested in an in-state university with a good, medium-sized technical theatre master's program that offered an assistantship in technical theatre. NIU was the perfect match.

"I really liked the entire theatre department," he said. "We had our own building, facilities, and theatre and were relatively small compared to other departments. We got to know each other."

He counts Dr. Richard L. Arnold, JoAnne S. Fox, Dr. Kent Gallagher and Dr. Byron Schaffer among his mentors at NIU.

"What I enjoyed was that those professors took a genuine interest in me as a person and not as just one of the many students they had to deal with," Hettich said. "They genuinely cared for what my interests were in technical theater, what I planned on doing for my career, especially the thesis I wrote. When I walked out of there with my master's, I felt really good about having a high-quality degree from a great university with wonderful professors who really mentored me and advised me."

Hettich said he frequented two places on the NIU campus during his time studying for his master's.

"I spent a lot of time in the NIU library researching my thesis and studying for my comprehensive exam," he said. "Also, I was a captain in the Illinois National Guard during my master's studies so I enjoyed working out in the gym."

Hettich said that in studying for his master's, he enjoyed the technical aspects of theatre, especially lighting design for ballet dance.

"I also really enjoyed the military and wanted to be a Special Forces Officer, jumping out of planes, diving, patrolling, being in the field, shooting weapons, training hard, driving tanks, flying in helicopters, etc.," he said. "I just never really saw myself wearing a suit and tie to work every day."

In addition to his service in the military, Hettich has worked as a stage manager, technical director and other theatre-related jobs for colleges, high schools and professional theaters. He currently works as a ranger police officer for Lake County Forest Preserves. Hettich credits his long and diverse career with being willing to try new things.

"The key to success and having a long-lasting career is being willing to try new things, servant leadership, finding a way to get to 'yes,' and taking every opportunity to take every course, school and training opportunity offered," he said. "Education is the foundation for success."

Hettich has served or trained in some capacity in all 50 states in the union, along with 29 countries in Europe, Asia and Africa during his military service.
Hettich encouraged those considering a career in the military or public service to just try it.

"My 30-year military career was the highlight of my life, and I am so fortunate, honored, privileged and humbled to have been able to serve my nation, my state, my community, and my soldiers," he said. "I can't think of anything better to do and wish I was still in the Army serving."


Richard Hoehne, '84

Hoehne, like Hettich, grew up in Antioch, Ill., the son of an accountant and a homemaker. He is a retired U.S. Army officer with 23 years of military service.

Hoehne said he didn't really consider other schools when deciding where to go to college after high school.

"NIU was quite well known in my community and with our guidance counselors," he said. "I had thoughts of entering the accounting field, and the NIU business school had a wonderful reputation. Additionally, it was just over an hour from home, my friends and my part-time job. I really don't think I even considered any place else."

Hoehne said attending NIU was foundational to his life and his career.


"When I was there, I went from being a kid in a small town to being exposed to so many different things—everything from music to art to culture to ideas," he said. "For every university student, I think, there's an awakening of, 'oh my gosh there's this whole big world out there' that you hadn't even considered before as a young person."

Hoehne said his mentors at NIU included a professor of economics and his master sergeant in the ROTC program.

"I had absolutely no knack for accounting but turned out to be a natural in economics," he said. "I had many long conversations with the econ professor, and he really helped me sort out my interests, major and my classes. He really went above and beyond."

He continued, "However, it was a ROTC master sergeant (and later a command sergeant major) who helped me discover my passion, which turned out to be leading soldiers as an Army officer. He regaled all of the ROTC cadets with stories of his adventures in foreign places and his Army service. He taught us how to survive in the woods, to pay attention to detail, and how to successfully plan and accomplish a tactical mission. He personally paid a lot of individual attention to me, and I learned an incredible lesson in leadership from his example. I still had a lot to learn after graduation and commissioning, but the experience he passed on was exceptionally foundational."

Hoehne said he has a lot of great memories of NIU related to Homecoming, the lagoon, dorm life, football games and other good times.

"I loved finding quiet spots to study in Founder's Library or in the older buildings on campus such as Altgeld or Williston Hall," he said. "Alternatively, McCabe's in downtown was where we ended up after many a frustrating night in the computer lab!"

Hoehne said the military interested him as a young man in the 1980s during the Cold War but also ROTC interested him because of their various outdoor activities. He said he did not initially consider a military career.

"ROTC were very active with outdoor activities and challenging training, such as rappelling classes and assault helicopter training events," he said. "That type of action really spoke to the more adventurous of us. As far as a career, I do not think I entered the military thinking I would still be at it after 38 years; however, it has been such an incredible adventure. In the Army and my subsequent federal service, I have had the honor of serving in peace and war with some of the very finest and dedicated Americans imaginable."

During his military career, he served in countries throughout the world in a variety of command and staff positions, and commanded soldiers three times. He has served in tactical and operational assignments in the U.S. Central Command, U.S. European Command, U.S. Indio-Pacific Command and U.S. Northern Command.

Hoehne currently serves as one of several deputy directors for the U.S. Strategic Command (a U.S. two-star equivalent position), in order to enable the Command's primary mission: deter military attacks on the United States and its allies and, should deterrence fail, employ forces decisively to achieve national security objectives. Hoehne ensures 24-hours-a-day global situational awareness and warning to enable strategic deterrence, identify and characterize strategic mobile forces, and provide intelligence needed for the planning and implementation of operational and contingency plans.

Hoehne encourages students and those considering a career in the military or public service to follow their passion.

"I thoroughly believe there is no greater honor than service to one's fellow citizens," he said. "The military is challenging and a young military officer is given a tremendous amount of responsibility—right out of school. The military has amazing opportunities in every imaginable career field, from Special Forces, to specialized medicine."

"However, I would also say that public service can take an almost unlimited number of different forms. There are many, many other opportunities for public service, from teaching and first responders, to community leadership. It truly is about finding your passion and following it. We are blessed to live in such a wonderful country; giving back, even if only for a couple years, is something I think all young people should aspire to."