Mary Catherine "Kay" Burkart: A Donor Story 100 Years in the Making


By Eva Richards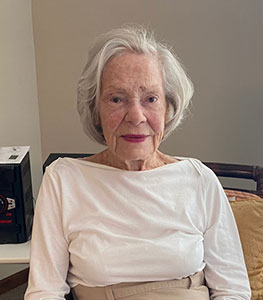 Kay Burkart, a Sycamore, Illinois, native, decided to give to the Department of Nursing because of her family's reliance on medical staff and the nationwide nursing shortage.
All her life, Mary Catherine "Kay" Burkart has tried to live with gratitude for her good fortune, giving back to help whenever shew could. With that philosophy, over the years, she has built a legacy of selfless philanthropy, fostering excellence in nursing and within the greater College of Human Health and Sciences at Northern Illinois University.

Born to working-class parents in Sycamore, Illinois, in February 1923—nearly 100 years ago—life had a simple beauty to it that Burkart appreciated, even as her family struggled through the Great Depression.

"I was born in Sycamore and was the only daughter with four older brothers and one younger brother," she said. "Growing up, I spent a lot of time walking along the Kishwaukee River with my dog—a mixed breed named Fluffy. In wintertime, I was ice skating when there used to be a pond where we lived."

In elementary and middle school, Burkart attended St. Mary's Sycamore School in Sycamore and then Sycamore High School for a time before going to work to help her family until WWII brought tragedy.

Three of her older brothers, Maurice, Erwin "Irv," and Jack were either drafted or enlisted in 1942 and 1943 and sent to fight in different locations. Maurice was wounded while fighting in the South Pacific. Jack served in Europe with a tank corps, was captured by the Germans in the Battle of the Bulge, and spent the rest of the war in a German prison camp. Irv served on the front lines. Her children serving in the war drove Kay's mother, Mary, to enlist herself, at nearly 50 years old, to support her sons.

"I can remember my younger brother and I laughing over lunch when she went in to enlist," Burkart recalled. "We laughed about mom going through the physical and going off to be a soldier. We didn't really think she'd be accepted!"

When Burkart's brother Irv was killed on the beaches of Normandy on D-Day, the loss affected both Burkhart and her mother very profoundly. Kay decided to follow her mother's example and sign up to serve.

"It was because we were mad because they took a brother that meant so much to us," she said. "I wanted to be a part of it…to do whatever was needed."

On July 27, 1944, Kay and her mother both left for Basic Training at Fort Oglethorpe, Georgia, as one of the few mother-daughter teams to serve together in the war effort. They were both assigned to Romulus Army Air Base, the air transport command center in Detroit, Michigan.

Burkart served as a clerk in the induction area of the base until the war was over.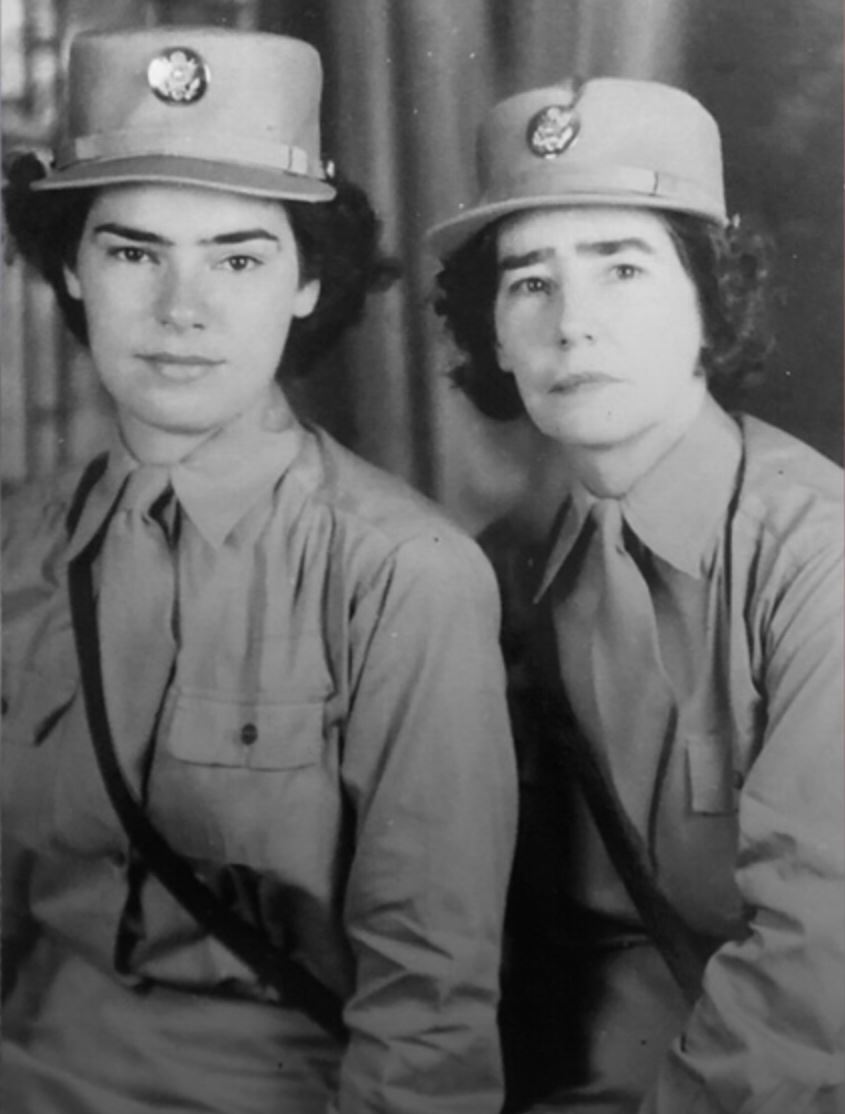 "I was a clerk at a welcoming center provided supplies for new enlisted soldiers. My mom did the same," she said. "It was very interesting time. A sad time. It was just something you did as part of a war effort, and of course, it was to support what my brothers were doing."

A naturally independent leader, this time of Burkart's life taught her about sacrifice and overcoming people's expectations of her.

"The work wasn't terribly demanding but being a loner did provide me with the opportunity to know other women who were of the same background and thoughts," she said. "We were doing our best for the war effort."

After the war ended, Burkhart went to work for American Airlines in Chicago as a ticket agent. The next two decades in U.S. history, and particularly in the airline industry, were a time of increased opportunities for women in the workforce, and Burkart took advantage of chances for advancement when they came.

"At one point I transferred to New York," she said. "There, I was able to work my way into management positions in sales for American Airlines, and I did that for many years until I retired in 1978."

It was at that time that Burkart married Gilbert Thurston, an executive in furniture sales, and she worked with him in sales until his death in 1988.

In the later years of Burkart's long life, she began to think even more altruistically, finding ways to use her own gifts to help others who are less fortunate. One of causes Burkart held close to her heart was Northern Illinois University.

"I had a cousin who had a grandson who kept telling me about his success as a nurse through the NIU system," she said. "Plus, my younger brother was terribly ill in his last years, and there was a shortage of nurses. I happened to have some extra money, so I thought it might do some good for a student in the nursing program."

Burkart's generosity led to her developing two excellence funds within the College of Human Health and Sciences—one to support current instructors or supportive professional staff to earn terminal degrees within the Department of Nursing, and the other to benefit the dean's initiatives.

When asked about the enormous impact she has made for so many students and faculty, Burkart is humble, choosing to think about her duty rather than her selflessness.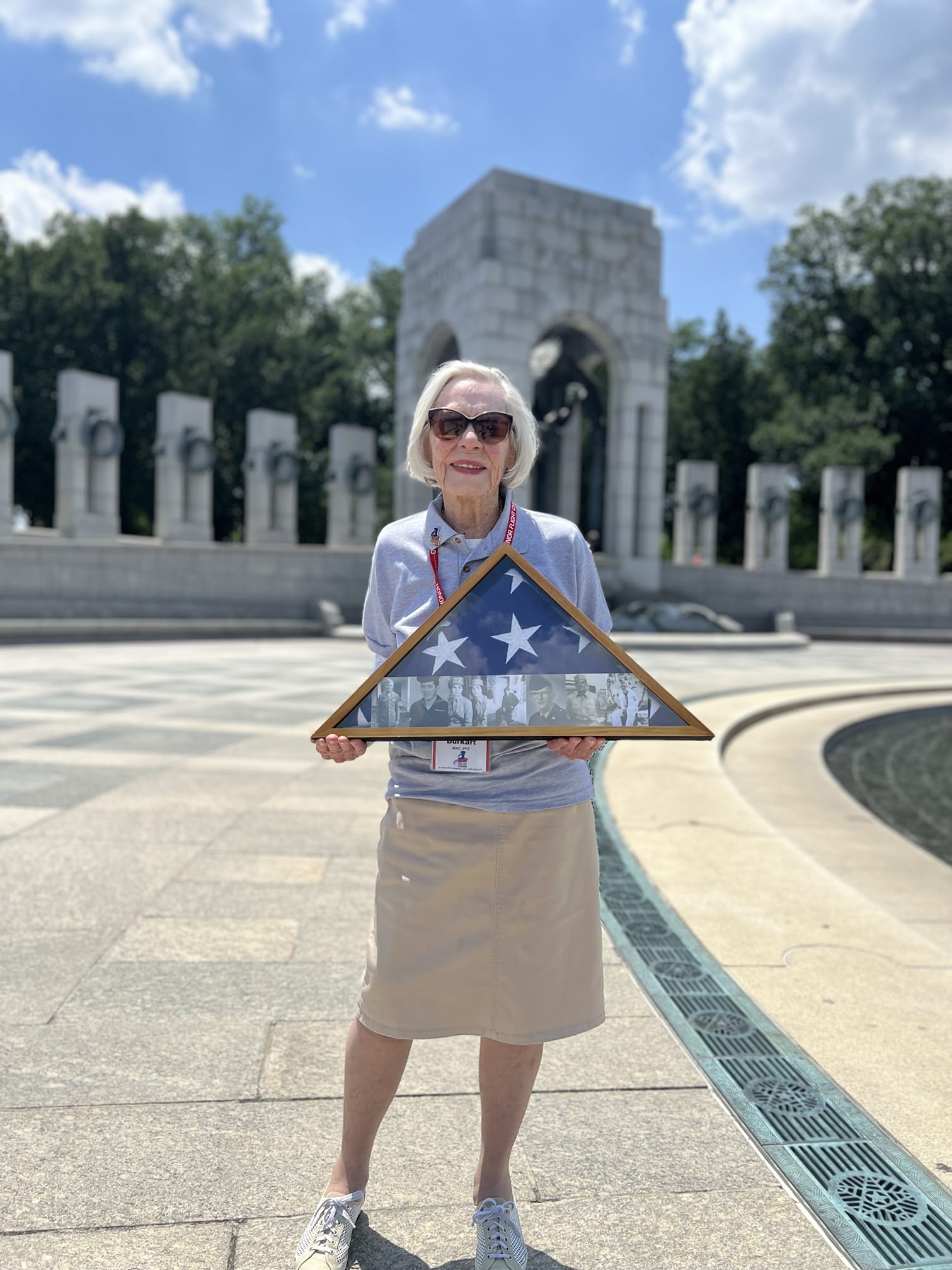 "I've been fortunate in working with my company, allowing me to grow, and I have been very fortunate in health," she said. "I have just been lucky. I have felt it's a small way to pay back for the good fortune I've had."

In recent years, Burkart decided to return to Sycamore from New York, where she lived for decades.

"I decided I would like to see trees and grass before I die, and once you turn 90, you ought to go where you have family," she said.

Being back in the community again, Burkart gets to see more often the impact her giving has had on NIU students. In February, her friends at the University are planning a 100th birthday party for her and inviting some of the students who have been helped by her contribution. She says she is amazed to think that she has been around for an entire century but hopes her work will live on.

"The University seems to have made it very efficiently distributed and helped quite a few young people," she said. "I hope that the University is capable of continuing their program, and I hope I've helped. There are some things you can do that are easy to do, and we should all try to do our part."