Andrew Morgan, '87, Leads Hawai'i Opera Theatre As General Director


By Tony Scott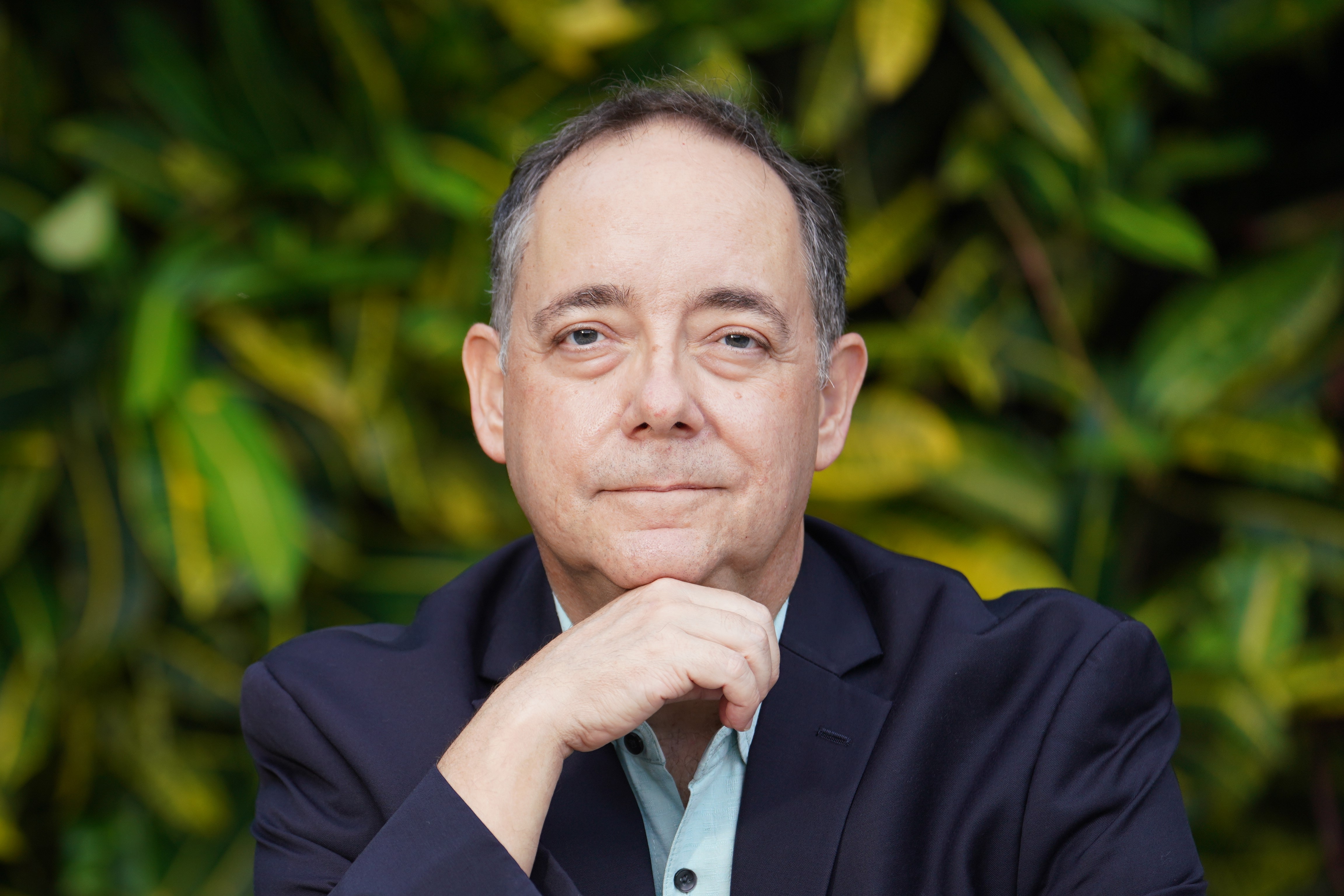 Andrew Morgan, '87, is the general director of the Hawai'i Opera Theatre.
As the general director of the Hawai'i Opera Theatre (HOT), Andrew Morgan, '87, oversees one of the largest performing arts organizations in Hawaii with performances and educational presentations all over the major islands.

"The passion our patrons have for opera—and the dedication to our mission demonstrated by our board and staff every day—is truly an inspiration for me, and far outweighs the challenges and stress that come with running an opera company," Morgan said. "It helps that I am beyond proud of the work we do, from mainstage opera productions to in-school education programs that reach over 20,000 keiki (children), teachers and families each year."

Morgan was raised by parents who both had a passion for music. He was born in Detroit but grew up in suburban Naperville, Illinois, with two older brothers. His mother worked in early childhood care for most of her career, though her education was in music, as a singer and choral director, and she sang in church choirs for as long as Morgan can remember. His father was a chemist, and loved classical music, especially opera.

"I think often of my father, who sadly passed away a year before I got this job and I know he would be beaming with pride. (My mother certainly does!)," he said. "He adored opera over all other art forms and instilled that love in me. That is a major goal for me in this position—to help HOT inspire the next generation of opera fans. The arts don't exist without an audience."

Morgan started singing at the age of six in church choirs, and when he was in junior high school he began learning the piano and also playing string bass in the school's orchestra. Throughout his time at Naperville Central High School, he continued to be involved in the music programs, including orchestra and chorus, and playing in the orchestra pit for performances. In his last two years of high school, he began performing on stage in performances.

"During my senior year, we did three musicals, including an operetta, 'The Mikado,' and I had leads in all three," he said. "All of a sudden, I thought, oh, this is kind of like opera and I enjoy singing it, it fits my voice. So that was the impetus."

Morgan credits Cindy Walzer, '80, an opera singer, with inspiring him to attend NIU. He said Walzer worked with his high school choir on musicals during his senior year.

"(Walzer) encouraged me to audition for NIU and to study with her teacher, Diane Ragains-Slawin," he said. "Luckily, I was accepted into the program and into Diane's studio."

Ragains-Slawin, his voice teacher, was his most prominent influence at NIU, but Morgan said so many others impacted his experience.

"Diane was an amazing teacher who really cared about her students—both personally and professionally," he said. "She also had a fantastic voice—I remember her performing recitals and in concerts at NIU so fondly!"

Morgan also recalled Elwood Smith, then the director of choral activities. He called Smith "one of the best musicians I've ever known."

"Both (Smith and Ragains-Slawin) really instilled in me a strong work ethic when it came to learning music, and they also introduced me to 20th century music that has given me a lifelong appreciation for more modern repertory," he said.

Morgan also recalled a pair of former NIU instructors who impacted him and with whom he worked.

"After my time at NIU, I also studied with another former NIU faculty member, Myron Myers, who was an amazing, nurturing teacher," he said. "Finally, Lee Strawn – who was on the voice faculty but also ran the opera studio program—taught me so much about acting, character development, and basic stagecraft. Funnily enough, he ended up moving to the San Francisco Bay Area and I not only sang in operas with him there, I ended up directing him in a couple productions. That first time was a pretty surreal experience, but he was nothing but gracious and supportive of my work."

After graduating from NIU with a bachelor's degree in music education-voice, Morgan worked in retail for a year before going back for his master's degree in vocal performance from U of I. After completing his master's in 1991, he was hired by Chanticleer, a San Francisco-based men's a cappella ensemble, and toured internationally and recorded with them.

That type of singing ended up not being a good fit for his voice, so he began working in the ensemble's offices in various capacities while pursuing performing opportunities in San Francisco.


"During that time, I was a professional member of the San Francisco Symphony Chorus and sang with many of the area's small to mid-sized opera companies," he said. "And although I was seeing some successes as a singer, and also stage director, I wasn't really interested in the life of a travelling singer. It's something you have to want more than anything, and that fire just wasn't in me, especially not for the sort of smaller roles that best fit my voice. So, I started thinking more and more about arts administration as a career."

After his time with Chanticleer, he was hired as executive director of a small arts organization in San Francisco with whom he had been performing, the American Bach Soloists. It was a small shop, so it allowed Morgan to try his hand at a variety of administrative tasks: fundraising, marketing, communications, finance and more. After six years in that position, he was hired for a development position at the San Francisco Opera.

"I stayed with SFO for 11 years, rising through the ranks to eventually take on the director of development role, leading a staff of 29 and raising over $40 million a year," he said. "It was an amazing ride, and again I learned so much! But I was feeling like I'd gone as far as I could go there, and the job really wasn't engaging my artistic side – though certainly knowing about opera as a performer and director certainly helped in my talking with donors. As it turned out, SFO did a huge restructuring in 2019 and my position was eliminated. But simultaneously, I learned of an opening with Hawaiʻi Opera Theatre for the executive director."

He has since been named general director, and leads all aspects of the organization, including artistic programming and all administrative duties.

"It really is a dream job, especially living in Hawaiʻi, which was where my husband and I had already planned to retire," he said.

The impact of COVID-19 was a tremendous one on the opera organization, but Morgan said they were able to successfully adapt.

"We ended up pivoting entirely to digital programming, ultimately creating over 30 hours of original content that was streamed over the Vimeo OTT platform," he said. "To say it was a steep learning curve for everyone in the company is a gross understatement. But I am beyond proud of the work we did, with everyone— including myself—wearing many hats and learning new ways to create and deliver opera. So, although it was an incredibly stressful two-plus years, it was also richly rewarding. Returning to live performances and events has been a bit of a struggle—our 2021/2022 Season was to open in October 2021, then January 2022, and finally in February. But it was also powerfully emotional."

Another challenge in operating such an organization is finances, but Morgan said he believes in his staff and the supporters of the Hawai'i Opera Theatre.

"Opera is the most complete of all art forms, which also means it's the most expensive," he said. "But I am very proud of the work our board and staff continue to do to ensure this organization, which celebrated its 60th anniversary during COVID, will survive for another 60-plus years. We have made many structural changes that are showing signs of success, which is exciting."

To those hoping to begin a career in the performing arts, including current NIU students, Morgan encourages them to trust their instincts.

"Where you think you're headed in your career is not necessarily where you'll end up," he said. "Listen to your gut and go with the flow. I'm a firm believer in the universe taking you where you need to go, and that belief has served me well. The learning and life experiences I had during my four years at NIU helped to prepare me for this wild ride, especially in strengthening my musicianship and my work ethic, increasing my self-confidence as a performer, and so much more. I have so many fond memories of my time at NIU. It was a great place to learn."