Mark Bonne, '84, Makes An Impact As Journalist, Public Official In Hometown of Rockford


By Tony Scott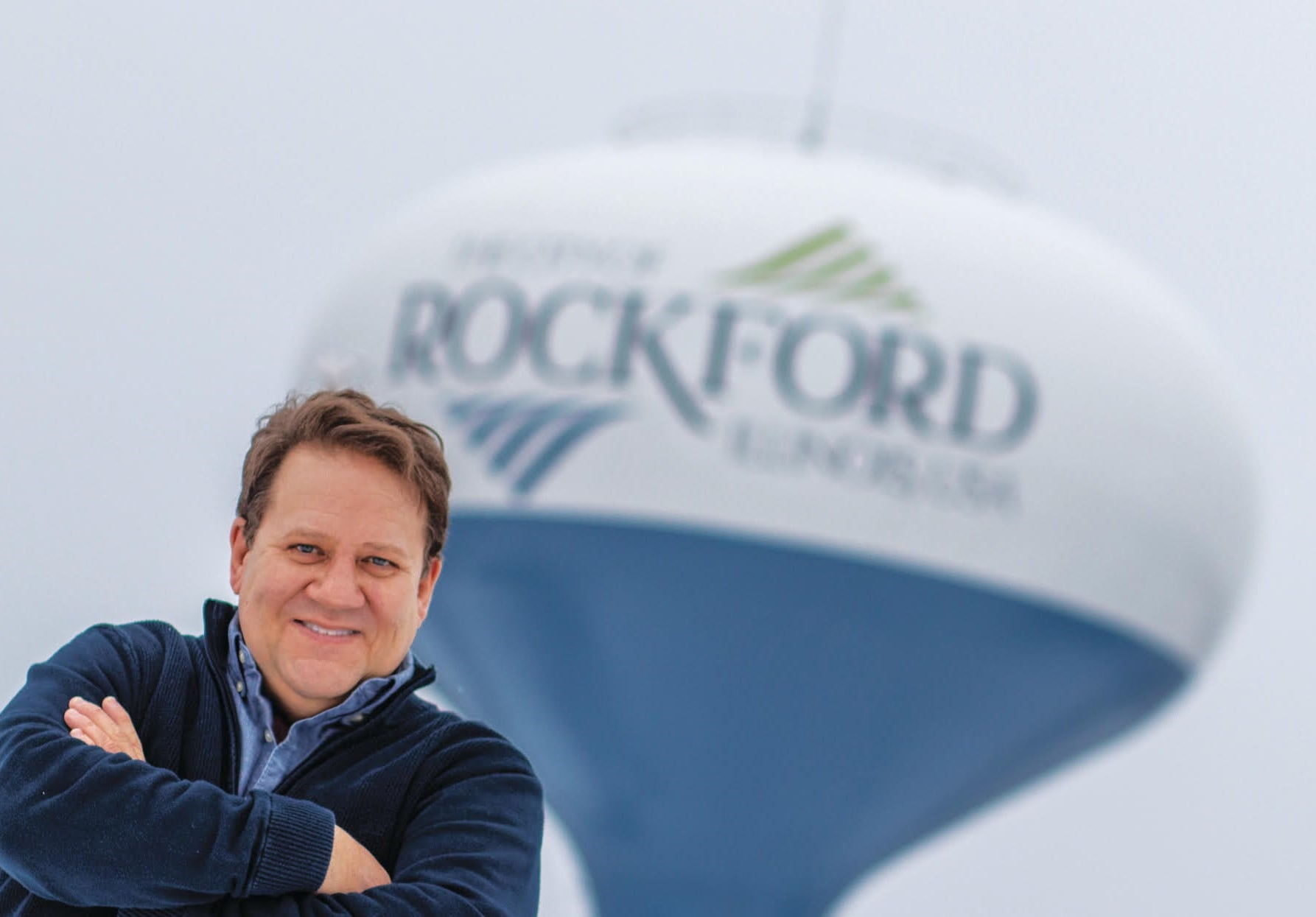 Mark Bonne was a journalist before getting involved in politics in his hometown of Rockford.
Mark Bonne, '84, was a journalist before he was elected as alderman in his hometown of Rockford, Illinois, and some of his favorite memories of Northern Illinois University involve working for the student newspaper.

"I was hired as a reporter at the Northern Star shortly after arriving on campus, and my life at NIU revolved around the campus newsroom from that point forward," he said.

Following a lengthy career in journalism, as a writer and columnist for the Northwest Herald and the Rockford Register-Star, Bonne began his career in public service.

Bonne currently serves as an alderman in Rockford's 14th ward, the first openly LGBTQ+ person to be elected in Winnebago County. He also works as chief of staff for Illinois state Sen. Steve Stadelman, D-Rockford.

Bonne was born in Rockford, the oldest of three sons. His father earned his bachelor's and master's degrees from NIU, along with 40 hours toward a Ph.D. in education.

Bonne attended Rock Valley College for one year before transferring to NIU as a sophomore on a legislative scholarship. In his final two years at NIU, he received two journalism scholarships, one of which was named for the then-department chair, Irv Kummerfeldt.

"I lived in Douglas Hall my first year on campus, then in a two-story house behind a Greek restaurant on Lincoln Highway and finally in Suburban Apartments, where my roommate and I had a balcony overlooking the pool," Bonne recalled.

At the time, Bonne said many students would go home on the weekends, but there were plenty of activities on campus for the students who remained. His friends were his fellow Northern Star workers, and they enjoyed their time together.

"We worked together and pulled all-nighters cramming for tests together," he said. "We were paid handsomely enough that we could afford to eat lunch out, rather than schlep back to the dorms. A deli called The Dill Pickle was a favorite haunt. So was a mom-and-pop bar called The Candelight, where we'd take over the jukebox and move tables aside to make space for dancing. Many nights ended with Billy Joel's 'Piano Man.'"

Working at the student newspaper in the 1980s relied on different processes. Bonne detailed how Associated Press wire stories came over by teletype, and that rolls of copy had to be reviewed and anything selected to appear in the next day's paper had to be keyed into video display terminals that fed into a mainframe computer in the newspaper office's basement.

"Every so often, everyone had to hit their 'save' buttons and stop working so the production manager could run a system update," he said.

Designing newspaper pages on a computer, though, was a thing of the future at the time. The newspaper pages were laid out using grease pencils and dummy pages called "pink sheets." Bonne recalled a humorous tradition when he was on the copy desk.

"When I led the copy desk, which worked late into the night, I started a quote wall," he said. "Whenever something considered pithy was said in or out of the newsroom, someone darted back to copy desk and put grease pencil to drywall. Before the semester was over, what we were convinced were terribly clever utterances filled four walls and the ceiling."

Bonne remembered two NIU educators who impacted him during his time as a student.

"Dr. Ruth Hamilton taught an English course on grammar fundamentals where we spent hours diagramming sentences," he said. "I've long since forgotten much of the terminology, but those grammar rules have flowed effortlessly from my fingertips every day for 40 years. I also took a swim fitness class where the instructor told us there was really only one thing we had to learn, which was to stop fighting the water and get comfortable in the pool. I got comfortable, and I still swim laps for exercise."

The strongest influences, he said, were from his fellow students while they worked at the Northern Star.

"You rose through the ranks, learning from the other students before they graduated and passing on what you learned to those coming up behind you. In those days, the Star ranked among the nation's 25 largest daily colleges newspapers with $500,000 in annual revenue derived almost entirely through student-sold advertising. It was very real-world," he said.

Bonne considers his first day in journalism to be when his byline appeared in his hometown newspaper, the Rockford Register Star, in his first semester of college. The Register Star had asked him to report on the campus hoopla surrounding the TV wedding of Luke and Laura on the soap opera "General Hospital" in November 1981.

"I worked at the Register Star as a full-time intern over summer and winter breaks, earning entry-level pay," he said. "My first job after graduating was at the Northwest Herald, a suburban daily based in Crystal Lake, where I exposed election fraud that earned the newspaper a first-place Illinois Press Assocation award for investigative reporting. My work led to indictments that forced the county treasurer and a county board member to resign from office to avoid felony prosecution for falsifying election documents. I later returned to the Register Star for 11 years as a reporter, columnist and magazine editor."

"Much of what defined my work in journalism remains central to my roles in public service -- the ability to draw people out and drill down to the heart of a matter and then dig for answers, often by asking tough questions, to help them resolve problems in their lives," he added.

Bonne began his tenure in public service in fundraising and as a communications professional after leaving the journalism industry in 2006.

"Through volunteer work over the years, I discovered I wasn't afraid of and was fairly good at something that terrified many—asking for money," he said. "I pursued a job raising funds for special projects with Rockford Public Schools, but priorities soon shifted and I became a one-man communications shop (after a few years of there being none) and eventually chief communications officer. I was a key player in a successful referendum campaign for the schools and brought that experience to helping a longtime local TV news anchor run for Illinois Senate. He won, and I've worked as his chief of staff for 10 years now."

Bonne said his experience as a reporter covering local government gave him an up-front seat witnessing the processes of local government, and in 2021 he ran and won a seat on the Rockford City Council.

"If you spend enough time in the front-row seats, you realize you have a better idea than most of how the sausage gets made," he said.

Bonne said his time at NIU remains among the best days of his life. He remains highly active in the NIU Rockford Alumni Club.

"I want to do whatever small part I can to help my alma mater not merely survive but thrive and continue to be among the most cherished chapters of its graduates' lives for generations to come," he said.