About Mission
Mission was born on Dec. 11, 2011, in Marengo, Illinois. The Siberian husky was brought to NIU in late 2013, thanks to the philanthropic support of proud alumni and donors John and Cassandra McKearn.

"Given that the Huskies football program continues to climb in national prominence, we wanted to put a champion next to our NIU champions. Mission is that dog," said John McKearn, an NIU Foundation board member.

During football games, Mission is handled by the NIU ROTC staff. The McKearns chose ROTC because of the corps' exemplary participation and representation at sports programs, especially home football games. They also liked the idea of involving ROTC because both of their fathers were in the military.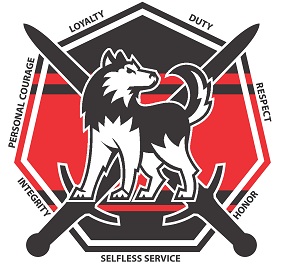 ROTC cadets are known for doing pushups when a touchdown is scored. To follow that tradition, Lisa Monge, Mission's Sycamore owner and trainer, is teaching him how to do a modified pushup. He is also learning how to pull a wagon, shake hands and give a "low five."

"Every time I've had the opportunity to work with him and train him," Monge said, "he just always wants more."

When Mission was introduced on campus in December 2013, people noticed the intensity and fierce look in his blue eyes.

"He's super-intense, but underneath that intensity is this gentle little dog," said Monge. "He's just a sweetheart and he's such a gentleman."

Watch a video welcoming Mission to campus!

Mission Accomplished: NIU's new mascot from NIU Alumni Association on Vimeo