I am Huskies United: Zack Michelin, '22


By Eva Richards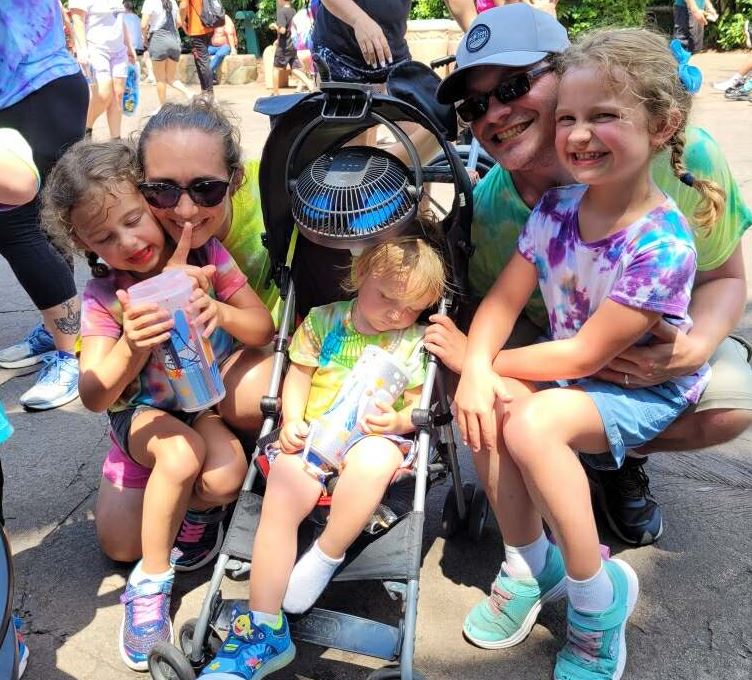 Zack Michelin, '22, poses with his family on vacation at Universal Studios in Florida. Pursuing a second career at NIU when he had a young family was a huge decision for Michelin, but scholarships played a huge role in his success.
In 2018, Zack Michelin, '22, took a leap, leaving his job in the culinary field and reimagining a successful second career in accounting.

Managing all of this while maintaining an established life with his wife, young children, and mortgage, was sometimes a challenge, but fellow Huskies stepped up to the challenge, providing him support through scholarships.

"The decision to go back to college at the stage of my life, having a family and being a home owner, meant any financial assistance reassured me that my family wouldn't suffer as I tried to better both myself and my family's futures," Michelin said.

While enrolled at NIU, accountancy schlolarships made an incredible difference in his being able to complete his degree.

"I received $3,000 from the College of Business for my family background and financial situation, and $1,000 for my academic achievements entering into college," he said. "Being rewarded for my educational success made me feel appreciated, as well as inspired. Knowing the hard work I had put in to get to that point only made me feel more validated that I was on the right path for both myself and my family. The $3,000 scholarship helped validate that the school and institution itself felt I had both chosen the right path but was also showing to be striving to achieve that expected success. It also was a reassurance that the extra work of the minor in data analytics wouldn't weigh on me as much and helped me stay focused on learning instead of worrying."

The risk Michelin took paid off.

After earning his accountancy degree from NIU in 2022, Zack Michelin was immediately rewarded with an offer from international professional services firm PricewaterhouseCoopers (PwC). While his success can be attributed to Michelin's hard work and natural talent for accounting, he credits NIU for this dream opportunity.

"This role was a direct result of my education, NIU's administration, and the internship I had while studying there," Michelin said. "I interviewed for internships my junior year and was offered an internship at PwC on the consulting side of tax services. Within the first week of my internship I was already utilizing skills and technology taught at NIU. As I entered into the full-time role, those same techniques and knowledge only compounded as I began to implement my education in real-world scenarios."

Being on the consulting side of tax services, Michelin has also been able to leverage his minor in data analytics to refine the products he works with.

"Being able to relate to positions above my entry level position has made me a candidate for early promotion, as well as allowed me to take on leadership roles inside my organization," he said. "The work for me is exactly the next step I was hoping to find in my accounting career. It is important to me that, during each step of my career, I see the next step on my path but also how to achieve that level of success. Both NIU and PwC, who are partnered together, have done wonders in showing and guiding my path to early success and is only helping me as I continue to grow and find new ways of applying the 'Huskie Pack' mentality and inclusivity-centered solutions.

Growing up in Naperville, Illinois, Michelin played football and baseball, and he liked drawing, being creative, and exploring the world around him.

"I was known, and still am, for talking a lot and asking a million questions," he said. "I grew up loving architecture and culinary while having success in mathematics. I had initially chosen to pursue architecture, and eventually graduated from culinary school, but never found my footing in the industry. My father, being a CPA, always kept me interested in accounting and business and, as I entered college, I was working with him to pay the bills but soon found I was more interested in furthering my accounting career than my culinary career."

When choosing an accountancy program, Michelin landed on NIU because it was close to home and because he knew of NIU's accountancy program's reputation.

"I was constantly told, as I continued through my initial career, how well thought of NIU's accounting degree was, and this stood out when deciding where to pursue mine," he said. "My experience at NIU was absolutely amazing. From the beginning, I felt supported and prepared and, even as the virtual experience became the norm, I still felt that same level of support and commitment to my career and education desires from the institution. I was offered a plethora of course options, as well as minor degrees I could pursue in tangent with my major that were not too excessive or burdensome. Both my minor in data analytics and my major in accounting helped me be technologically proficient and articulate professionally."

Looking back, Michelin credits NIU with tailoring his experience to his goals and needs.

"NIU has always been supportive and inclusive, and these perspectives are reflected in the recent success I've had in my career, as well as in my family," he said. "Seeing how NIU adapted to meet our needs, as well as the faculty's needs, showed me how to do things right, even in times of crisis. This shined through in the educational materials as professors and administrative staff exemplified these same principles in their actions and recommendations. Knowing NIU listened to me and consistently showed me how to achieve that success has only made me a better person and father. The scholarships themselves represented a tangible example of the institution's commitment to me as well as both my personal and educational sucess."

After his diligence and vision, coupled with the support he received while earning his degree, Michelin is left with an overwhelming feeling of pride.

"I am so proud of NIU degree because I know the work I put into it is not only already paying off, but will continue to pay dividends as I grow professionally and personally," he said. "I am proud that I can show my family and friends that chances to better yourself and your family are out there. I am proud to call myself a Huskie as the lessons of inclusivity, understanding and goal-orientation have set me and my family on a path of socio-economic success."

Donors can help students pursuing their master's degrees and other academic goals during the NIU Foundation's Huskies United day of giving March 22-23.