Mother-Daughter Huskie Success Story Proves NIU's Incredible Influence


By Eva Richards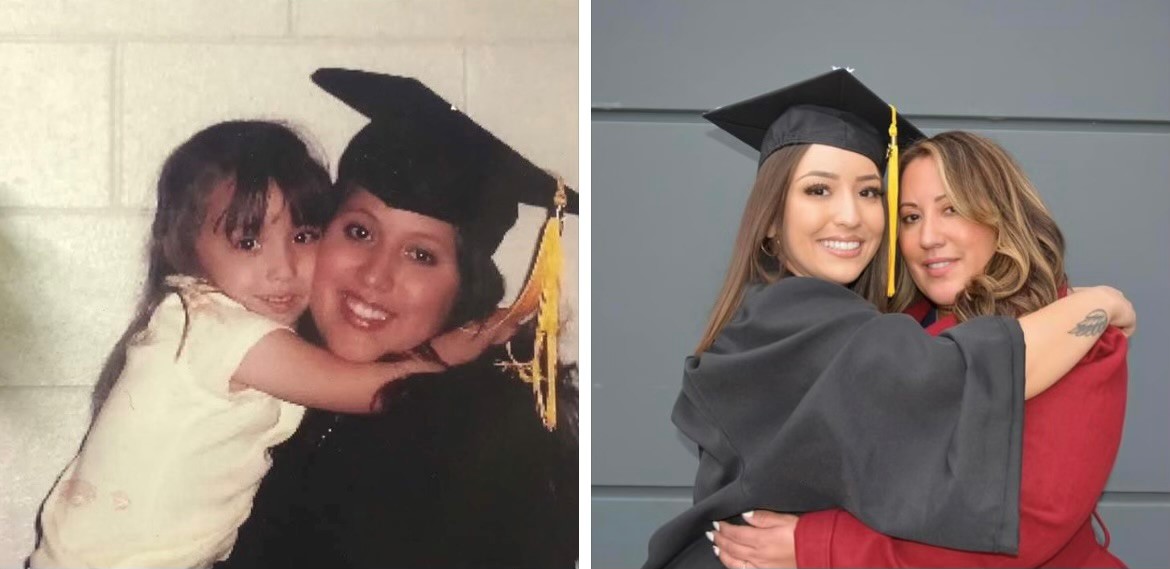 (Left) Arlene Mendez-Harrison, '05, hugs her toddler daughter Haley Rose Harrison, '22, at NIU graduation in 2005. (Right) The mother and daughter embrace at Harrison's graduation in 2022.
Sometimes the apple does not fall far from the tree.

When Arlene Mendez-Harrison walked across the stage at her NIU graduation, after earning her bachelor's in speech-language pathology in 2005, her toddler daughter Haley Rose Harrison was there to cheer her on.

As luck would have it, in 2022, the roles were reversed, as Mendez-Harrison proudly watched her daughter Harrison graduate with the same degree.

But this story of family success story started more than two decades ago when Mendez-Harrison came to Northern Illinois for the first time. She was already on a different path than many college students.

Born in Puerto Rico, Mendez-Harrison had been three years old when she came to Illinois, living in North Chicago and Waukegan. She was always interested in science and serving the community. After graduating high school, she enlisted in the United States Navy where she served as an aviation mechanic, married and become a first-time mom to her daughter Haley Rose.

"I was honorably discharged from the Navy in 2001 to pursue an education and provide a more stable environment for Haley," she said. "My first job after leaving the Navy was as a job coach with the mental health department at Andrews Center Mental Health Facility in Texas. I worked with adults who had disabilities and assisted them in finding and maintaining work. It was at this job that I met a speech pathologist and loved what they did. This was when I decided to pursue a speech-language pathology career."

Mendez-Harrison moved back to Illinois to be closer to family as she researched a University where she could be a parent and student.

"I chose NIU because of its reputable daycare and solid communicative disorders program. My expectations in both the daycare and the program were exceeded! I knew I was where I was supposed to be," she said.

During her time at NIU, Mendez-Harrison's professors, such as Dr. Sherril Morris, who is now chair of the Department of Allied Health and Communicative Disorders, were extremely supportive.

"While at NIU, I became pregnant and had my second child. I walked the stage (at graduation) at nine months pregnant and had Nicholas just days after I graduated. NIU is structured to allow nontraditional students to feel safe and supported. That was my experience!" Mendez-Harrison said.

"NIU allowed me—a non-traditional student and parent—to achieve a bachelor's degree," Mendez-Harrison said. "I had the support from the staff, especially Dr. Sherrill Morris, which allowed me to get through the impossible days. I was a first-generation college student, and I was able to accomplish that at NIU."

After earning her degree, Mendez-Harrison moved to Texas and completed her master's degree in speech-language pathology from Texas Women's University in Denton, Texas.

"My husband is a Texas native and wanted to return to Texas. Soon after, I began working as a speech pathologist in the nursing home and hospital industry. I worked my way to management positions and eventually assisted one healthcare company in completing a start-up therapy company at their multiple nursing homes," she said.

While Mendez-Harrison's daughter, Haley Rose Harrison, '22, was very young while with her mother on the NIU campus, the experience—along with her mother's healthcare work after graduation—made a huge impact on her own life and career choices.

"I grew up in Carrollton, Texas, which is considered north Dallas," Harrison said. "I was always interested in people. I worked from the age of 15 and never really stopped. I used to love to go with my mom to work at nursing homes or home health clients. I watched her give speech therapy, and I made connections with a lot of the population she served. I saw her have such a strong work ethic that made me interested in having the same impact on people."

When it came time to choose a path, Harrison wanted to follow in the footsteps of her mother's career while also experiencing a different part of the country. She decided to come back to NIU.

"Ultimately, I was very interested in having independence at that age. I was trying to find a way to really test myself and throw myself into a new situation that I could navigate alone. I didn't want to go to school an hour away from home. I wanted to experience a different state. I had always heard so many stories about my mom's time at NIU and how much she loved her Communicative Disorders program," Harrison said.

Harrison had remembered meeting Dr. Morris when she was a child and was confident that their program would be a good choice for her career. She also still had family that lived in the Chicagoland area, which gave her added support.

"When I arrived at NIU, I was pretty much terrified at first. I had always been shy, and I had to make friends but also learn a new environment and state," Harrison said. "I also had to learn how to handle winter, which I had never experienced before. I had to step out and make friends and I had learned that a lot of people knew each other from their hometowns."

Harrison chose to major in communicative disorders because she had so much experience witnessing her mother's successful career.

"I loved watching my mom work, and I loved her patients," she said. "I enjoyed watching my mom solve problems, work with difficult clients, create connections with clients, and help people gain their confidence back through speech therapy. I have always had a passion for helping people. I always knew that I wanted to do something that helped people and I wasn't sure how I wanted to do it. I was sure that I wanted a career that made me feel fulfilled. I found that in speech pathology."

Today, mother and daughter have both found success in their field, making a positive difference for those who need their help. Harrison loyally serves the elderly population in Texas while Mendez-Harrison works as a systems analyst in Texas for a company that owns many nursing homes, a hospice and home health company and outpatient clinics.

"My role is to assist the therapist at these locations by introducing better processes and assisting them with facilitating a better workflow by bridging the lines of business with the Information technology teams," Mendez-Harrison said. "I love being helpful and I love working with people. I can continue to fulfill both doing what I do as a clinical systems analyst."

Recent graduate Harrison currently works at Help at Home, serving seniors who need extra support.

"I am sent to elderly people's homes who need services," Harrison said. "Each client is different and needs a variety of different services from me. I find it fulfilling to help people keep their independence. I enjoy providing companionship to people who may not have company all week. It is challenging because I am providing a variety of services when I wish I could focus on one aspect of their care. I will be able to do that when I enter the field as a speech pathologist."

Harrison credits NIU with giving her the opportunity to learn how to adapt on a large scale.

"At NIU, I learned what I was capable of. I also learned what I could contribute to the world and a new community. The school gave me friends, a degree, and a passion for my new career," Harrison said.

"In fact, my friends often make jokes because they say that I hang out with elderly people more than people my age," she added with a laugh.

For Mendez-Harrison, seeing her daughter continue in her line of work while attending her alma mater has been especially meaningful.

"Watching my daughter, who was just a toddler when I graduated, walk the same stage as me was a phenomenal and emotional experience!" Mendez-Harrison said. "Having Dr. Morris there was the cherry on top! NIU will forever be a special place for me and my family!"