Jenifer Montag, M.A. '98, Ed.D. '22, Removes Barriers for Students with Disabilities


By Eva Richards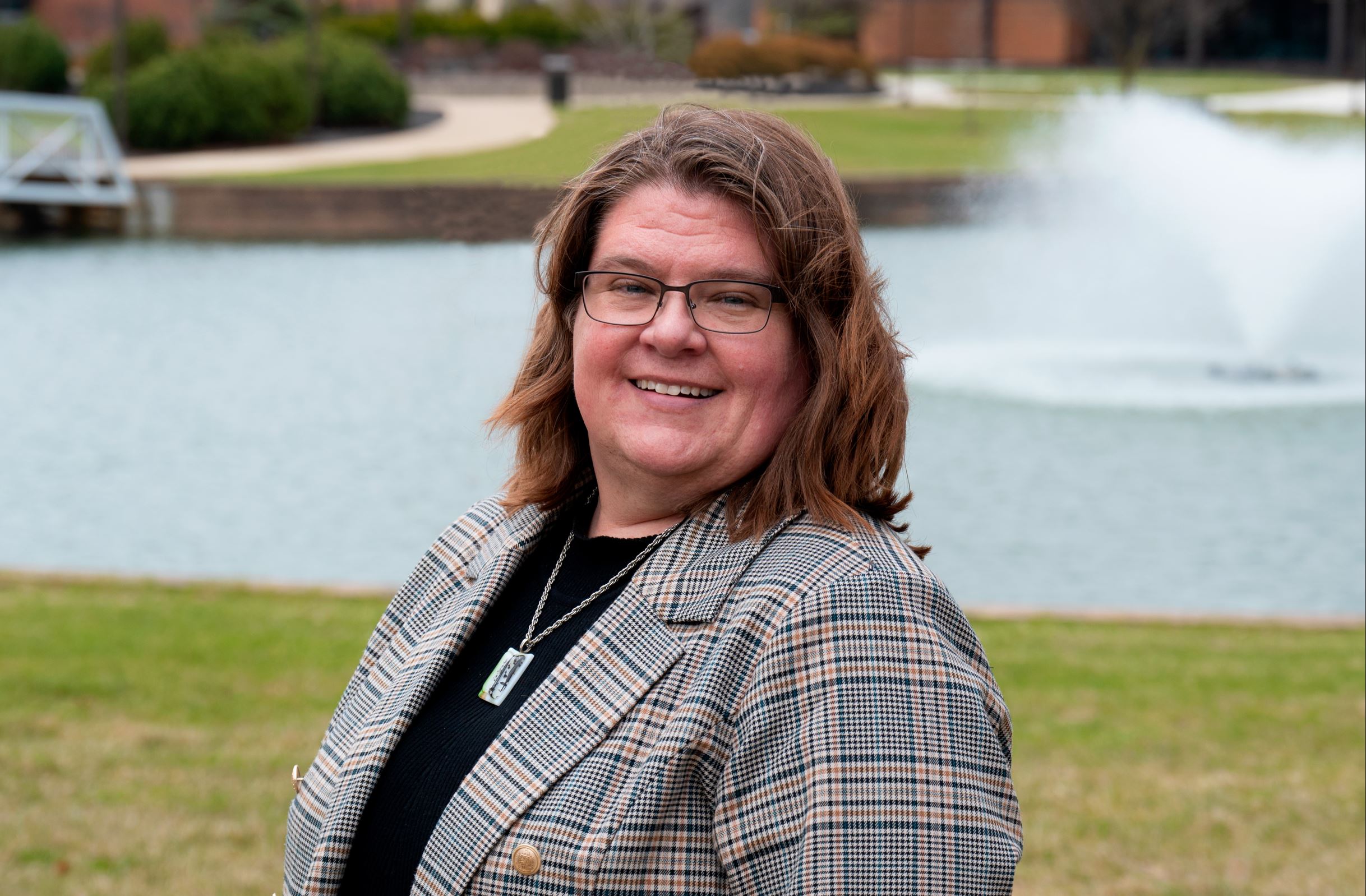 Jenifer Montag, M.A. '98, Ed.D. '22, works as the director of student disability services for Marion Technical College in Marion, Ohio.
In 1996, when Jenifer Montag decided to enroll at NIU to pursue her master's degree in rehabilitation counseling for the deaf, she had no idea what the institution would mean for her.

Her journey to serving students with disabilities began even earlier than that, when she was still a child.

"Growing up, my best friend's sister was D/deaf and both of them taught me beginning ASL, but I never thought there was a career in signing American Sign Language until I met sign language interpreters in college," Montag recalled. "That opened up the door to a career working with deaf individuals."

Having received a bachelor's degree in history and fine art from Winona State University in Winona, Minnesota, Montag then decided to earn her associate's degree in sign language translation from Northcentral Technical College in Wausau, Wisconsin, before deciding to go further, choosing to enroll at NIU for her master's degree.
"(NIU) was close to Fairwater, Wisconsin, where I am originally from, and it had a robust population of deaf and hard-of-hearing students attending, so that meant more opportunities for communicating in American Sign Language (ASL)," Montag said.

Montag was fortunate to be selected as a dorm advisor for the Program for Hearing Impaired at NIU, which was a transitional one-year program bridging high school and either post-secondary or work experiences for the participants who were deaf or hard-of-hearing. This allowed Montag the unique opportunity of becoming part of the Deaf community while learning in the classroom.

"Some of my favorite memories are the opportunities I had to talk with the D/deaf students and plan programs and activities for Deaf Pride (a student organization that promotes Deaf culture and awareness on and around campus), including a car wash, and all the 'all-nighters' I would pull to get the vast number of papers written for the classes," she said.

After graduation, Montag went on to roles in disability services at NIU, Delta College in University Center, Michigan, and Kishwaukee College in Malta, Illinois, over the next 20 years.

Her master's education also helped Montag to identify where her career was leading. At NIU, Montag met the then-coordinator of Deaf/Hard of Hearing Services, Maggie DePuye-Philips,'91, M.A. '93, as well as then- hearing impaired teachers Becky Pottorf, '95, and Sandy López, '91, M.S.Ed. '02, who now leads NIU's Undocumented Student Support program.

"I realized I wanted to continue being connected to a college, bringing opportunities of learning to diverse student populations," she said. "After working 20 years in higher education in disability services, 13 of which were at NIU, I finally realized that what I wanted to do with my career was to be one of the people in college administration that can open more doors through policy analysis and change. I wanted to encourage more students, especially those who may not have seen themselves as college students, to complete a certificate, degree or advanced degree. That extension of the work I had been doing for so long meant getting more education myself... and I selected NIU to continue on with my doctorate program."

While Montag hadn't necessarily known she would return to NIU for her doctorate in 2018, she kept coming back to the quality of the program and its many benefits.

"As a working adult with family responsibilities considering options for my doctoral program, I looked at other programs that offered online doctoral programs. I was looking for a program that worked with adult, working students, but provided rigor and a nationally known program with faculty that focused on the student's research interests—including a focus on community college leadership—at a reasonable cost for those who would have to self-pay for the program," she said. "I kept coming back to NIU as meeting all the criteria, and I loved that there was a residency week to work and learn together with my cohort of classmates. The cohort was critical to our success as students, we have continued to maintain contact and share information about relevant research or updates, along with support as we each continue to grow in our leadership roles."

Montag fondly remembers getting together with her cohort during the residency week and connecting with them online during their intensive "Writing Saturdays."

"I never felt alone writing my dissertation when I knew my classmates were also sitting at their computers during late nights, early mornings and on the weekend, like I was," she said.

In 2018, as she was beginning her doctorate studies, Montag accepted a role as the director of student disability services for Marion Technical College in Marion, Ohio, where she still serves.

"Generally speaking, in post-secondary disability services offices, the typical day is 'untypical,' she said. "This is the benefit of having to problem-solve practical, academic, administrative, and policy barriers to ensure that people with disabilities (are) not experiencing discrimination. I am also working to facilitate inclusion of disability as another facet of diversity on our campuses and in our workplaces. I am also facing day-to-day situations of barriers that were not anticipated or were not resolved, and I am looking for better approaches. This career allows me to be creative, practical, and to connect with the students, the faculty, and the campus staff and administrators as I work to continue to expand the diverse voices around the table of higher education."

In her work, Montag looks at the larger educational picture for students with disabilities. One moment, she may be working on finding a way to provide math in an accessible format for a blind student, while also responding to a faculty member who is asking how to make sure the class activity includes all the students, including the student who is deaf. A bonus to her role is that she goes into the community and talks about students with disabilities going to college and the support that is available to them.

While beginning her new role at the community college, Montag learned that Marion Technical College was teaching nearly 500 men who were incarcerated at two different prisons as part of the college's correctional education program, granting college certificates and degrees. This is a non-standard learning environment that the college must ensure is accessible to those students with disabilities who are incarcerated. Searching for information on how to approach this new environment to provide the reasonable and appropriate accommodations, Montag realized there was little information to guide disability service staff at colleges to meet the needs of this population of learners.

"My faculty in the Ed.D. program at NIU were on board for me to study this, in hopes of providing concrete knowledge and data to make sure all college disability services staff can meet the needs of this unique student population," she said.

Today, Montag is still working hard to problem solve barriers to learning access for the students inside the prison walls.

"This is a process that is more complex than in the general campus environment, due to the prison administration and necessary security requirements. But it is not impossible!" Montag said. "I am now taking the lessons learned from my research and personal experience providing accommodations to disabled students who are incarcerated and presenting at regional and national conferences to make sure all the colleges that are providing college correctional education are also facilitating access for those who have disabilities and enroll as students inside the prison walls."

Having two degrees from NIU, Montag now believes that her experience made her doubly prepared for working in higher education.

"The master's degree incorporated new theories, perspectives, and a significant amount of hands-on learning in the form or practical and clinical experiences in the field," she said. "These opportunities allowed me to apply the counseling theories and approaches to work with people with disabilities to get and maintain employment. The doctorate expanded my understanding of the role of college administration, especially at community college, which has been my vocational setting for the past 10 years. Additionally, the opportunity to combine my work experiences in disability services with the research in community college leadership was a dream come true."

Still, Montag's most proud moments have nothing to do with her own educational journey.
.
"Every graduation ceremony is when I am most proud, not of anything that I have done, but of the students receiving their diplomas," she said. "Being able to see them achieve their dreams, knowing that many of them faced a barrier—whether because of a disability, or perhaps because of finances, family demands, or any number of situations that can slow down or derail a college student's progress.

"Seeing them persevere and get their diploma is nothing short of joyous."