Huskie Summer Circuit
Meet NIU Coaches and Staff in Oakbrook Terrace on June 6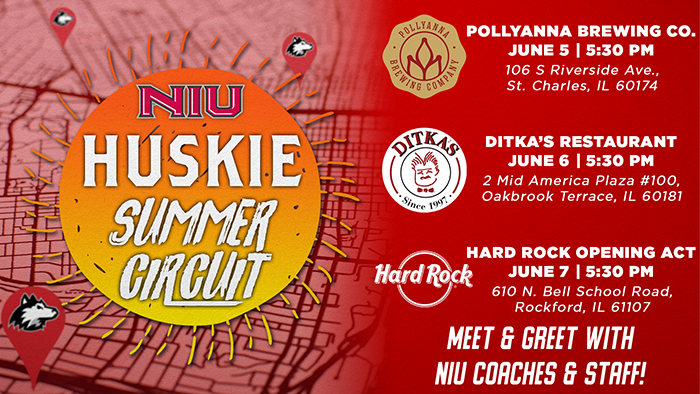 Northern Illinois University head coaches and athletics staff are looking forward to hitting the road this June to meet and greet Huskie fans from throughout the region at the 2023 Huskie Summer Circuit.

Alumni, fans and friends are invited to join NIU administrators and head coaches in St. Charles, Oakbrook Terrace and in Rockford on June 5-7 respectively, to hear from NIU Vice President and Director of Athletics and Recreation Sean T. Frazier and the head coaches from the Huskies' 17 sports programs, including football coach Thomas Hammock, basketball coaches Rashon Burno and Lisa Carlsen, and volleyball coach Sondra Parys.

Chat with the coaches and NIU staff while enjoying appetizers and a cash bar before hearing from every coach and Frazier during the program. Purchase football and volleyball season tickets on the spot.

2023 Huskie Summer Circuit

June 5, 5:30 pm – Pollyanna Brewing and Distilling Company – St. Charles
106 S Riverside Ave., St. Charles, IL 60174

June 6, 5:30 pm – Ditka's Restaurant – Oakbrook Terrace
2 Mid America Plaza #100, Oakbrook Terrace, IL 60181

*June 7, 5:30 pm – Hard Rock Opening Act – Rockford
610 N. Bell School Road, Rockford, IL 61107
*MUST BE 21+ TO ATTEND

Season tickets for the 2023 NIU home football games are on sale NOW online at NIUHuskies.com or by calling 815-753-PACK (7225). NIU football season tickets remain the best sports ticket value in Chicagoland, with prices starting as low as $88 per season ticket with the $352 Family Pack featuring four general admission tickets in section West G. Season tickets on the East Side (general admission seating) are just $97 each. Reserved seats on the West Side start at just $102 for the season (as a 4-pack price) with additional premium options, including chairback and benchback seats available for $162 for the season tickets plus a premium seat license payment. Discounted season tickets are available for $144 on the West Side for NIU Faculty/Staff, NIU Alumni and Seniors (62+).

Ticket Pricing for the 2023 season:
West A: $102/each 4 seat minimum, $144/each otherwise
West B: $102/each 4 seat minimum, $144/each otherwise
West C: $162 regular price, $144 discounted price
West D: $162 regular price, $144 discounted price
West E: $162 regular price, $144 discounted price
West F: $102/each 4 seat minimum, $144/each otherwise
West G: $88/each 4 seat minimum, $144/each otherwise (GENERAL ADMISSION)
Premium Benchback: $162 + $75 regular price, $144 + $75 discounted price
Premium Chairback: $162 + $150 regular price, $144 + $150 discounted price
East Side: $97 regular price, $65 for student families/guardians

Event Information
2023 Huskie Summer Circuit
Cost: $20 ($25 at the door)
When:
5:30PM - 7:30PM Tue 6 Jun 2023, Central timezone

Where:
Ditka's Restaurant – Oakbrook Terrace
2 Mid America Plaza #100
Oakbrook Terrace, IL 60181
[ Get Directions ]