Alumni Spotlight: Andrew Traver
Director of the Naval Criminal Investigative Service (NCIS)
B.A. Sociology, '85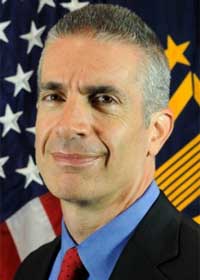 Andrew Traver has served as the fifth civilian Director of the Naval Criminal Investigative Service (NCIS) since being named to the post in October 2013. In his role, Traver leads the agency as it investigates and defeats terrorist, foreign intelligence and criminal threats to the United States Navy and Marine Corps on land, on the water, and online.

Traver graduated from NIU summa cum laude with a bachelor's degree in sociology (criminal justice) in 1985. Following college, he joined the Navy and graduated third in his class from Officer Candidate School in Newport, Rhode Island.

A 26-year career veteran of the Bureau of Alcohol, Tobacco, Firearms and Explosives (ATF), Traver began as a special agent in 1987 in Chicago and investigated violent gang-related crime and violations of federal firearms, narcotics and explosives laws. He was also a training officer and fully deputized member of an Illinois State Police narcotics task force.

Traver has also worked in ATF offices in Denver, New Orleans, San Francisco, Philadelphia and Camden, N.J.