NIU Football "Stories from the Sidelines" event set for February 18
Get an Inside Look at the Past, Present & Future of Huskie Football

Northern Illinois University family, friends and fans are invited to join the NIU football coaching staff, current student-athletes, including consensus All-American Sutton Smith and Academic All-American Max Scharping, and Huskie stars of the past for "NIU Football: Stories from the Sidelines" on Sunday, February 18, from 3 p.m. until 5 p.m. in Altgeld Auditorium on the NIU campus.

Tickets for this afternoon celebrating the past, present and future of Huskie football are $75 per-person or $550 for a table of ten which includes 8 guests and two seats reserved for representatives of NIU Athletics. Everyone in attendance will have a chance to meet and interact with the student-athletes, former student-athletes and coaches. There will be a silent auction, a cash bar, and heavy hors d'oeuvres available. Can't make it to the event, but still want to make a donation? Click here!

Fans attending the event will get the chance to learn about the latest class of Huskies signed in December and February, get a preview of the 2018 team going into spring football, and mingle with the 2018 NIU coaching staff. Beginning at 4 p.m., the program, moderated by "Voice of the Huskies" Bill Baker, will feature both the former Huskies and current players providing an inside look into their time in a Huskie uniform. Fans in attendance will also have a chance to participate in a question and answer session with the players and coaches.

This exclusive event takes the place of the Signing Day Party after the addition of the December signing period in 2017 altered the recruiting calendar.

Altgeld Auditorium is located on the second floor of Altgeld Hall with parking in the nearby campus lots.

Registration closes on Thursday, February 15, so reserve your place today.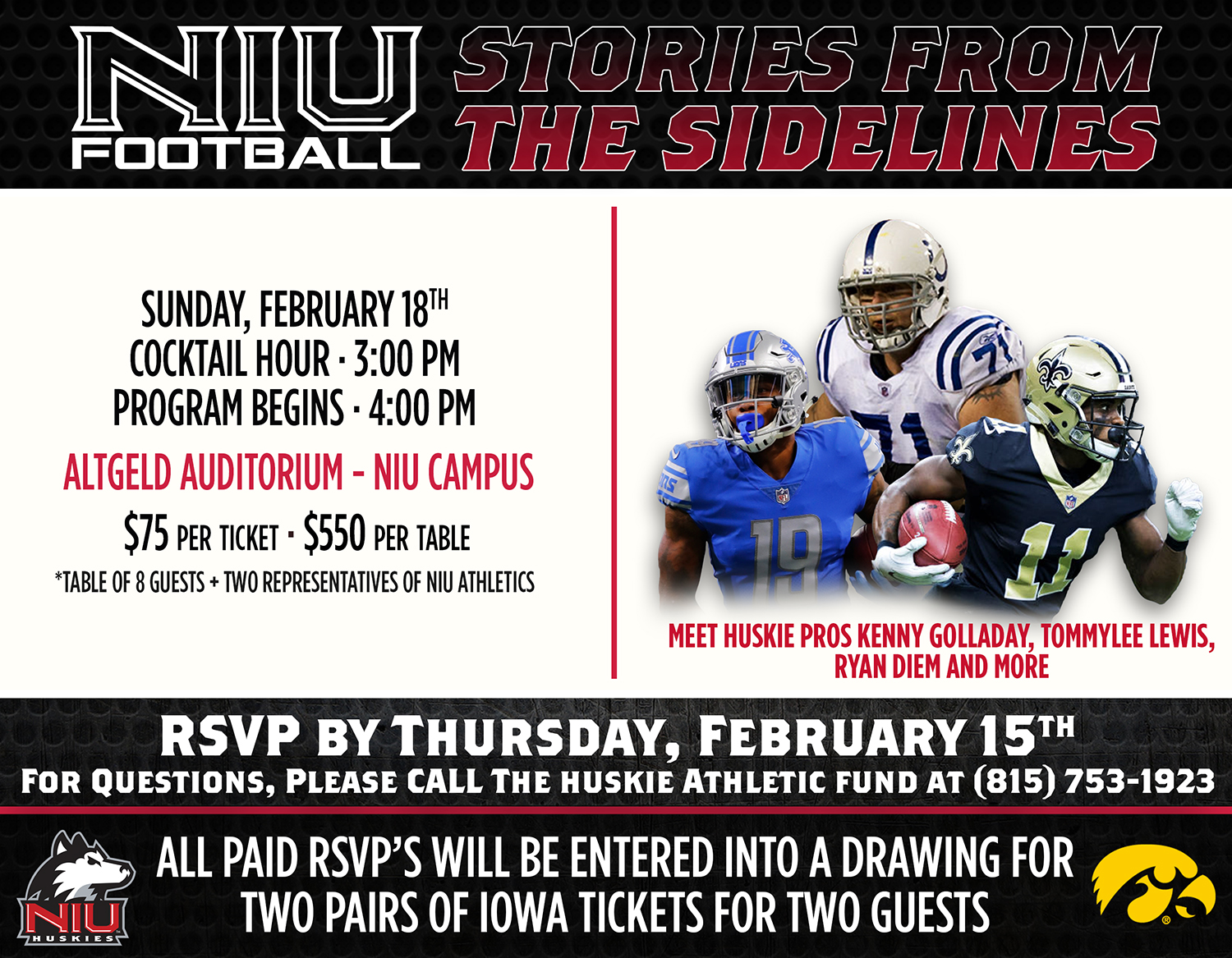 Event details
Ticket Pricing:
Table (seats 8) - $550
Individual ticket - $75
CLICK HERE to make a donation
NOTE: All ticket purchases and donations are final and non-refundable.
Contact Information:
The Huskie Athletic Fund
815-753-1923
Time & Place:
Sunday, February 18, 2018, 3 p.m. - 5 p.m.
Altgeld Auditorium inside Altgeld Hall
595 College Ave.
DeKalb, IL 60115