The UMREB experience: competing in the Midwest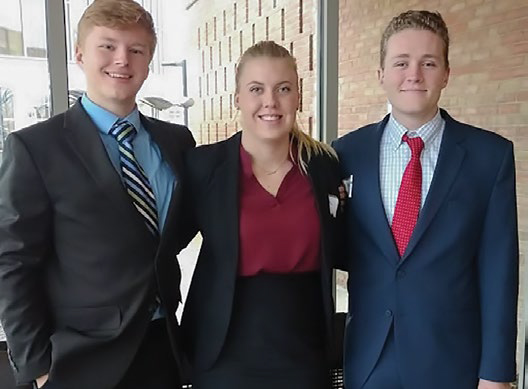 This fall, Dr. McCoy and the members of LEAD decided it would be a wonderful opportunity for LEAD to participate in the Upper Midwest Regional Ethics Bowl (UMREB). The group has not competed in many years because we have hosted or co-hosted at other schools.

The 2017 Ethics Bowl was hosted by Oakland University in Auburn Hills, Michigan. Dr. McCoy and the members of LEAD travelled to Oakland University to not only participate in the competition, but to gain experience on how it was organized. LEAD is very excited to announce that it will be hosting UMREB during the 2018-2019 school year! In the weeks before the competition, the team spent many hours working together, reading and studying each case carefully. Before we knew it, it was time to travel six hours to Auburn Hills in Dr. McCoy's famous van.

On Saturday, Nov. 18, the competition was in full swing! The UMREB consisted of 26 total teams from 18 different schools in the Midwest region. In preparation for the competition, each team was given 13 separate cases to review, and the team was expected to debate the ethical topic in question from any case chosen by judges in each round.

Jack Hinds, Brittany Vincent, and Matt Luhring were the three participants from LEAD that attended UMREB. Hinds expressed what it was like before entering the competition room in round one. "Going into the first round we were pretty nervous, because we were not exactly sure what to expect; but with all our hard work we were confident in our preparation."

In the first round, the LEAD team performed better than expected as both teams were well versed on the cases that were given by the judges. The first two cases we did not win, but our scores were very close with the other team. During the third round, the LEAD team was successful, and luckily with their favorite case, won the round. In round four, the team was not as successful. We competed against Ripon College who had a very talented team and went on to win the entire UMREB competition for the fourth year in a row.

Even though NIU did not end up placing, we were very proud of our team for their hard work and the knowledge they gained from UMREB. It was a fantastic experience seeing how this competition was run and we are looking forward to having the honor of hosting it ourselves here at NIU in 2018!