Fill the Field - Homecoming 2018
10/13/2018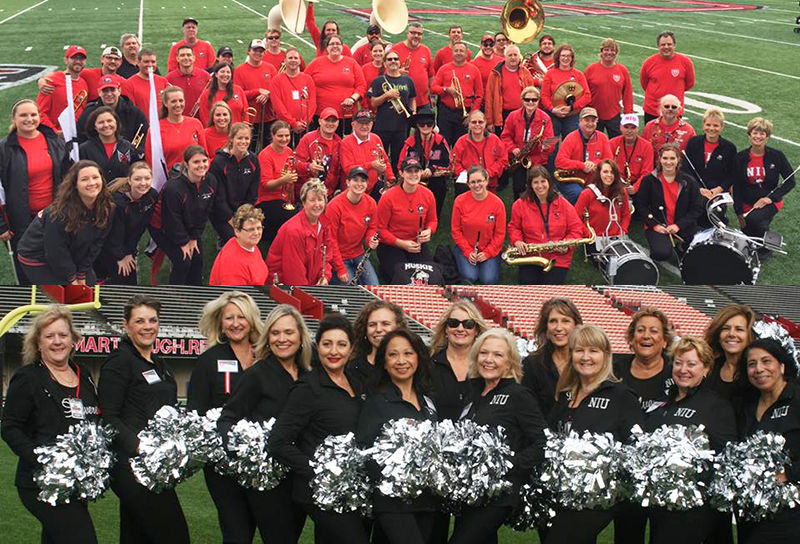 Huskie Marching Band and Silverette alumni are invited back to campus on Saturday, Oct. 13 for the 112th homecoming at NIU. Even if you have not played your horn, tossed your flag or danced your routine since your last performance at NIU, now is the time to dust off your instruments/flag/dance shoes and help "Fill the Field."

In an effort to build a strong alumni band and keep us all in touch with the current Huskie Marching Band and Northern Illinois University, the Marching Band Alumni Council — in conjunction with the Alumni Association — formed the NIU Alumni Band affinity group in December 2006. We're building a database of former band members — instrumentalists, color guard, Silverettes and twirlers — and helping the NIU Alumni Association plan appropriate social events to bring us together on a regular basis.

Registration for Fill the Field is now closed. If you have questions, please contact Amy Ogden, aodgen@niu.edu or 815-753-1449.
PERFORMING OPPORTUNITIES: For the 12th consecutive year, the alumni band and Silverette alumni will perform the entire pregame and halftime show on the field alongside the Huskie Marching Band. The 2018 homecoming activities will include the parade, tailgating, pregame, postgame and halftime, and will feature the following music selections: NIU Fanfare, Hail to the Huskies, Huskie Fight Song, Alma Mater, Star-Spangled Banner as well as: "Higher Ground" – Red Hot Chili Peppers; "Holiday" – Green Day; and "Come out and play" – Offspring

REHEARSAL: All participating band and Silverette alumni are strongly encouraged to attend the rehearsal on Friday, Oct. 12 from 7 – 9 p.m. at Huskie Stadium. In the case of inclement weather, alternative practice location may be an option and all band and Silverette alumni will be notified by email in advance. All alumni are invited!

POSTGAME AFTER PARTY: Band and Silverette alumni and guests are encouraged to attend the postgame after-party at the DeKalb Elks Lodge, 209 S. Annie Glidden Road. Tickets are $10 in advance or $15 at the door. Kids 12 and younger are free. Tickets include pizza and beer nuggets. A cash bar will be provided.

BAND UNIFORM: To provide a consistent look on the field and demonstrate our Huskie pride, we ask each alumni band member to wear our "official" long-sleeved red T-shirt and black pants or jeans. The cost of the shirt is $25. This is a one-time purchase since the design has not changed since 2006 and the same shirt can be reused each year.

SILVERETTE UNIFORM: The black long-sleeved Silverette alumni shirt is available to order for $25 in several women's sizes. If you have a concern regarding sizes, please see the size chart on the Silverette Alumni Facebook group pages. Please wear the black long-sleeved Silverette alumni shirt, the black sequined Silverette alumni jacket or the black Silverette racerback top, black pants (yoga, performance leggings or black jeans) and black footwear. Silver poms are needed for the Huskie Fight Song and the halftime routine. If you still have those, please bring them. If you need to purchase silver poms, please contact Lin Bayer, the Silverette alumni representative. As soon as the choreographer uploads the halftime routine to YouTube, the link will be posted on the Silverette Alumni Facebook group pages. For those attending but not on Facebook, the link will be emailed to you by Lin.

INSTRUMENTS: Due to the band's tremendous growth in recent years, virtually every band-owned instrument is used by current members, so we ask that you provide your own instrument. Your local school or music store may be able to assist you. The band can provide flags for alumni color guard.

MUSIC: The pregame music is available in PDF format on the Huskie Marching Band website. Note that these arrangements might be different from what you played "back then." The Show Band music PDFs will be emailed to you after you register, but can't be posted online due to copyright laws. Please print the music and bring it with you. And don't forget your lyre and flip folder, which you may obtain from your local music store or an online supplier.

SCHOLARSHIP DONATIONS: The 2018 scholarship goal is $10,000! Part of the mission of the Alumni Band affinity group is to give something back to NIU and the current Huskie Marching Band and Silverettes. We ask each Alumni Band performer to make a tax-deductible donation to the band to be used exclusively for a scholarship for a current band student. Please make a donation to the scholarship fund even if you can't join us on Homecoming! We've developed a cycle where money raised this year provides for scholarships next year. These scholarships are critically important to the recipients, allowing them to remain in school and to continue playing in the band. Silverettes and Marching Band alumni have the option to select which student group will get their donation.
Giving Categories:
$1,000 (Platinum)
$500 (Gold)
$250 (Silver)
$100 (Bronze)
$50
$25
$10

GAME TICKETS: Game tickets for general admission seating in the east grandstand are available at the group rate of $15 each. Band and Silverette alumni are welcome to sit near the band. You'll need to purchase tickets for yourself and each guest. If you'd like to be on the west side of the stadium or elsewhere, you can purchase general tickets from NIU Athletics, or call 815-752-6800. You must have a game ticket to perform on the field. Game tickets must be purchased in advance and will not be for sale at registration.

SECURITY. Per NIU Athletics policy, only performing members with wristbands may come onto the football field for rehearsal, pregame and halftime. Wristbands are only for staff and performers. Your guests may watch us from the stands, but children younger than age 18 must be supervised by an adult.

REGISTRATION: Due to the complexity of Saturday's performing activities, walk-ins can't be accommodated and advance registration is required. Please register and submit any payments by Monday, October 1.

STORAGE. If you prefer, you can store your personal items in the Stevens Suite of the Barsema Alumni and Visitors Center. Guests will have access to room from 9:00 a.m. - 6:00 p.m. Saturday, except for 2:30 - 4:00 p.m. when building is locked for cleaning. This room will remain locked, so to access the room, please ask to have it opened at the front information desk, located on the first floor by the boardroom. Please note that the Barsema Alumni and Visitors Center is not responsible for lost or stolen items.

HOMECOMING PARKING: Free parking is available at the Chick Evans Field House if you enter the lot before 11 a.m. The field house is across from the Barsema Alumni and Visitors Center at the corner of Annie Glidden Road and Lucinda Avenue. If you require handicap parking, please indicate that on the registration website or form so arrangements can be made with NIU Athletics.

SCHEDULE: Please see the schedule below. Although we don't expect changes, the final schedule will be emailed to registrants and posted on the Alumni Band website a few days before homecoming.
| | |
| --- | --- |
| Friday, 7 - 9 p.m. | Practice at Huskie Stadium - all are invited! |
| Saturday, 7:30 a.m. | Band and Silverette alumni registration opens at southeast gate to the stadium. |
| 8:30 a.m. | Ticket distribution ends! Band and Silverette alumni and band combined rehearsal at Huskie Stadium. We will run through the music and review the schedule and logistics for the day. To ensure that Saturday's activities proceed without difficulty, Dr. Bough and the council request that all who are performing any portion of the event attend the rehearsal. |
| 11 a.m. (optional) | Band and Silverette alumni are dismissed for tailgating and are welcome to visit the alumni tailgating area at The Yard, west of the stadium. Please note that there will not be an Alumni Village at the BAVC. The Yard alumni tailgate will include a kids zone, live entertainment and NIU giveaways. Food and beverages can be purchased from various vendors. Cases and/or instruments must be stored off the field since the south end zone is now a party zone. |
| 12:30 p.m. (optional) | Band and Silverette alumni are invited to perform with the Huskie Marching Band at the Huskie Band preview mini-concert, located north of the Chessick Practice Center, or at The Yard, west of Huskie Stadium. |
| 2 p.m. | Pregame call time. The band and Silverette alumni will join the band and will enter Huskie Stadium from the southeast. |
| 2:15 p.m. | Pregame show starts. |
| 2:30 p.m. (optional) | Kickoff. Band and Silverette alumni and their guests are welcome to sit in the east grandstand with the band during the game. All band and Silverette alumni and guests must have tickets. |
| 4 p.m. | Halftime. Silverette alumni perform their halftime routine and all Band and Silverette alumni are invited to join the band in performing the Huskie Fight Song while marching off the field at the end of the halftime show. |
| 5:30 p.m. | Post-game. Band and Silverette alumni are invited to join the band on the field to perform the pre-selected music. |
| 6 p.m. (optional) | Post-game afterparty. Band and Silverette alumni, their families and guests are invited to join us at the DeKalb Elks Lodge, 209 S. Annie Glidden Road. Pizza and beer nuggets are included in the price and will be served at 6:30 p.m. A cash bar will be available. $10 per person for those age 13 and older ($15 at the door). Kids age 12 and younger admitted free. |
Event Information
NIU's 112th homecoming vs. Ohio University - 2:30 p.m.
Saturday, Oct. 13 at Huskie Stadium
When:
7:30AM - 8:00PM Sat 13 Oct 2018 ( Timezone: Central )

Where:
Huskie Stadium
1525 W Lincoln Hwy
DeKalb, IL 60115 USA
[ Get Directions ]