Steve Peifer: An International Hero
Author Steve Peifer shares how a pilgrimage to Kenya transformed him from an ordinary middle-aged man into an international hero.

Steve Peifer and his wife Nancy lost their child on the eighth day after his birth due to a genetic disorder called trisomy 13. They didn't know how they could go on, but they knew that they had to change their life.

"When you lose a kid, you lose everything," said Peifer, a 1977 alumnus.

Realizing that they needed to escape from their surroundings, the couple decided to head to Africa. Peifer was reluctant to go, but his wife had always wanted to do missionary work there. So they packed up with their 7- and 10-year-old sons and headed to Kenya for a 12-month assignment as dorm parents at a boarding school for children of missionaries.

"I was never a crier before Africa," he said. "But I found something every day that just broke my heart."

The turning point came for him the last week of their one-year assignment as dorm parents. Peifer was visiting a school and knew that the natives were experiencing a drought and famine. He asked why all the children were lying on the mud floor. He was told that the children would faint if they sat up straight since it was Thursday and they had their last meal on Monday.

He and his wife did some research and discovered that most children in the area ate only one meal per day if they were lucky and that the school dropout rate was 50 percent.

While Peifer had to return to the U.S. for a work contract, he and his family returned a year later, in 2001, to create Kenya Kids Can, a project under the nonprofit organization Africa Inland Mission that provides meals and computer training to impoverished students. To support his family, he became the director of college counseling at a Christian boarding school in Kenya.

The couple's love for helping children in Kenya led to the adoption of 5-month-old twins – a boy and a girl – who are now in high school. They spent years fighting for a court date to adopt the twins. When they finally received the date, it was the birth date of their son who died. The Peifers believe that this was not a coincidence.

To create his first computer lab for a school, Peifer applied his skills as a technologist and manager for Oracle, where he had been responsible for overseeing 9,000 software consultants.

Today, Kenya Kids Can has established 20 solar-powered computer centers for primary schools and provides a daily lunch of maize and beans to more than 16,000 children in the schools.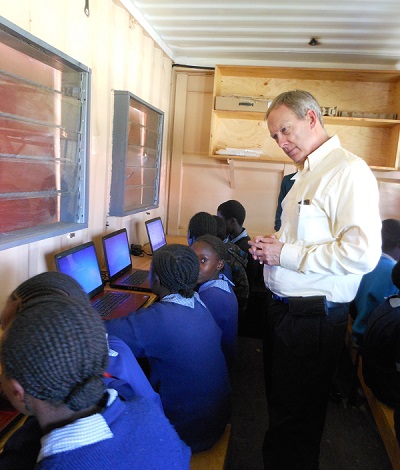 "When we came back, we found out that we could feed a kid for a month for about $1," he said.

During the first term of the school that initially participated in the program, no one dropped out and 20 more children joined, according to Peifer. He noticed that only one child dropped out in the second term because his father died of AIDS and he had to take over his father's job as a herdsman.

He remembers the headmaster of the school coming to him in tears during the third term because the school went from last place out of 100 schools on a national test to the highest-scoring school.

"The only difference is the kids had food," he said.

As a result of the incorporation of computer labs, Kenyan children have become certified in Word, Excel and Access.

"Now a lot of the applications on smartphones in Kenya are written by my students," Peifer said.

To make the computer labs, his team converted 20-foot shipping containers into classrooms by sealing the end of the container and adding a door, windows, counters and a teacher's desk. When the container is delivered to a school, a metal roof is added and solar panels are mounted on the roof.

Other countries, such as India, Zambia, Zimbabwe and Uganda, have used the blueprints to build their own computer centers, he said.

He also helped change the culture for women. He told a school chief that he would bring free food as long as the children weren't charged for it and the chief's daughters were educated. After a stand-down for a week, the chief gave in and said that he didn't believe in educating his daughters, but he believed in free food and would go along with the request.

Peifer remembers young women doing skits to express that they didn't want to marry older men or fetch water, but instead wanted to be professionals, such as computer experts or doctors. He recently learned that a female student was accepted into medical school.

He helped pay for SAT exams so students had a chance to attend college. One young man got into Harvard University after Peifer encouraged him to believe in himself and apply.

Working with the community was sometimes dangerous for the Peifers.

While the AIDS epidemic has slowed down in recent years, the family witnessed a massive amount of people dying from the disease. Peifer remembers putting himself at risk when he helped a couple of mothers give birth.

"When we were there, AIDS was at its peak," he said. "I could have taken you to villages where there was no one alive from age 20 to 40."

On many occasions, police stopped him when he was delivering food to schools to accuse him of stealing it, took him to jail and wanted him to give up some of the food bags as evidence, he said, but he showed them receipts and refused to give up the food.

Another scary incident happened when his car broke down and he had to find a place to stay. After finding a motel, Peifer said, a machete was given to him at check-in so he could protect himself from thieves. Fortunately, he didn't have to use it.

As the program grew and the second computer center was built, a sobbing girl approached him to say, "I never had a dream so big."

Those words echoed in his head and "A Dream So Big" became the title of his book. He wrote the book to let readers know that they don't have to be an expert or a gifted, charismatic person to make an impact.

"I'm charismatically impaired and I'm ugly," he joked.

In his book, he acknowledges Gary Glenn, a distinguished teaching professor emeritus of political science from Northern Illinois University, as the greatest teacher he's ever had.

He remembers preparing a 70-page paper for Glenn and then finding out that it had to be three pages to get a passing grade.

Glenn taught that "wisdom is knowing what's important," he said, "and that has served me all of my days."

He received the CNN Hero for Championing Children Award in 2007 and built a couple of additional computer centers as a result of the money that it generated.

He also earned the Excellence in Education Award in 2010 from the National Association of College Admission Counseling – a high honor for a counselor. This award was given to former first lady Michelle Obama in 2014.

Peifer is still amused that he won this award since he has never taken an education course, but he did complete a one-year certificate program in college counseling. He has remained in college counseling since his work at the boarding school and is now vice president of college counseling for KD College Prep in Wellington, Florida.

After 12 years in Kenya, Peifer said, the best thing that he did for the natives was leading them to educate themselves.

He realized that he needed to take a step back as a leader following a robbery at a computer center. He didn't know what to do since the budget was tight, so he met with the teachers to tell them that he didn't have all the answers and he put someone else in charge. The team blossomed as they shared their insights. Almost 20 years later, the woman that he put in charge of the computer centers is still doing the job.

"The people in Kenya are such good people. It's such a rich, beautiful culture," Peifer said, "It was an honor for me to be a part of it and I got so much more than I gave."

He stays in touch with the team that is running Kenya Kids Can and plans to return to the country with his family in May since they are longing to go back.

"Kenya really gave me my life back," he said.

#NIURemarkableAlum