Golden Knights Skydiving Team to Swoop in for Homecoming
In honor of the 50th anniversary of ROTC on campus, the Golden Knights will parachute into Huskie Stadium to present the game ball for homecoming.

For the 112th Northern Illinois University Homecoming on Oct. 13, the game will truly be a blast as the Golden Knights of the U.S. Army parachute into Huskie Stadium to present the football for the 2:30 p.m. game against the Ohio Bobcats.

The performance was arranged in honor of the Huskie ROTC Battalion to celebrate its 50th anniversary on campus. NIU is recognizing the service of more than 610 ROTC graduates, who have served in the United States Armed Forces during peacetime and war since 1971.

The Golden Knights number about 95 men and women who have conducted more than 16,000 shows in 50 states and 48 countries. The skydivers are one of only three aerial demonstration teams under the Department of Defense, along with the U.S. Navy Blue Angels and the U.S. Air Force Thunderbirds. The team has broken 348 world records and has earned gold, silver and bronze medals for the U.S. Army in national and international competitions since its inception in 1959. Besides participating in competitions, the Golden Knights perform demonstrations at more than 100 events annually and operate a tandem unit that takes soldiers, celebrities and heads of state on jumps.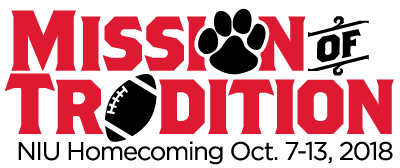 Before the sky show, the NIU Alumni Association and colleges will greet Huskie fans and provide giveaways, popcorn and bottled water from 11:30 a.m. until 2 p.m. at Alumni Village in The Yard, the west lawn adjacent to Huskie Stadium. NIU's mascot Mission will be available for photos from noon until 1 p.m. at Alumni Village.

The Hat Guys will provide music entertainment in The Yard. The band plays a diverse selection of modern and classic hits, spanning from the 1950s through today. At 12:30 p.m., the Huskie Marching Band, Silverettes, Color Guard and twirlers will perform in The Yard.

A bounce house, football toss game, obstacle course and bubble ball are some of the fun for families in the Kids Zone.

Fans can also participate in a photo contest, sponsored by the NIU Alumni Association. A booth with props will be available for photos at Alumni Village. Fans can tag @niualumni on Facebook and the most likes will win Huskie swag.

Get homecoming game tickets at Ticketmaster. NIU Athletics has reserved a block of seats for NIU ROTC alumni for only $15 per ticket at this link.

For more information about homecoming events, visit https://niu.edu/homecoming/.