Hearts on Stage
By Mark McGowan - Northern Now: Summer 2015 Issue
Sean Weisser is ready to rehearse.

"We are going to sing a song now," he croons from downstage right-center, the lyrics coming from memory. "But we don't know the real words, and we won't let that slow us down."

Weisser and his cast mates then run through "Circle of Life," dancing and singing along with a recording of Elton John. Next, it's "Hakuna Matata." Good stuff, one of the directors tells the stars. The dancing was excellent. Double the volume of the vocals, though.

"More excitement," he says. "This is a happy song!"

And so it goes. "Be the excitement! Model the excitement!" another director urges after the group performs a scene. "If you don't feel ridiculous, you're not doing it right."
***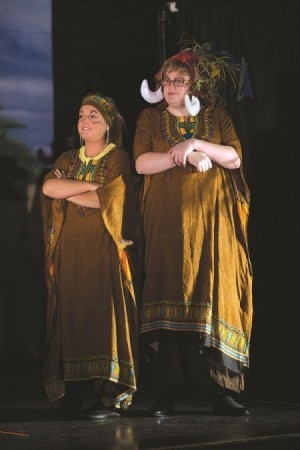 Abby Zaccaria ambles quietly into the Cavan Auditorium of Gabel Hall, where she has logged countless hours this spring.

On this windy Tuesday afternoon in April, the 19-year-old NIU freshman is looking comfortable in blue jeans and an oversized Chicago Blackhawks jersey. The key to her room in New Hall East dangles from a lanyard around her neck.

Like some of the other NIU students arriving for this 3:30 p.m. rehearsal of Music From The Lion King, Zaccaria chose NIU because it's close to home – she graduated in 2014 from Rochelle Township High School, about 25 minutes west of DeKalb – and because the university offers an outstanding honors program.

College is a good place so far for the marketing major, who's particularly delighted with a general education course in English. Zaccaria loves to read, especially fantasy and science fiction. "I like that the class poses a challenge, and I enjoy writing," she says. "It involves a lot of writing."

Soon it's time for the Penguin Players to take the stage.

Eight young adults with a variety of disabilities joyfully inhabit the roles made beloved by the Disney film. In this space, the three men and five women are known simply as artists. Young-and-in-love lions Simba and Nala, meerkat Timon, warthog Pumbaa, and the rest are all here for a musical revue of the movie's most popular songs.

Shadowing and leading the artists are a dozen NIU students. Some are directing the music and dancing while others, called mentors, stand close to the artists to guide and cheer on their performances.

Zaccaria is not one of them.

The young woman with Asperger syndrome, a mild form of autism on the high-functioning end of the spectrum, is not a mentor but an artist.

"I have a lot of fun," says Zaccaria, who performed last September in Aladdin with DeKalb County's Penguin Project for younger artists with disabilities. "I like how everyone is so nice and inclusive."

Growing up Penguins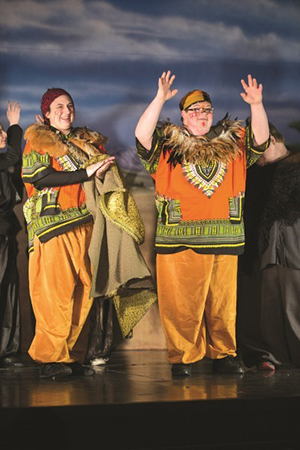 "Nice and inclusive" are exactly the goals of Joe and Barb King, who brought the Penguin Project to town six years ago.

They wanted to provide an opportunity for their eldest child, Daniel, who has epilepsy and an intellectual disability, to act, sing, and dance in the spotlight. Annie, staged in the fall of 2010, was the Penguin Project's first Broadway-style musical. The Music Man, Beauty and the Beast, The Little Mermaid and Aladdin followed in consecutive autumns.

Once the curtain dropped on Daniel's turn as King Triton in The Little Mermaid, however, he celebrated his 23rd birthday and found himself too old for the Penguin Project. The disappointed young man, who is now 24, began badgering his parents for something to replace that creative outlet.

"After creating the Penguin Project here, it was only a matter of a few years before Daniel aged out. We'd given him this thing that he loved the most, and then we took it away from him, and that just didn't seem fair," Joe King says. "We also had seen there were more kids coming through the pipeline who were facing that same thing, and we knew we needed an alternative."

NIU became the solution.

"We very quickly zeroed in on the Department of Special and Early Education. When we were introduced to Chair Barbara Schwartz-Bechet, she jumped on board immediately and kicked things into overdrive. She saw this as a natural fit – a real, hands-on learning experience for students," says King, a longtime NIU employee who works in Media and Public Relations.

"Barbara aligned us with a class where students commit to 30 observation hours and actually go out to interact with individuals who have disabilities," he adds. "Where all of the other opportunities are only observational, our kids are actually working and building relationships. For some, it's the first time they've had that kind of contact. They can see what their future holds in this field – or if it's really for them."

Penguin mentors have four jobs.

"They've got to be a teacher. They're teaching their artist the music, the dance, the dialogue," King says. "They've got to be a coach. They've got to know how to motivate, and they've got to cajole their artist sometimes. They've got to be a cheerleader, keeping the spirits up when it gets tough."

But atop the list, he says, "they have to be a friend."

"That's important with the younger kids too, but it's almost more important here," King says. "It's hard for adults with disabilities to mingle or make age-appropriate friends, and that's the thing the artists love the most. They have a chance to make a connection with someone their own age and be a friend."

Taking the stage at NIU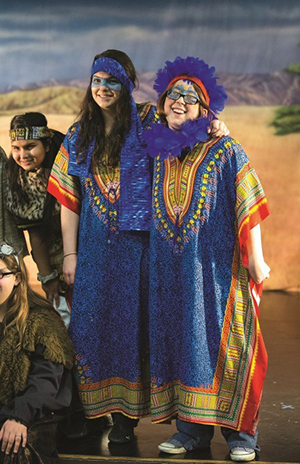 King's sales pitch to Schwartz-Bechet included a complimentary ticket to watch the younger version of the Penguin Project. Not long after the curtain rose, Schwartz-Bechet was sold – and soon started envisioning the Penguin Players as a way to provide NIU students with a more well-rounded perspective on persons with disabilities.

"We are seeing a growth in our students' comprehension about what it means to work with and become friends with persons with disabilities. I like the idea that we are not only encouraging our students to learn more directly about persons with disabilities but to see them as peers as well as people they can help," she says.

The presence of dance and music majors is wonderful, she says, adding that she hopes to engage students from other College of Education programs to work with Penguin in future semesters.

"They all are going to have children with disabilities in their classrooms," she says. "This provides a much deeper understanding of how individuals with disabilities learn and how they seek out partnerships and friendships with those without disabilities."

Micky Fassino, a recent transfer to NIU from Illinois Valley Community College, is a special education major. When the junior heard about the Penguin Players as an option to meet the 30 required observation hours in her SESE 260 course – Service Learning Field Experience in Special Education – she jumped at the chance.

"I've never worked with theater or with people who are older than fifth grade, so I thought it would be a good chance to spread out," Fassino says. "At first, I was very scared, because theater is not my thing, and I was very freaked out about that. But it was completely different than I expected. Everyone was so open and kind, and I love it. It's one of my favorite things to do every week."

Fassino mentors an artist named Libby Weaver. "She's become very trusting of me, which makes me feel good," Fassino says. "We talk about our weekends and what we had for lunch."

Time on the Penguin stage has also inspired Fassino to rethink her plan to work in elementary schools.

"After this, I think I would be more comfortable teaching high school," she says. "I've learned how to interact with people who have disabilities and are older than me. I never would have truly understood that without having experienced it."

Libby Thomson, a sophomore dance major from Green Bay, Wisconsin, is one of two choreographers for the Players. Thomson was rehearsing at a nearby studio in Gabel Hall last fall when she noticed the Penguins warming up.

One conversation with Barb King was all the persuasion Thomson needed.

Thomson worked with Special Olympics in middle school and high school, has helped to direct the Miss Amazing pageant for girls and women with special needs, and hopes to teach dance to that population when her own professional dance days are over.

"Penguin Players has been a lot of fun. It's an amazing group of men and women, and we've definitely come a long way since the first week," she says. "They have a special passion. They really want to succeed, and you can just tell that this is something they love to do."

Thomson enjoys seeing the tender camaraderie among the artists. She remembers one rehearsal when an artist broke down in tears and seemed inconsolable; another artist, who is mostly nonverbal, hustled over to comfort her with a gentle touch and a sound. The woman stopped crying and told her friend that she loved him, too.

"I had to walk away," Thomson says, "because I was about to cry."

With only four days to go until the April 25 performances, Thomson was optimistic that all of the hard work would pay off.

However, she knows that's not the point.

"It's just about having fun," she says. "If they go out there and do what they love, and are performing, and being so happy, and just being themselves on stage, then that's all that matters. We've accomplished our goal."

***
Penguin Players rehearsals are like any others.

Cast members go through vocal warm-ups. "Follow the yellow brick road" and "Z-Z-Z-Z-Z" they sing up and down four- and five-note scales. They respond quickly to calls of "Places, please!" or "One more time, from where we were!"

Encouragement is doled out in heaping portions: "Everyone in the audience is coming to support you and wants you to succeed!" "Every moment you can, give it your all!" So are friendly reminders: "Stay in character!" "Don't talk to the floor!"

There are questions too. "How do we start Act One?" "Who remembers what happens next?"

"And where are my hyenas?"

A community effort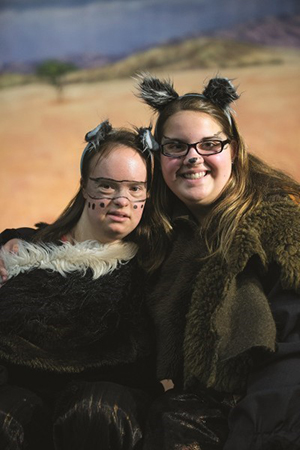 Help comes from many corners.

Penguin Players is mostly funded by a grant from the DeKalb County Mental Health Board. Other financial support has come from the family of one of the artists and from a fundraiser organized by a local business.

NIU First Lady Dana Stover, meanwhile, is working in the wings. Like Zaccaria, Stover became involved during Aladdin and wanted to stay engaged.

"Who wouldn't want to be?" asks Stover, who's on costume duty. "I loved what Barb and Joe did with Penguin Project, and when I heard that they were doing an 'older' one – and with NIU students – I wanted in."

Artists "show what they can do to an audience and have a moment in the sun, which we all need," she says. Mentors, meanwhile, receive the "priceless" real-world experience that her husband, NIU President Doug Baker, continually promotes.

"This is a hands-on, realistic job preview on Day One," Stover says, "and it couldn't be more convenient. It's right in their own building."

Joe King enjoys watching those NIU mentors grow as their relationships with the artists develop.

"As they get the hang of theater and get the hang of their particular artist, we're seeing them blossom. Their comfort level is coming up, they're a little more assertive and they're applying some of the strategies they're learning in the classroom to help manage their artists," he says.

"You know it's working when you reach the moment that it kind of becomes tough to tell the artists from the mentors," he adds. "When you hit that point, you know you've truly succeeded."

Zaccaria knows her personal goal in taking the stage as Zazu, the red-billed hornbill who narrates the show.

"I want to make new friends, and also to have fun and perform well," she says. "I get nervous in the weeks leading up to the play, but when it comes, you just get on stage and forget about being nervous."

Her parents are thrilled, she says. "They're very happy for me. They like it when I get involved in extracurricular activities and meet new friends."

And, as someone who's studying marketing because she's fascinated by the psychology behind it, she offers a profound assessment of why everyone loves the Penguin Players.

"They like the whole philosophy and idea behind it," she says. "We're all about people with disabilities and people without disabilities working together and being important parts of the production."

Joe King couldn't agree more.

"What we want from anyone who has come into contact with the Penguin Project is to walk away seeing people with abilities and not people with disabilities," he says. "We don't define our artists by their disabilities. We define them by what they can accomplish."