Against All Odds
Angela M. Johansson, M.A. '05 - Northern Now: Winter 2016
North Lawndale is one of the toughest neighborhoods on Chicago's West Side.

Its streets are plagued by poverty and gang violence. Each morning, workers in reflective orange vests are stationed at every corner to keep children safe as they walk to school.

Amid the drug deals and occasional gunfire, the streets of North Lawndale seem an unlikely path to a better life. But near the intersection of Sacramento Boulevard and Lexington Street, there's an innovative new school that has become a beacon of enlightenment, learning, and hope: Altus Academy.

Open the door to Altus and dozens of wide-eyed, smiling students will line up to shake your hand. Walk in and you enter a world that seems a million miles from the harsh reality of its surroundings.

Welcome to Altus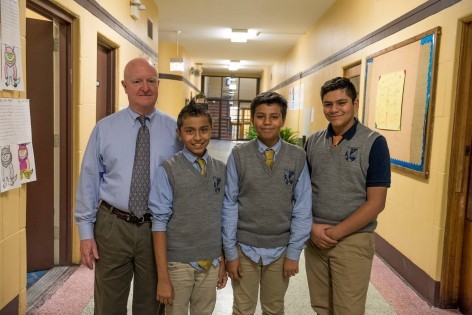 In their neatly pressed navy blazers, orange neckties, and gray Altus sweater vests, the Sanchez brothers – Andrew, Justin, and Junior – look like they could be students at any prestigious academy in the country.

Seated side by side on a couch in the community room, the three discuss history, math, and Greek mythology. Junior says that Justin is a "math genius," and Andrew describes Justin's impressive progress in reading.

The brothers are part of a growing family at Altus, an independent not-for-profit school that enrolls forty-six students from the second through the eighth grades. Founded by a group of NIU alumni led by John Heybach, '72, Ph.D. '76, it's the only school of its kind in the area.

The academy meets a growing need by providing college prep opportunities to children from low-income minority households. While a growing number of inner-city kids dream of packing their bags for college, only 14 percent of students in Chicago Public Schools go on to earn a college degree, according to the Chicago Consortium on School Research.

With the help of their alma mater, Heybach and his colleagues plan to change that.

Altus Academy opened its doors in 2011 in the basement of a Chicago convent with sixteen students, one teacher, and a boiler room that doubled as a cafeteria. The small facilities didn't stop Altus founders from dreaming big as they set out to provide intensive college preparatory academics and character development through the deliberate learning and practice of human virtue.

Heybach and his colleagues knew they'd need help with this ambitious venture. So they turned to the school that had prepared them for success: NIU.

From the beginning, Altus teachers worked with faculty in the NIU College of Education to create their curriculum. They spent a week at the DeKalb campus, where they learned to incorporate problem-based learning and technology into their lesson plans.

A partnership made in heaven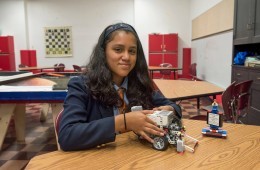 Altus eighth grader Nadia Rodriguez spins a tire on her LEGO robot while calculating how many degrees it will turn on its journey to the end of the table. She's a star on the robotics team, Altubots, one of several student clubs created in collaboration with staff and students from NIU. Last fall, representatives from NIU STEM Outreach traveled to Altus to help Rodriguez and her teammates prepare their robots for competition.

NIU faculty, staff, students, and alumni have brought a variety of hands-on programs to North Lawndale, including a week-long percussion workshop through the College of Visual and Performing Arts, a digital storytelling class by the NIU Center for P-20 Engagement, and a plate tectonic research activity giving Altus students the chance to present their research at NIU.

This spring, students and faculty from the NIU psychology program will help Altus staff assess students for learning disabilities and create lesson plans to accommodate them.

"We've been there since the beginning," says Laurie Elish-Piper, acting dean of the College of Education. "They are great partners who are always interested in working with us and willing to try new things."

Making the grade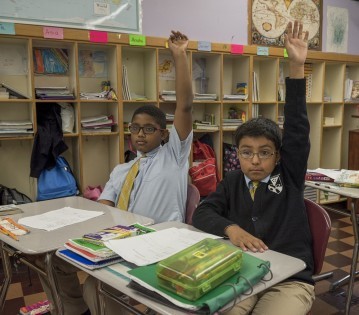 Altus students study virtue with the same rigor they apply to their academics. "We want kids to develop strong character, serve others, and contribute to society," says Heybach.

Each week, students create a goal for themselves. Rodriguez's goal was to create a distraction-free environment by turning off the TV and Facebook while she studies. At the end of the week, students grade themselves on two questions: 1. How well did you do? 2. How hard did you try? Nadia gave herself a four out of five.

"We have high expectations," says Heybach. "So we make sure the support is there. The kids like that."
All three Sanchez brothers have come to appreciate that support. "To tell you the truth, we were troublemakers when we first came here," says Andrew, the eldest. "We've done a lot of things we aren't proud of."

The three brothers agree that the school has turned them around. They talk about perseverance, fortitude, and respect. Justin says that he's learned that "if I never give up, I will learn math." He's currently studying fractions.

"If you show respect, people will trust you," Junior adds.

The academy has become a place where NIU students can complete internships, student teachers can teach, and faculty and students can conduct research to measure the impact of the school's unique practices.

"Altus is becoming a model school for teacher educators," says Marilyn Bellert, associate director of the Center for P-20 Engagement. "It puts NIU students in touch with the realities of teaching students in a developing community."

One last hurdle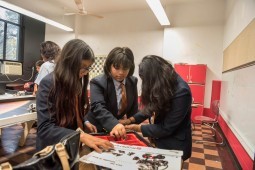 Academics are not the only obstacle on the path to college. Students become aware of the difficulty of financing a higher education at a very young age.

"When our second and third graders tell us they won't be able to afford college, I tell them that's the last thing we need to worry about," Heybach says. "Let's get you prepared academically, physically, and emotionally. I believe the money will come."

He's right. Some of that money will come from NIU donors Thomas Dee, '85, and his wife, Mary Jane, '85, who have created a scholarship endowment through the NIU Foundation.

"We want to support bright, motivated students from economically disadvantaged backgrounds who are committed to learning," they explain. "Sending these young people to Northern will help them, the university, and the community."

Heybach's eyes well up when he reports that ten eighth graders will graduate this year. Rodriguez and Andrew Sanchez are among them.

"We will be there every step of the way," says Heybach. His wife, Sue, '73, a placement counselor at Chicago's Sacred Heart Schools, meets with each of the graduating students' families to create a plan. The goal is to get all Altus graduates into a college prep high school.

Rodriguez has her sights set on Whitney Young, one of the top college prep high schools in the country. Her chances of acceptance are excellent.

Andrew plans to go to boarding school. He says Lake Forest Academy is at the top of his list because of the approachable faculty, something treasured at Altus.
"When I visited Lake Forest, the teachers were always close by … having coffee and talking to students. I like that," he says. Both students plan to come back often as volunteers and mentors.

"Alumni like John and Sue Heybach and Thomas and Mary Jane Dee represent the backbone of leadership we have across the Chicago area in business, government, and education," says NIU President Doug Baker. "We are inspired by their vision and leadership, as well as the opportunities for student career success they bring to NIU."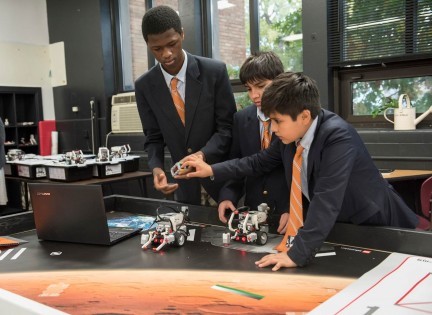 Heybach says NIU is an integral part of the Altus family. He calls the partnership priceless.
"Even if I could afford it, I could never buy it," he says.

Altus and NIU share a passion for creating a better future. "That's really what we're after at Altus – helping kids become adults with the curiosity and the drive to change their local community and the world," Heybach says.

Altus development director Vanessa Avalos, '06, agrees. "We want people to know they can believe in education again," she says. "I really want people to know all the wonderful things we're doing to help kids succeed and become successful students and kind, caring, responsible citizens."

As Rodriguez finishes up her robot programming for the day, she pauses and shares some advice for future students: "Just walk into Altus and you'll find a friend."

Rodriguez is hoping to help the Altubots repeat last year's success at the FIRST LEGO League championship in Chicago. After competing against much larger, more prestigious college prep schools, they exceeded everyone's expectations when they took fourth place.

Fittingly, the robotics team also earned the "Against All Odds" Award, a distinction these kids will likely earn again and again as they overcome challenges in their lives, led by what they've learned from John Heybach and his partners at NIU.