A's and B's First, X's and O's Second
New Huskie head football coach Thomas Hammock, '02, touts his NIU degree and its value to recruits.
There is so much more than football that could explain the love and regard new NIU head football coach Thomas Hammock, '02, has for his alma mater.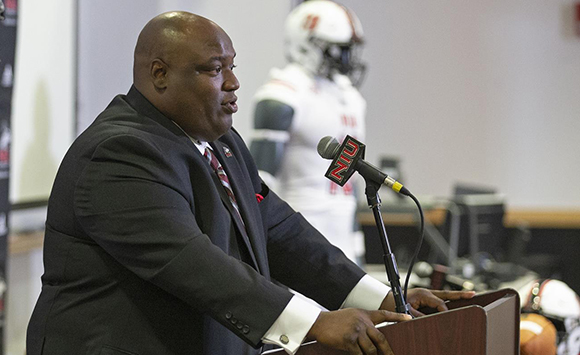 "(NIU) has always been a special place for me in my development as a man," Hammock said. "Coach (Joe) Novak took me in, nurtured me, and made sure that I was a student-athlete and not an athlete-student."

Hammock took Novak's words to heart as he was a two-time CoSIDA Academic All-American (2000, '01) and a two-time All-Mid American Conference selection (2000, '01) at running back. He earned his bachelor's degree from NIU in marketing in 2002 and owns a master's in educational leadership and policy analysis from Wisconsin, graduating in 2004.

Now that Hammock has been afforded the opportunity to guide the NIU football team, Novak's mentorship is not lost upon him on the recruiting trail of future Huskies.

"Every parent wants to know how I am going to take care of their son," Hammock said. "The number one thing we're going to do is make sure that they graduate.

"That's important to me as the head coach: to make sure that kids come here to get a degree that's valuable and important and that they can use beyond football," Hammock continued. "We never know when football is going to end.

"To have the opportunity to graduate from NIU with a great degree that's going to help you for the next 40-50 years of your life, I think it's the most important thing you can do when you come to college."

Hammock will not hesitate to mention to recruits about his academic plaudits and his NIU degree.

"If I can trust you in the classroom, I can trust you on the football field," Hammock said. "I don't just talk about it, because I've done it and I've lived it.

"I'm not going to ask you to do anything I haven't done myself and parents like to see that," Hammock continued. "It's easy as a head coach to say you're going to do all these things, but until they know you and trust you and what can they rely on, the evidence speaks for itself."

Long before Hammock was recruiting prospective athletes, he was perfecting his sales pitch in front of his future wife, Cheynnitha, in front of Douglas Hall as NIU freshmen. Cheynnitha earned both her bachelor's and master's degree from NIU.

That memory helped name their son, Thomas Douglas, who joined his older sister Tierra.

"(Cheynnitha) didn't want to give me a chance, so I had to do some strong recruiting," Hammock said. "We went out to the Huskie Den, we went rollerblading on campus and we did some things that were out of character for me, but it was a part of the recruiting process."

It has been five years since Hammock has been involved in the actual recruiting process as a collegiate coach, as he served as the running backs coach for the Baltimore Ravens from 2014 to 2018.

If Hammock's past is any indication, the NIU Huskies will be built with student-athletes and not athlete-students.