A Mascot On A Mission
A lot of hard work goes into being a university mascot.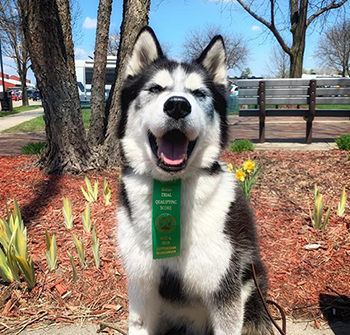 Obedience training is an essential part of every dog's life, and NIU mascot Mission is no exception. His job duties require that he be public access ready and well mannered for all of his interactions on campus and beyond. In order to keep training fun and challenging, Mission recently began getting involved in obedience competitions – specifically in the dog sport of rally obedience.

Rally obedience is a dog sport based on formal obedience. It was originally created by Charles "Bud" Kramer from the obedience practice of "doodling": a variety of interesting and engaging warm-ups and freestyle exercises. In rally obedience, competitors formally heel with their dogs around a course of designated stations, typically numbering from 10-20 exercises. Each exercise has its own sign, which are laid out in a flowing path. Unlike traditional obedience, exhibitors are allowed to verbally encourage their dogs during the course.

There are several major sanctioning bodies for rally obedience in the USA: AKC (American Kennel Club), World Cynosport, UKC (United Kennel Club), C-Wags, and more. Mission currently competes in both AKC and UKC rally obedience, and competed in four trials over the months of April and May.

Both AKC and UKC rally trials have the same points criteria to achieve qualifying scores and subsequent titles. A team starts every trial course with a perfect score of 100 points, and the judge deducts points for errors made throughout the course. After qualifying three times in each level, the dog will earn a title, which appears in conjunction to their registered name. Each qualifying trial is commonly known as a "leg".

Mission currently competes in the first level of rally, known as Novice in AKC and Level 1 in UKC. In April, Mission participated in a UKC rally trial, earning scores of 98 in trial one, and a perfect 100 in trial two. In May, Mission picked up his second and third legs in AKC rally – which gave him the official title of Rally Novice (RN). Mission already has other titles in various sports and venues, and is recognized as MABIS MARBIS ALCH Shiver Mission Accomplished, CGC, TDI, RN. To elaborate: MABIS (Multiple Altered Best In Show), MARBIS (Multiple Altered Reserve Best In Show), ALCH (Altered Champion), CGC (Canine Good Citizen), TDI (Therapy Dog International), RN (Rally Novice). Once Mission earns his third UKC rally leg, he will have the title URO1 affixed to the front of his name.

Mission also has a leg in AKC Beginner Novice formal obedience, and will be working towards his UKC Altered Grand Championship in June in addition to his AKC Rally Intermediate title.

It has been very rewarding to see how Mission loves to go to shows and trials. He brings a lot of energy and enthusiasm to the game, and consistently works hard in his training. Mission is the true embodiment of an athletic and intelligent Huskie, and everyone involved with him is so proud of how he represents NIU!