Danielle Harris, '13, Selected as a Fellow to the 2019 NELC Academy
By Eva Richards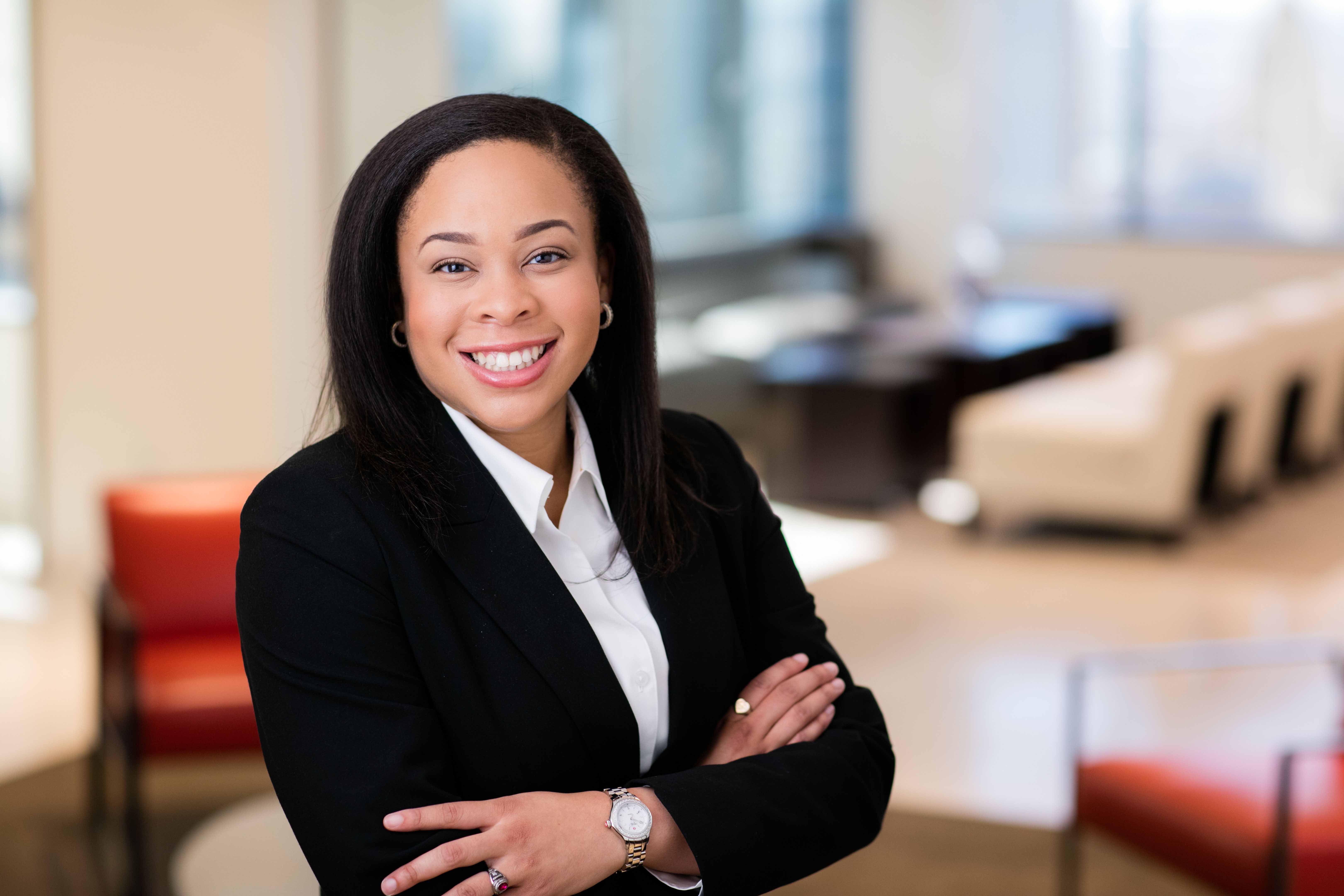 Danielle Harris, '13, has always had a penchant for overachieving, but even she is surprised by the strides she has made in the world of employment law in the last few years.

Now in her third year as a law associate at Cozen O'Connor's labor and employment practice in Chicago, she has been selected as a fellow to the 2019 National Employment Law Council (NELC) Academy—for the second consecutive year. She is one of only 31 fellows chosen nationwide to participate in this year's NELC Academy.
The NELC is a non-profit organization charged with enriching minority bar members who represent management in the field of labor and employment law. It oversees a highly competitive process in selecting Academy Fellows from amongst the pre-eminent employment defense practices across the country.

"I never thought I'd get to this point at such a young age," Harris admits. "I've been fortunate to have lots of encouragement around me as I grew, but as a woman and a minority, I have always been aware of the limitations some people have placed on me. How I overcame that is always focusing on the end goal. I've never let anyone or anything deter me from practicing law or anything else I wanted to do."

A native of Gurnee, Illinois, Harris earned her B.S., magna cum laude, in human resources and entrepreneurship in 2013. After that, she went on to earn her law degree from Chicago-Kent College of Law in 2016. Shortly after graduating from law school, she created the DNH Esquire Scholarship which is awarded to a graduating senior each year from her former high school, Lake County Baptist School, in Waukegan, Illinois, where she was class valedictorian.

In her daily work, Harris' practice primarily consists of litigating single plaintiff employment cases and counseling clients with non-litigation employment matters. She represents companies against lawsuits that their employees or potential employees file against them. These lawsuits can claim anything from discrimination or harassment to defamation.

"I enjoy being able to advocate for my clients, particularly on the management side. I get great joy out of it because I'm able to take the law, which is changing pretty often, and apply that to companies in hopes that they can make a difference in their practices to ensure that employees are treated fairly."

One example Harris cites is the ongoing "Me Too" movement, with respect to sexual violence and harassment, oftentimes in the workplace. This is an area where the law is constantly changing, new precedents are being set, and legal counsel is important to improving conditions for employees.

"Being on the front lines of the law, I can help companies provide training and guidance on how to revise their employment policies and how to handle investigations going forward in hopes of reducing or eliminating the lawsuits," Harris says. "If employees are happy with their job and the people they work with and for, they don't file lawsuits."

Harris credits NIU's College of Business for creating a positive environment of collaboration and friendly competition that allowed her to continually reach for more.

"I was surrounding myself with like-minded people on a constant basis. Everybody in the College of Business is a go-getter. Sometimes I think about the innovative classmates than I've had. We partnered on projects all the time, and we pushed each other," she says. "I've connected with a lot of them on LinkedIn, and it's fun just to see the incredible things they're doing."

Harris specifically remembers NIU's Experiential Learning Center (ELC), where students have the opportunity to apply the knowledge, skills and theories they learn in the classroom to finding real business solutions, often partnering with real-world companies and receiving on-the-job experience. In her senior year, Harris worked on a team that improved McDonald's training and development tools, known as Hamburger University.

She's clear to point out that while she's worked tirelessly for her achievements, they were only possible because of important mentors in her life. Two very important influences have been her parents, who are both very well-seasoned HR professionals.

"My advice to young people starting out is to find a sponsor or a mentor as early on as they can," she says. "It might seem difficult to do that in college or early in a career, but it's really not. For instance, the professors at NIU really do get joy out of seeing their students succeed, and it's up to the students to shadow them and walk in their footsteps."

So, what does Harris see as her next career step? In true fashion, when she talks about her future, Harris zeroes in on the quality of the work she'll do before all else.

"Eventually, I hope to become partner at Cozen or perhaps go in-house as counsel for a company," she says. "But either way, I hope to perfect my craft here at Cozen. I want to master the law first, so I can add substantial value wherever I may go."