David Gomel, President of Rosecrance, Inc., is on a Mission
By Eva Richards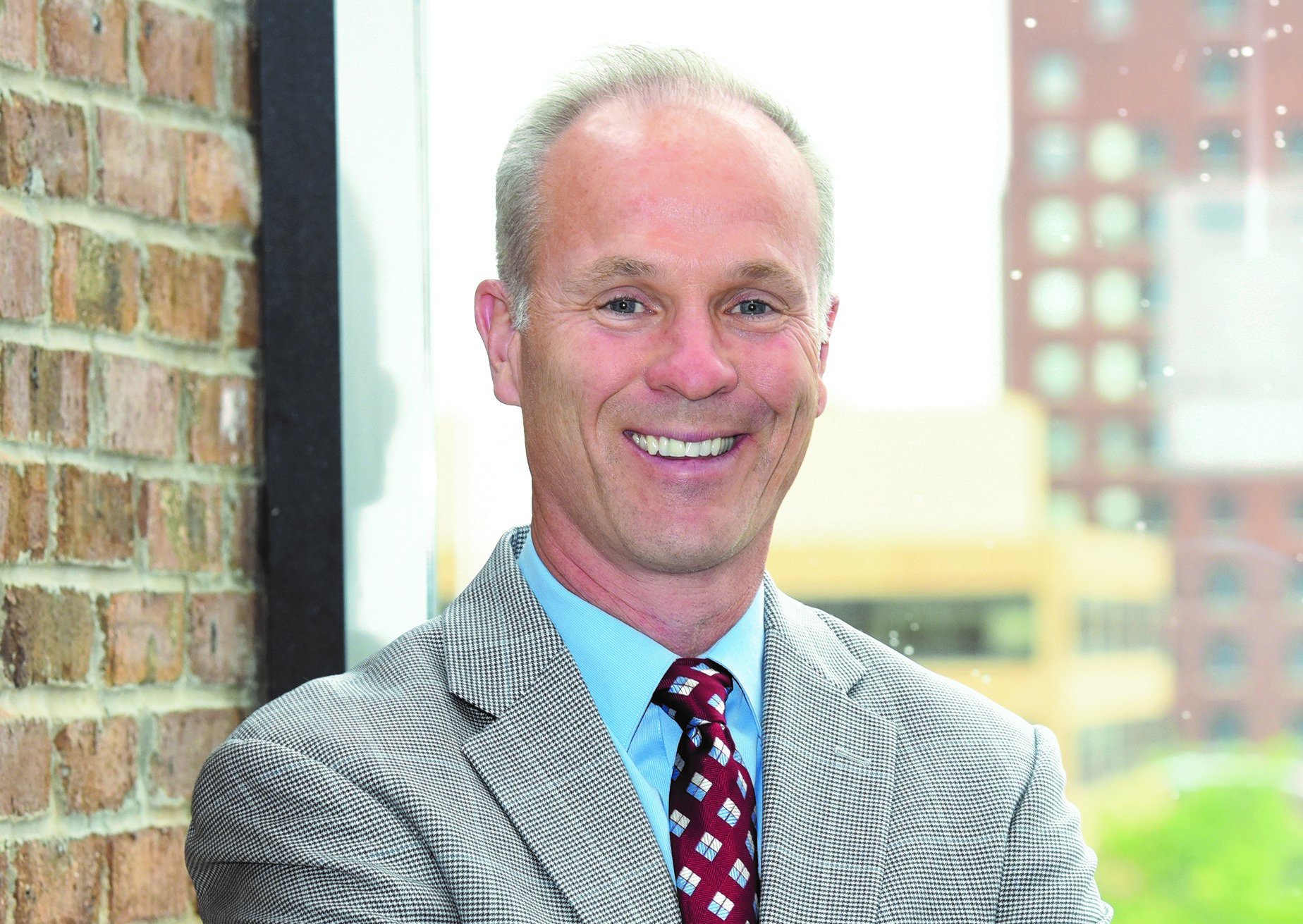 When David Gomel was lucky enough to land an "in training" role with Rosecrance's behavioral health services in Rockford, Illinois, while finishing his B.A. in Psychology at NIU in 1993, he thought it would be a filler job before starting a career. For the last part of his senior year, he commuted to Rockford for the job. Now, 25 years later, he serves as President of Rosecrance, Inc., an affiliate of parent company Rosecrance Health Network.

"I remember coming home from my first days at Rosecrance and telling my now-wife, Jenny, whom I met at NIU, 'I can see myself working at that place forever. The mission is so cool,' Gomel remembers. "Sometimes people ask me why I've stayed with one company this long. I just fell in love with the mission of Rosecrance. It's driven me this entire time."

That mission is all about providing help, hope, and recovery for people with behavioral health conditions, mental health and substance use disorders. But Gomel says the company is also about serving the unique needs of each community served. Beginning as a literal mom–and-pop organization, Rosecrance has expanded into a leading provider of behavioral health services with nationally recognized addiction treatment programs in Illinois, Iowa, and Wisconsin.

Gomel says the company began growing by leaps and bounds in the 1990s, and he was lucky to grow along with it. Gomel has held numerous roles with the company, including both clinical and leadership roles. Along the way, he earned his M.S. in health services administration from the University of St. Francis in Joliet, Illinois, in 1998 and his Ph.D. in public policy and administration from Walden University of Minneapolis, Minnesota in 2016. Among other awards and recognitions, Gomel was recently named one of the 2018 People You Should Know by the Rockford Chamber of Commerce.

He has always wanted to make a positive difference in his field. Throughout his career, Gomel has consistently advocated for moving beyond the social stigmas frequently attached to mental illness and substance abuse issues.

"These are brain diseases, right?" Gomel says. "When someone is inflicted with another disease—cancer, let's say—we start Go Fund Me pages, and we bring food and we celebrate and support the individuals. When people have a brain disease like depression or a substance abuse disorder, it's hush-hush, like it's something to be ashamed of. As soon as we can move beyond that stigma, we're going to be able to help so many more people."

The statistics on this subject are staggering. According to the National Alliance on Mental Illness (NAMI), each year, approximately 1 in 5 adults in the U.S (46.6 million people) experiences mental illness in a given year. Approximately 1 in 25 adults in the U.S. (11.2 million) experiences a serious mental illness in a given year that substantially interferes with or limits one or more major life activities. According to the National Survey on Drug Use and Health, 19.7 million Americans, age 12 and older, battled a substance use disorder in 2017.

In other words, these issues hit close to home for most Americans, and Gomel is no different. His initial interest in psychology grew from his own behavioral health struggles, and he is not shy in sharing about his family's history of mental illness.

"When I was struggling as a very young man, someone was there to help me," Gomel says. "I knew I wanted to do something where I could give back, the way that people helped me at critical times."

Gomel notes that he was fortunate enough to have some important mentors who made a huge impact on him, helping him turn his life around by junior year of high school. Counselors and leaders from the local YMCA took him under their wings and helped give me the focus and confidence to move on from that low place.

Gomel remembers the first time he seriously considered going to college, saying, "I fell into my NIU enrollment, but it ended up being such an important part of my success. I was late for class in high school, and I needed a pass to get into class, so I stopped at the NIU college recruiting table to get a pass. I didn't know what my plans would be, but the recruiter and I got to talking, and I told him about my personal struggles and explained why my high school performance wasn't top-notch. He agreed to shepherd my application through, which was a life-changing event."

Once arriving at NIU Gomel notes that, there were several NIU professors and mentors who stepped up and helped him make it through college.

"It meant a great deal to have the school support me in that way," he says. "NIU took a young guy who could have gone a number of different ways and really invested in me."

Today, Gomel tries to be open about his own struggles because it provides hope to those who are living with similar challenges.

"Most would say I live a pretty incredible life," he says. "I am married to an amazing person and we have three wonderful children. I'm doing work that matters to me, I get to serve my community, and am lucky to have a strong network of friends and family nearby. So it's important for me to be able to say, 'yeah, I've struggled, too, along with others in my family,' and if that helps give a little inspiration to others, well that's pretty cool, too."

Through the years, even in the ups and downs of life, Gomel has held fast to his mission and remembers to keep looking forward.

"I tell my children, just keep going," he says. "You will get your butt kicked periodically, and you're going to fail, but if you ask for help when needed, and keep bravely moving forward, focused on service, life seems to work out pretty darn good."