NIUAA and Pollyanna Brewing Company
Unveil Dawgma Kölsch Beer
NIUAA to hold 11 Dawgma Tasting Dates in September.

Dawgma is sold at the following locations.

Huskies. Never. Quit.

This is a central tenet at Northern Illinois University. In fact, one could say it's our dogma. But even hard-working Huskies take a break for an ice-cold beer once in a while.

A well-earned break tastes better than ever as the NIU Alumni Association (NIUAA) and Pollyanna Brewing Company have announced a collaborative Kölsch beer entitled Dawgma.
Get Your Dawgma at Huskie Stadium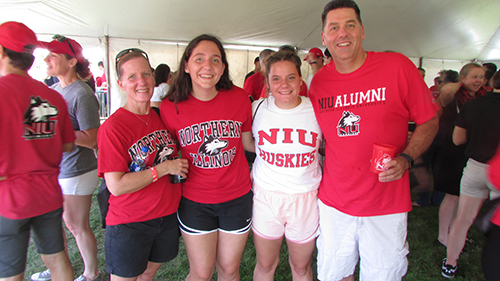 "We are really excited to take the partnership with Pollyanna Brewing to the next level," NIU Alumni Association Executive Director Reggie Bustinza said. "They have already been very vocal and active in their support of NIU and the NIUAA, and Dawgma is another step in that direction.

"We couldn't be happier to collaborate on this project, and look forward to sharing it with our alumni and friends."

Pollyanna CFO and co-founder Ryan Weidner, '98, M.B.A. '12, echoes Bustinza's sentiments about Dawgma.

"Pollyanna is thrilled to bring this unique offering to fellow NIU alumni throughout the Chicagoland area," Weidner said. "This partnership between Pollyanna and NIUAA marks one of the few collaborations of its kind in the country.

"It has been a lot of fun putting this together and we can't thank the NIUAA enough for this opportunity."

Dawgma will be made available to the public in a series of tasting dates (see sidebar), co-sponsored by the NIU Alumni Association and Pollyanna Brewing, and sold at Huskie Stadium this season for NIU football games. The beer will be sold for $10 and can be found on the northwest side of the stadium by the ramp.

Mission, NIU's official four-legged mascot, who is the inspiration for Dawgma, will be at all 11 tasting dates. There will be giveaways at each event, and if you RSVP through myniu.com/dawgma, your first Dawgma is on the NIUAA!

Pollyanna will cover your second Dawgma, too, if you join the NIUAA or renew your membership at the event!
Tasting Dates (Sept. 11-26)
* All times are 5-7:30 p.m.
unless otherwise noted.

Wednesday, Sept. 11
Pollyanna Brewing Company
431 Talcott Ave.
Lemont, IL 60439

Thursday, Sept. 12
Barrel House Social
100 W. Burlington Ave.
La Grange, IL 60525

Friday, Sept. 13 (7:30-9 p.m.)
Blue Goose Market
300 S. 2nd St.
St. Charles, IL 60174

Monday, Sept. 16
Franchesco's
7128 Spring Creek Road
Rockford, IL 61107

Tuesday, Sept. 17
Fatty's Pub & Grille
1312 W. Lincoln Highway
DeKalb, IL 60115

Wednesday, Sept. 18
Old Grounds Social
950 W. Wrightwood
Chicago, IL 60614
NOTE: Mission will not be attending this event

Thursday, Sept. 19
Pollyanna Brewing Company
245 E. Main St.
Roselle, IL 60172

Monday, Sept. 23
Main Street Social
608 N Milwaukee Ave.
Libertyville, IL 60048
Tuesday, Sept. 24
PJ's Courthouse Tavern
202 W. State St.
Sycamore, IL 60178

Wednesday, Sept. 25
Red Arrow Taproom
216 S. Washington
Naperville, IL 60540

Thursday, Sept. 26
Pints
112 S. York Road
Elmhurst, IL 60126