Huskie Dan Calkins Rises to Helm at Benjamin Moore & Co.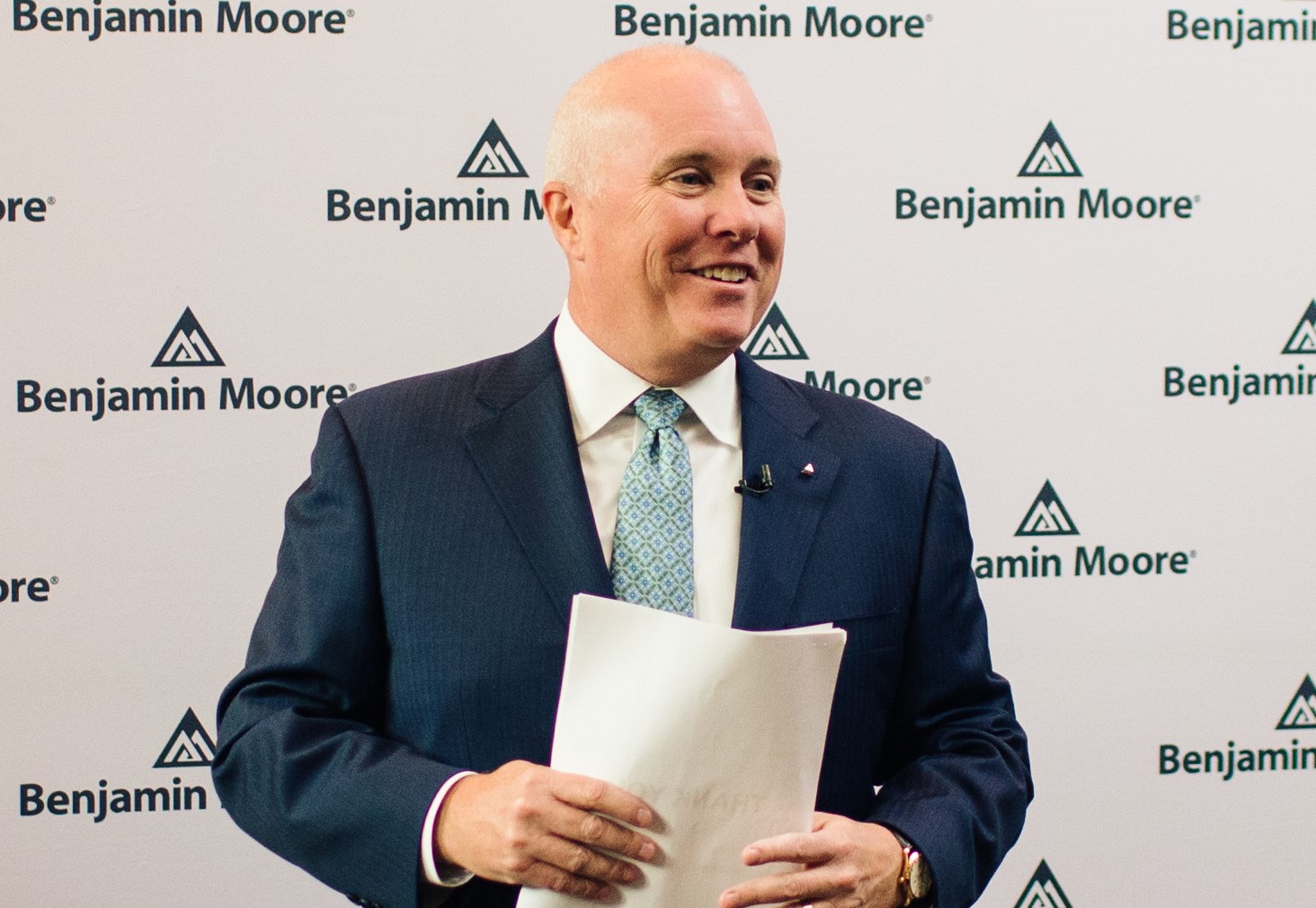 Growing up in Cary, Illinois, Dan Calkins always envisioned being a Northern Illinois University student. His parents met as students at NIU, and his father, Richard, played nose guard on the Huskies national championship football team in 1963.

But then he got off to a rough start his first semester, the byproduct of "all kinds of fun," as he puts it. Back at home for winter break, his father was matter-of-fact in sizing up the situation.

"This is going to save me a lot of money," the elder Calkins wryly observed. "Unless you do better in your second semester, you won't be asked back. The good news is there is a paint factory here in town, and you can work there and be fine."

That understated challenge was just the wake-up call Calkins needed: he leaned into his studies and his grades shot up.

Fast-forward to 1987: a few months after graduation, Calkins joined Benjamin Moore & Co., one of the paint industry's most respected brands. He began as a sales trainee. What followed was a succession of promotions that took him throughout the United States—along the way, at the age of 29, he became the youngest sales manager in the paint manufacturer's history.

His rise through the ranks culminated in January 2019, when he was tapped to be the Montvale, New Jersey-based company's Chairman and Chief Executive Officer. It was something he never imagined when he joined the company 32 years ago, and Calkins credits his Huskie background with playing a key role in his ascent.

Among his fondest recollections on the DeKalb campus: courses in economics and international relations, as well as being alongside fellow students whose own diligence drove him to achieve.

"The university instilled discipline," he recalls. "In high school, I didn't work very hard and got by on what I had going for me. When I got to NIU, I realized I was going to have to work harder to achieve what I wanted."

"I enjoyed the area that I studied," he adds. "I know this sounds geeky, but I had really good professors and looked forward to their classes."

Two of the professors who made a particularly strong impact were Lawrence Finkelstein and Gregory Schmidt.

Calkins joined Phi Sigma Kappa fraternity and his other activities included intramural sports. Like his own parents, Calkins married during his undergraduate years. He married his wife, Diane, after his sophomore year and he commuted thereafter while also working after classes at a local drugstore. The couple has two grown children, Danielle and Bradley.

Calkins attributes his success also to the strong work ethic that his parents instilled in him and his three sisters. One point that his folks emphasized: "If you're a reliable person, you can do anything."

During his academic and professional career, Calkins says he has benefited from numerous mentors who have counseled him at NIU and all over the world. That support, in turn, has inspired him to mentor others, especially those who have come up in the paint industry. He's also had the opportunity to gain first-hand insights from business icon Warren Buffett, chairman and CEO of Berkshire Hathaway, which acquired Benjamin Moore in 2000.

"If you've seen Warren Buffett on television doing an interview, that's the real Warren Buffett," says Calkins. "He's a practical guy who is very personable, he's brilliant, he is respectful. He really is a down-to-earth guy."

Benjamin Moore's products are found at over 5,000 independently owned paint and hardware stores throughout North America. Calkins regards his role much like the one his father pursued after getting a degree in education at NIU: teacher and coach.

"I enjoy the ability to be in a position to shape the future of this company, and to work with people to grow their careers," says Calkins. "We have great products, and we are a great brand, but our success or failure happens on the basis of the quality of people we have. For me now, it's about who's next (in leadership roles) and position this business in a better place than where it is today."