Alumni Volunteers Show Students That "First Impressions Count"
By Eva Richards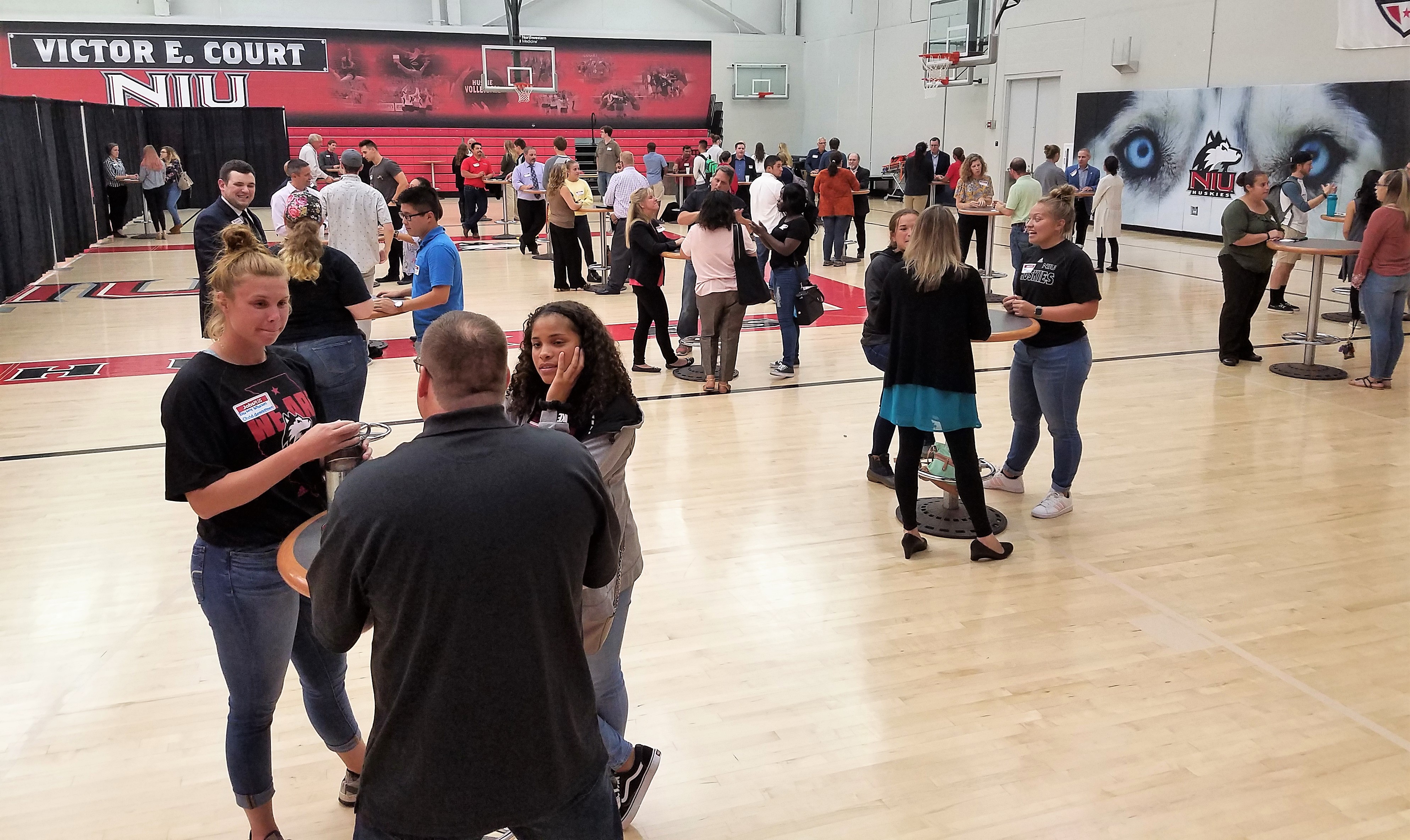 When the NIU Alumni Association partnered with the Jobs PLUS program and the DeKalb Chamber of Commerce to bring students the First Impressions Count workshop on campus back in Fall 2018, there was no way to know what a success it would become. Now, a year later, with its third iteration planned for students in October, alongside a pilot of an online networking event, it's clear the workshop hits at something students desperately need—real-world experience.

Jobs PLUS is a University program that, through partnerships with local employers, enhances students' college on-the-job experiences with professional development programs. Jobs PLUS Director Chad Glover said that this spirit of learning, paired with alumni who want to volunteer time and mentoring, created just the right environment for the workshop to succeed.

Facilitated by the DeKalb Chamber of Commerce, the First Impressions Count workshops have garnered incredibly positive feedback from students and volunteers who participated.

"We have continued to make adjustments to make the program even better, but everyone involved has been pleased with how things have turned out," Glover said. "Programs like this are far more likely to be successful when you get the right partners at the table to help plan and eventually execute the idea. I think we have only begun to see the fruits of our partnerships with the Alumni Association, Career Services and the College of Liberal Arts and Sciences."

Through its NIU Nexus network of volunteers, the NIU Alumni Association has been a valuable partner, allowing alumni and friends of the University to impart wisdom and lead parts of the workshop.

Becca Bennick, '04, an expert fuels technologist at British Petroleum (BP) and an NIU alumna, saw the opportunity to volunteer for the spring workshop and jumped at the chance. Impressed by her interaction with students and enjoying the opportunity to mentor, she's planning to come back again for the workshop next month.

"Last year I volunteered to participate in the networking portion of the workshop," Bennick said. "Participant feedback led me to believe the event made a difference to them, so I want to make sure I help again. I enjoyed my time at NIU and felt well-prepared for the corporate world (when I graduated) and want to make sure future alumni have similar feelings."

Chris Janota, '10, Financial Advisor and President of Envoy Wealth Management LLC in Whiting, Indiana, volunteered for the first iteration of the workshop, responding to an NIUAA invite to help. As an alumnus, Janota worked one-on-one with student participants, who, as a part of the training, were asked to come up and, in a matter of minutes, introduce themselves and begin the process of "networking" with facilitators. And, as chance would have it, Janota connected with a student who went to the same high school he did, and the two have now developed a mentoring relationship.

"Basically, they were pitching themselves, and it was our job to tell them what they did well and what could make them stronger in their delivery," Janota said. "I was surprised because the students are much better prepared for the workplace than I thought they would be. These kids blew the task out of the water! I was very impressed by the caliber of student that showed up (to the event), and that has made me want to come back and participate in the event again. I want to continue to see what these students can bring, as well as help them improve even more."

Janota noted that he volunteers through the NIUAA for several reasons. He wants to help improve the quality of the University's graduates, which improves the image and quality of the University as a whole. He also remembers a few times when alumni volunteers helped him as a student.

"It's so nice to be able to pay it forward and be a part of that loop coming back full-circle," he said. "The NIUAA makes it very easy to want to help, and there is great value in that. It's been very rewarding, personally, to be a part of."

Glover emphasized that he hopes to see the workshop continue to grow and become even more meaningful to all those who participate—students and volunteers alike.

"Whether it is meeting someone at an event, a job interview or interacting with customers at work, both verbal and nonverbal communication play a key part in making a positive first impression," Glover said. "Participants in this workshop will practice their communication and interpersonal skills while meeting NIU alumni, faculty, staff and members of the local business community."

Would you like to register to volunteer to assist with First Impressions Count? Students and volunteers can attend the next workshop on Tuesday, Oct. 15, at Founders Memorial Library on campus.