Three Decades, Two Friends, One NIU Community
Two alumnae use 35 years of friendship and experience to help Northern students
By Eva Richards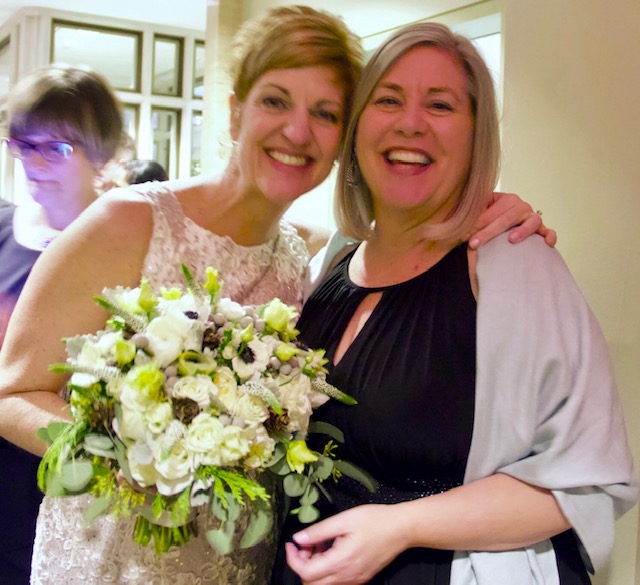 For Huskies, the sense of NIU community is very real and often lasts far beyond a person's time on campus.

Just ask best friends Kelli Mitchell and Julie Ann O'Connell, who began as NIU freshmen in the fall of 1982. The two have been through some pretty incredible ups and downs over the last three-and-a-half decades, but their true friendship and the strength of the NIU family have helped them weather many storms together.

Julie Ann works as the assistant director at the Center for Nonprofit and NGO Studies at NIU, while Kelli is the community relations manager for Wellness House, part of a team that plans more than 400 free programs a year for people in and around Chicago who have been impacted by cancer. The two friends often have the opportunity to help one another in these roles while giving back to the school that brought them together in the first place.

Julie Ann, who earned her B.A. in political science and Spanish in 1987, and Kelli who earned her B.A. in journalism and visual communication in 1986, first met when Julie Ann rushed Alpha Delta Pi sorority, and Kelli was assigned to be her "Big Sister." While the women were in a common group of friends at the sorority, the two did not become really close until after graduation, when their bond deepened around motherhood and career experiences.

The friends' bond grew even stronger when Kelli's husband, Scott Mitchell—whom she met on her first day at NIU in 1982, and who also was a die-hard NIU fan and proponent of the University—was diagnosed with malignant melanoma in 2002, when they were just 37 years old. The diagnosis rocked Kelli, who had two young sons, and Julie Ann—or JA, as Kelli affectionately refers to her—continued to be there for Kelli as Scott bravely battled cancer over the next ten years.
During this time, Kelli also stood by Julie Ann, who was under a lot of pressure, going through a divorce while pursuing an Ed.D. in Counseling, Adult and Higher Education from NIU, and serving as a graduate assistant for the Center for Nonprofit and NGO Studies.

After Scott passed away in 2012, Kelli realized that she would need to get a better paying job with benefits to support her family. Eventually, she found Wellness House and immediately felt a personal connection with the work the organization was doing. When she was offered a role there, her old friend Julie Ann was by her side, sharing her vast knowledge of nonprofit work.

"JA has such deep nonprofit experience, so when I first started working at Wellness House, I really called on her expertise," Kelli said. "She helped me with some of the reports I had to generate, finding data and gathering resources. That's just how she is. I always know I can ask her for anything."

In the year after Scott passed away, Kelli and her sons were overwhelmed and honored by the many people who had reached out to them and contributed money in Scott's memory. Kelli was struck by her desire to give back to the NIU community.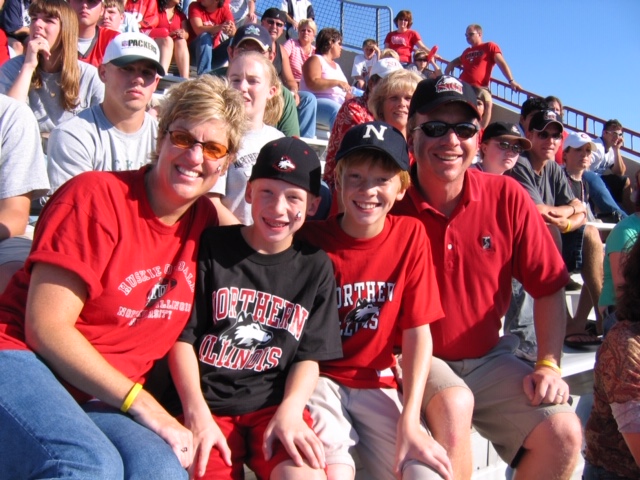 "My boys and I were trying to decide how we could use the donations that had come in. My youngest son expressed that he was tired of 'all this cancer stuff.' I said, 'If we were going to pick something else, what would it be?' And all three of us answered in unison. We all said 'NIU.' It totally made sense because Scotty loved NIU so much."

With Julie Ann's encouragement and support from the College of Business staff, Kelli and her boys' plans were shepherded with care, making the most of the money that was donated in Scott's memory through an endowment fund. Only the interest from an endowment fund can be spent—not the principal that anchors the endowment—and it is continuously accrued. This means that, instead of using the funds that were given in Scott's memory for a few one-time scholarships, the endowment allowed for scholarships to be given regularly in perpetuity. The result was The Scott R. Mitchell Vision Award, an annual scholarship given to business students who are financially in need and have exhibited perseverance and the ability to overcome challenging circumstances.

While pursuing her doctorate, Julie Ann began a full-time role with the Center for Nonprofit and NGO Studies. She asked Kelli to come back to campus to share her experiences running programming for a large nonprofit with NNGO classes, which Kelli has done several times. She speaks very frankly to students when she guest-lectures, discussing with them her eclectic career and her lack of clear direction at a young age.

"When I was their age, I certainly wasn't trying to align my work with something that truly mattered to me personally, and I've challenged the students around that," Kelli said. "You know, something that really matters to you personally may be something that angers you. It may be you seeing an injustice. It may be something that's happened to your family or a close friend, but if there's something that makes your heart beat faster, that you feel passionate about, it is possible to align your work with that."

Together, this dynamic duo keeps touching the lives of students and fostering what many alumni love most about NIU—that spirit of kindred community and belonging. Three undergraduate students have now been awarded the Scott R. Mitchell Vision Award, and Kelli has had the pleasure of meeting all of them.

"Scott would have loved it," Kelli said wistfully. "My boys and I have often said that. He would love what we've been able to do for Northern. Our connections have run so deep there for such a long time, and I think he would be really pleased."

Looking back on all they have been able to tackle together, Julie Ann and Kelli credit their alma mater for building their friendship.

"In 1982, two everyday young women came to NIU, and 35 years later we've found that, through the best that life has to offer and the worst, this friendship has endured," Julie Ann reflected. "Both personally and professionally, we have been able to help each other. It's wild. It's a testament to NIU in general. The types of people who come to school here have similar working-class values, similar desires to make a difference somehow. We're hard workers who don't quit."