50th Anniversary of Geographic and Atmospheric Sciences
6-8 p.m. Friday, Nov. 22
Barsema Alumni and Visitors Center, 231 N. Annie Glidden Road
DeKalb, IL
Geography and meteorology alumni are invited to join us as we celebrate a milestone! For a half century, we have educated and shaped professionals who have gone on to make an impact in diverse industries and government agencies. Technology has changed, but our commitment to providing a solid education in a supportive environment has endured. Let's celebrate the strong legacy we've built.

In connection with our annual Career Day, this reception is an opportunity for alumni to catch up with classmates and get to know our current faculty. Mission will be in the house for the first hour and available for selfies! It is also an opportunity for us collectively to pay it forward and raise scholarship funds in a relatively painless way. Tickets to this event are $50, with half of ticket sales going to fund department scholarships for students.

Click the blue button below to RSVP and pay for your tickets online using a credit card. If you would prefer to pay by check, send your name (and the names of any guests) along with a check to

Felicia Owens
Department of Geographic and Atmospheric Sciences
Northern Illinois University
1425 West Lincoln Highway
DeKalb, IL 60115
**Checks should be payable to the NIU Alumni Association and list GEOG 50th Celebration in the memo line.

Can't make it to DeKalb? Celebrate with us from afar by posting images and memories on the department's Facebook page. You can still support current and future students by donating to the Richard E. Dahlberg Memorial Scholarship Fund or the Meteorology Fund Scholarship Donate online or send checks (payable to the NIU Foundation with the fund name written in the memo section) to the NIU Foundation, P.O. Box 746, DeKalb, IL 60115-0746.

We hope you can join us! To arrange hotel accommodations or to locate buildings and parking, please go to the resources below:
Questions? Contact Felicia Owens, 815-753-0631 or fowens@niu.edu.
Related Event: Annual Career Day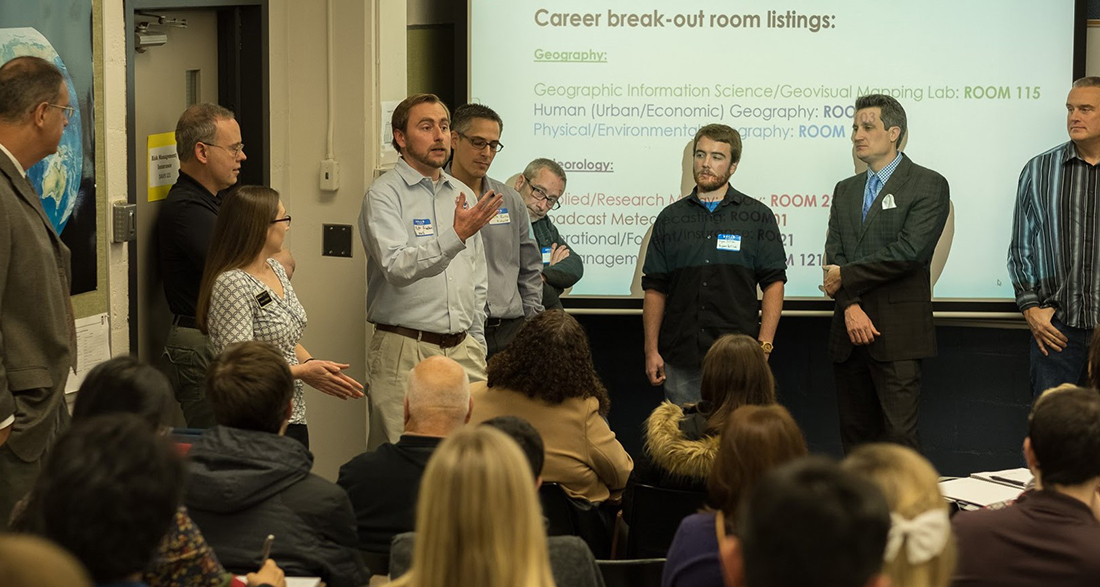 1:30 p.m. – Welcome, Stevens Building Auditorium.
2–4 p.m. - Participants return to Davis Hall and head to break-out rooms for career discussions and one-on-one networking.

- Environmental Geography in Davis Hall 103
- GIS in GeoVisual Mapping Lab (Davis Hall 115)
- Human Geography in Davis Hall 101
- Broadcast Meteorology in Davis Hall 201
- Operational Forecasting in Davis Hall 223
- Applied Meteorology/Weather Risk Management in Davis Hall 217

4:30 p.m. - Career Day ends
Contact Felicia Owens, 815-753-0631, if you would like to participate in Career Day.