NIU Rockford Alumni Club
The NIU Rockford Alumni Club, officially established in the fall of 1998, was formed to fill a need of alumni in the Rockford area to connect with NIU and each other. The Rockford Alumni Club welcomes all NIU alumni involved in the Rockford area community. The RAC host a variety of events each year, including a student send-off, networking events and NIU Football watch parties. Learn more by visiting the NIU Alumni Association events page.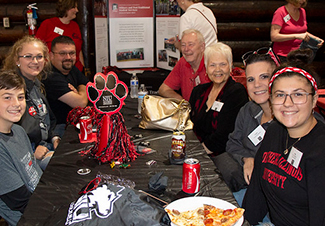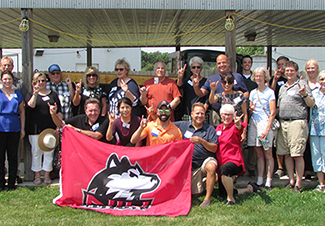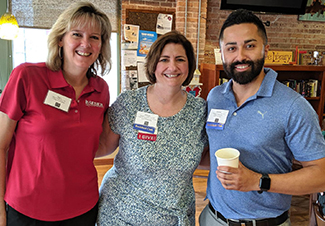 Our Purpose
We welcome all NIU alumni who reside in the Rockford area and who are interested in the continued advancement of their alma mater, their community and each other. As a group, we strive to:
support the programs and interests of NIU and its alumni;

enhance the image of NIU in the Rockford area;

provide mutually beneficial networking for alumni;

award the David & Diane Graf College of Business Rockford Endowed Scholarship for students in the Rockford area;

reinforce NIU engagement efforts in the Rockford area by helping to identify community challenges and opportunities, develop mutually beneficial partnerships and collaborative solutions that leverage NIU expertise and resources.
Our club was formed in 1998 by and for College of Business graduates, subsequently expanding to its present general membership. Club activities are directed by an informally structured leadership team. Currently, the leadership team meets on the third Thursday of odd-numbered months. Our officers are:
Mark Bonne, President;

Michelle Gorham, Vice President/Secretary;

Lynn Gibson, Treasurer
Our active collaborations include:
Northern Illinois Center for Non-Profit Excellence by alumni offering their professional expertise to build the service capacity of local nonprofit organizations;

Rockford Promise by mentoring Rockford Public Schools' graduates attending NIU through its scholarship agreement with the City of Rockford;

NIU Division of Outreach Engagement and Regional Development by supporting its Rockford-based initiatives.
Get Involved
Membership in the NIU Rockford Alumni Club is free. Click here to join the NIU Rockford Alumni Club email list. Do you have any questions about joining the club? Contact us at alums@niu.edu.
Group Leadership
Mark Bonne, President

Michelle Gorham, Vice President/Secretary

Lynn Gibson, Treasurer

Paul Green

Dan Streed

Kristin Hamblock
Follow us on social media: