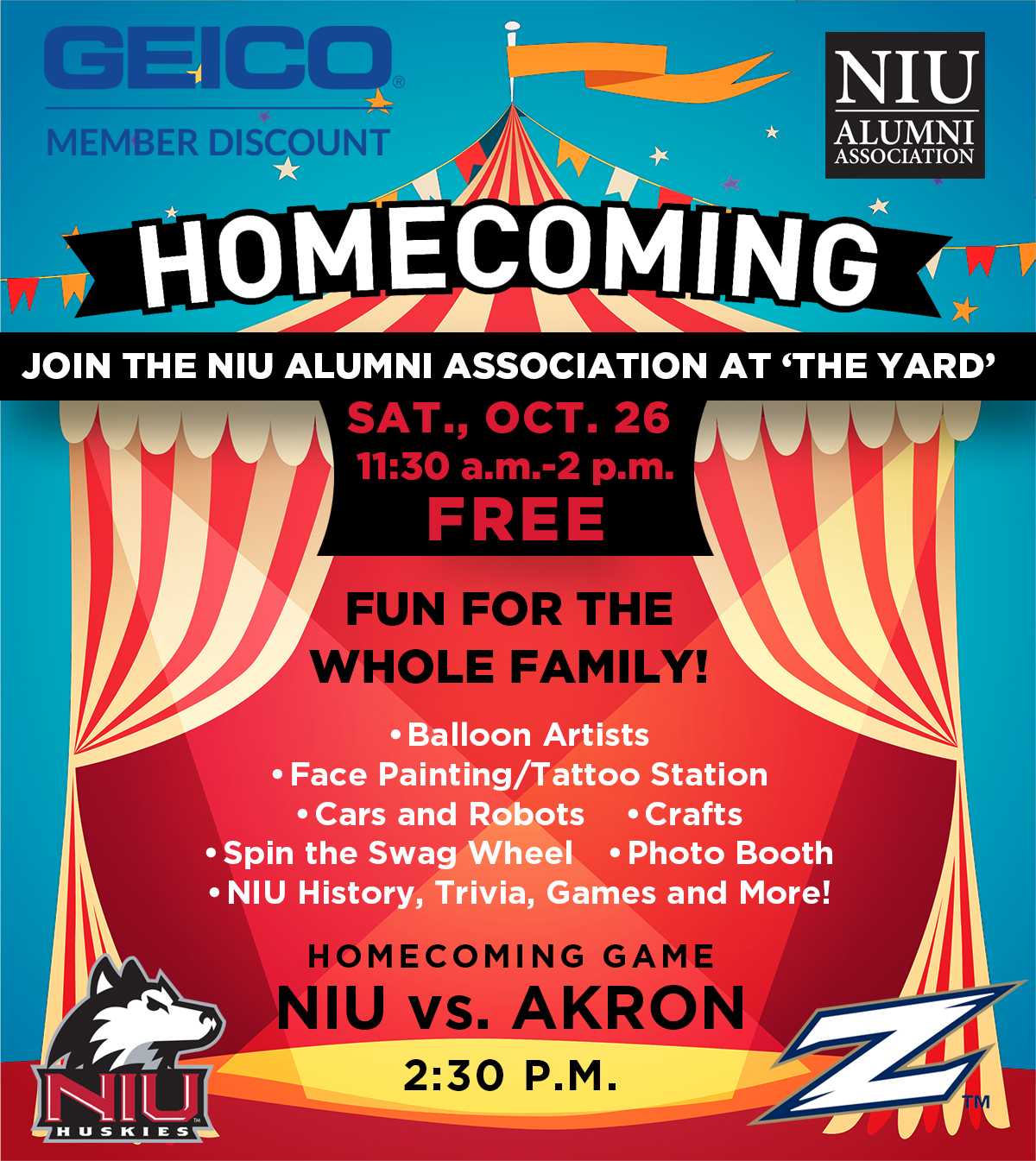 Parking and Shuttle Information

For alumni returning to NIU, Homecoming is a time to reminisce about our collegiate experience and show off our alma mater to family and friends.

On Saturday, Oct. 26, from 11:30 a.m.-2 p.m., the NIU Alumni Association is providing a true 'family' atmosphere for our alumni in the NIUAA Homecoming Tent in 'The Yard,' located on the west side of Huskie Stadium and presented by GEICO.

Alumni, family and friends are invited to attend the pregame event at the NIUAA Homecoming Tent at no cost, and as an added bonus, Mission, Mini Mish and Victor E. Huskie will also be in attendance. You may purchase tickets for the NIU/Akron football game, which begins at 2:30 p.m., here.

The NIUAA Homecoming Tent will host a facepaint and temporary tattoo artist and a balloon artist from 12-2 p.m. You can spin the wheel to see what swag you'll win and model your new NIU gear in our photo booth/selfie station.

At the craft station, build yourself a pennant or flag as we root for the Huskies to defeat the Zips, and the whole family will find something interesting to do together at the NIU trivia and game station and the robotics station. Lastly, the University Libraries and Archives will be hosting a historical slideshow and presenting various Huskie artifacts from throughout NIU's 124-year history.

Snacks and beverages will be available, and NIU and NIUAA staff members will be on hand to answer any questions you may have about the University.

HOLMES STUDENT CENTER
Please note that Saturday, Oct. 26, also marks the debut of the newly-renovated section of the Holmes Student Center (HSC). The doors will be open from 8 a.m.-3 p.m., with both Starbucks and the C-Store ready for business.

DR. MARTIN LUTHER KING, JR. BUST REDEDICATION
On Friday, Oct. 25, there will be a rededication of the Dr. Martin Luther King Jr. bust, located outside of the HSC, at 4 p.m. Immediately following the rededication, the Office of Academic Diversity, Equity and Inclusion is hosting the 36th Annual Faculty, Staff, Alumni and Student of Color Homecoming Reception at Ellington's in the HSC.
Homecoming Week Events
(Oct. 19-27)