Will You Share Your Expertise and Time With Honors Students?
By Eva Richards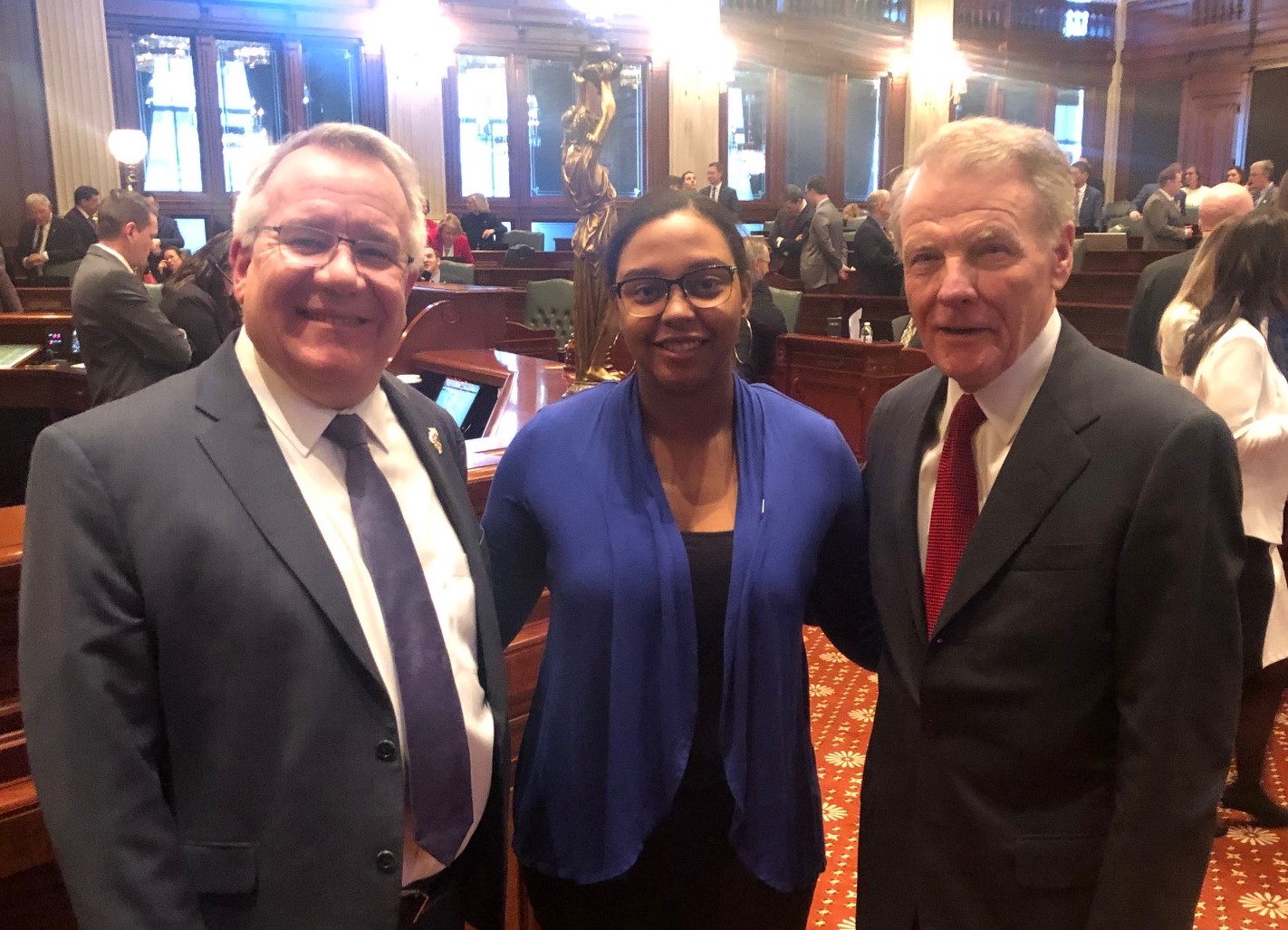 Some gifts are truly priceless and free! Did you know that alumni have the opportunity to lend two truly invaluable gifts to NIU's Honors students—their time and professional expertise?

Partnering with the NIU Alumni Association (NIUAA), the Honors Program offers one-week externship experiences for students in January of each year. In this program, selected students will be matched to an alumnus or alumna who will act as a short-term mentor to provide first-hand experience in the area of the student's career of choice. This program is open to all University Honors students in good standing, regardless of their intended major.

"Alumni who facilitate externships are providing an invaluable service to our Honors students," said Andrea Radasanu, Acting Director of the University Honors Program. "Students crave real-life exposure to their anticipated future careers, and nothing is a substitute for hands-on experience when deciding how to transition from college to a career path."

This year's application process for the Honor Externship experience is already underway, and students will be placed with opportunities in early December. In order to provide a quality practical experience, the NIUAA is counting on alumni to step up and share what they do and what they know in their career.

Joseph Sener, '93, M.S. '10, participated in last year's externship program, leading an initiative with ICU Medical, where he worked as vice president of quality device engineering until his retirement this year. The company hosted three students who were paired with internal engineers in electrical, mechanical and quality engineering.

"Watching the students interact with senior management was my favorite part," Sener said. "I am pretty sure they expected to be have very junior interaction, but the ICU Medical team really turned on the charm with these students to show off our organization and our industry."

In order to ensure the students learned as much as possible, a senior manager at ICU Medical served as the externship coordinator and made sure all staff who were participating knew their roles and were prepared for the needs of the externs. The team set up an agenda for the week, affording the students access to senior levels in Research & Development, Regulatory and Quality areas. The students were asked to give presentations to these senior levels.

"I'd encourage other alumni to consider the externship program as a chance to give back what their organization can offer the externs, as an employer or experience resource," he said.

Steven Andersson, '86, J.D. '92, also took part in the program last year, allowing an undergraduate student who was interested in both politics and law to shadow him. As both an Illinois State Representative and a lawyer, the partnership was a unique opportunity for both the student and Andersson.

He split the experience into two pieces, with the hope that the student would experience a deep dive into both areas of interest.

"For the first half of the week, she shadowed me in my role as a state legislator," Andersson shared. "My student attended committee hearings, private meetings and observed floor debate. She also was invited to be a page on the House floor, which allowed her to meet leaders in the legislature like Speaker Madigan, Rep. Barbara Flynn Currie and Leader Jim Durkin. The second half of the week, she shadowed me and some of my associates at my law office. She was able to go to court and experience meetings with clients."

Andersson noted that he really enjoyed having end-of-day discussions with his extern, hearing her observations on the day, her questions and candid reactions to what she saw. Andersson would often dig deeper, explaining what had happened, and most importantly, why certain things happened.

"To those who are considering being a part of the externship program, I say, 'Do it!' Andersson said. "I had never mentored anyone in this program before, and it was wonderful. The staff were so supportive, and they paired me with a perfect student, based on my skill set. And there is no "one way" to work on this program, it's up to you to approach it from your own perspective. That, after all, is what the student is looking for!"

If this opportunity sounds like a meaningful and fun way to give back to your alma mater and offer a fellow Huskie a leg up in their career, then you may want to consider signing up to be a part of this incredible program. If you have any questions about this volunteering with this program, please contact Liz McKee, M.S. '14, Director of Alumni Volunteer Engagement at 815-753-7400 or lmckee1@niu.edu.