Corporate internships in the heart of campus

Discover's new code_orange program is leading to jobs
By Tom Parisi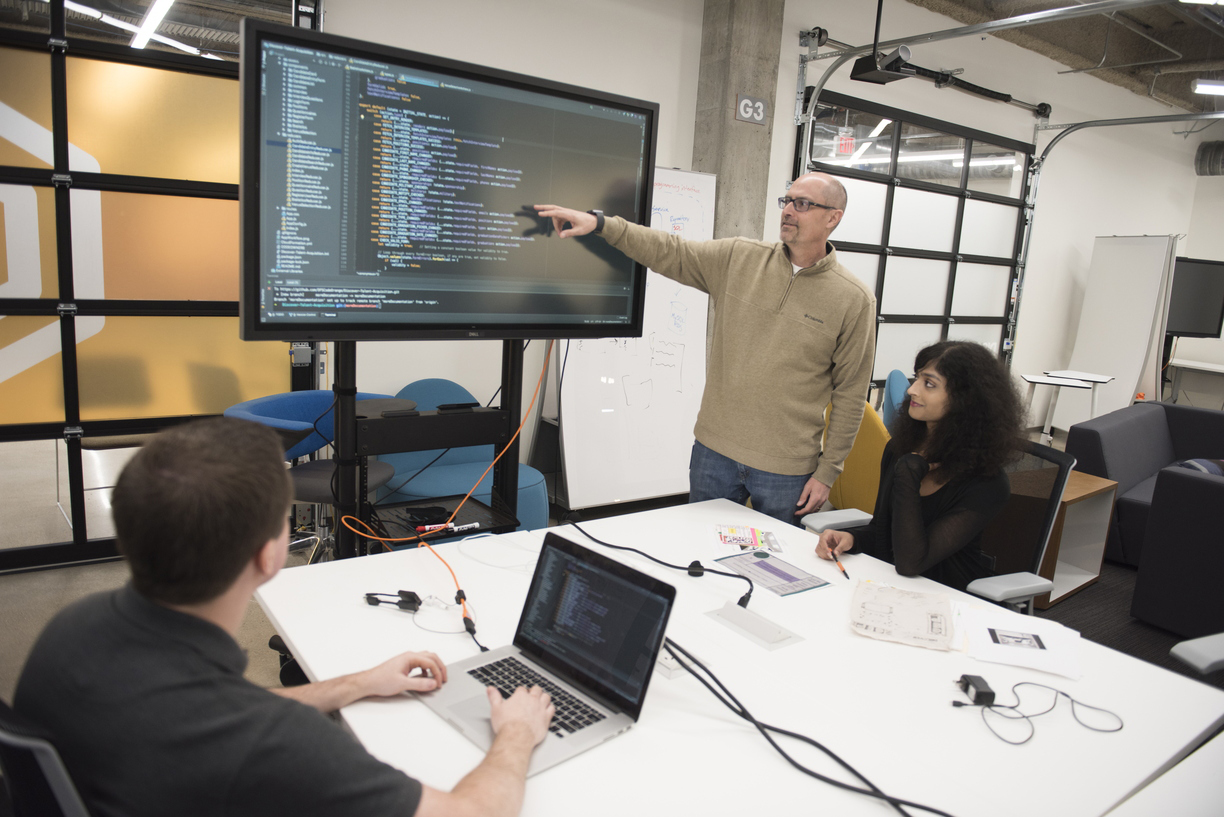 Scores of internships. Dozens of job offers. A bustling new innovation center in the heart of campus.

It's safe to say Discover Financial Services' new "code_orange" program has exceeded all expectations—for the company, NIU and students alike. It also has become a model for the university's collaborations with businesses and other partners.

The internship program was originally proposed as a small pilot project involving a half dozen or so computer science students. But in less than a year since its launch, more than 125 tech-savvy juniors and seniors have participated.

Each semester and summer, Discover hires or rehires a new crop of students, known as "Campus Innovators," who are paid for their work helping research and develop new internal technologies for the company.

For many NIU students, the internships have led to jobs, too. Discover so far has offered full-time positions to nearly 40 graduating seniors, with the majority accepting.
"The program is phenomenal," says Ben Lane, who was among the initial 37 code_orange participants last fall.

He continued during the spring semester, when the number of Campus Innovators more than doubled. By mid-April—a month before graduating with his computer science degree—he had accepted a job offer from Discover to work at the company's headquarters in Riverwoods.

Lane started his career as a Discover software engineer on June 17.

"I got a job doing exactly the kind of work I wanted to do," Lane says. "I feel very fortunate."

Spearheaded by alumni
NIU has long served as a talent pipeline to Discover, a leading direct banking and payment services company with one of the most recognized brands in U.S. financial services. Since its inception in 1986, the company has become one of the nation's largest card issuers.

It was two Huskie alumni—Glenn Schneider, '83, chief information officer at Discover, and Joel Suchomel, '89, the company's vice president of application development—who championed the creation of code_orange.

"We are looking at this as a feeder group into our employee base," Schneider says. "We're invested in making sure, as talent coming into our company, we're allowing (students) to grow and continue to learn in their professional careers."

Suchomel first proposed the idea—albeit on a smaller scale—after coming to campus in 2016 to speak to a class of computer science majors. Department chair Nicholas Karonis didn't need the university's supercomputer to figure out what this could mean for undergrads, whose enrollment numbers have swelled by more than 50 percent in recent years.

"I knew this was an important opportunity," Karonis says. "Paid internships provide our students with invaluable on-the-job experiences—and they often lead directly to jobs."

Over the next two years, NIU and Discover officials hammered out the program details, and the commitment grew on both sides. To house the program, Discover leased a 5,900-square-foot area of "71 North," the university's collaborative space for innovation and partnerships, centrally located on campus on the bottom level of Founders Memorial Library.

"After meeting and pitching the idea to Nick Karonis, I was excited about the mutual interest in building a partnership between Discover and NIU for the benefit of the students," Suchomel says. "With a strong partnership, we could evolve the relationship and program to produce modern software engineers ready for the working world."

Relaxed techy atmosphere
Discover completely renovated its NIU space. The code_orange facilities now feature an open, industrial design with garage doors, concrete flooring, bright orange company colors, "agile rooms" for small-group work and spacious collaborative areas with sprawling meeting tables, colorful couches and cushy chairs.

Whiteboards, laptops, big-screen monitors and wheeled furniture mimic the open-workspace feel of the company's headquarters. Students work in teams of five or six, each overseen by a Discover mentor and product manager. The company supplies snacks galore, and occasionally orders out for lunch, particularly during "tech talks" delivered to students by industry professionals from the likes of Amazon.

"It's almost as if a bit of the Silicon Valley were transplanted here," says Lane, who commuted to NIU from Marengo. The job filled his time between classes and complemented what he learned in the classroom.

"You use what you learn in school, but at the same time you're working in a corporate culture," he says. "That's a great benefit."

Mike Brenner, Discover's code_orange program manager, says the company initially expected it would take a few years to grow the program to 50 participants per semester. That plan flew out the window after the first open house attracted 140 students.

"We were excited by the initial number of students interested in this type of program," Brenner says, adding that students recognized the program's value. "They are employed and interning at a great company that is right on campus, and they work on unique projects like virtual reality, web design, augmented reality and mobile applications.

"There's an added benefit of a team experience—how to work as a team, problem-solve and communicate with others," he adds. "Those skills are invaluable in the workforce."

Full-time summer internships
The program name, code_orange, alludes to the work the students do—there's a lot of computer coding and software development going on in each team project.
"It's a very chill environment," says Adi Attavane of Bolingbrook, a code_orange Campus Innovator this past spring.

She says she liked the flexible hours and convenient location on campus—students can walk from classes, a residence hall or nearby apartment. Most importantly, she wanted experience in a coding environment. Over the course of one semester, Attavane made solid contributions to an augmented reality project, impressed Discover and landed a job as a software developer with the company after she graduated in May.

"We were given a lot of freedom but were also able to showcase our unique skill sets," Attavane says. "The people (from Discover) are amazing. They're always open to suggestions."

While Campus Innovators set their own schedules during the fall and spring, each putting in as many as 19 hours a week, more than 60 students are interning on campus full-time for code_orange this summer.

Most of the Campus Innovators are computer science or engineering majors, but nine students studying Operations Management and Information Systems recently joined the program as team leaders. Discover is considering seeking participants from other academic disciplines as the program matures.

A model for innovation
Karinne Bredberg, assistant director for commercialization and innovation in NIU's Division of Research and Innovation Partnerships, shepherded NIU's effort to secure the program. The details required a meshing of public and private interests, and nearly two years of behind-the-scenes work by dozens of people on both sides.

"This was new for both of us," Bredberg says. "We were constantly working to make sure we were all on the same page, and that it was a win-win for everybody. In hindsight, this partnership has provided many more opportunities for students than we ever dreamed of, and I think everyone is extremely pleased."
So much so that NIU hopes to duplicate the success.

Jerry Blazey, vice president of the Division of Research and Innovation Partnerships, has overseen many successful partnerships between NIU and businesses, federal laboratories, government, communities, non-profits and others. With Discover, he believes the university has hit upon a blueprint for success involving committed partners, mutual benefits, talented students, flexible hours, real-word experiences and location, location, location.

"The code_orange program is an exemplar of how the private sector and the university can come together with innovative partnerships that serve both institutions," Blazey says. "We learned that success requires a lot of upfront effort, which for code_orange was possible because of the commitment on both sides and a mutual desire to offer opportunities to our students."