NIU MPA Newsletter - Dec. 2018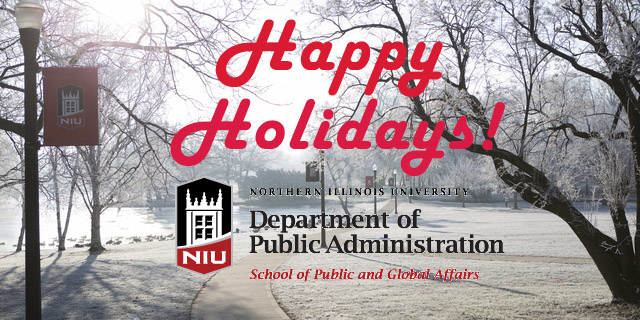 Students Pass Fall Oral Comprehensive Exams
Many of us remember the last semester of our MPA program. The relief of finishing the capstone (or star) paper and the two-day writing event known as the comprehensive exam. Read more ⇨

Banovetz/Arnold Fellowship Reception Connects Alumni and Friends
The Department of Public Administration was excited to host a reception in honor of the James M. and Audrey M. Banovetz, and David and Catherine Arnold Fellows. The funds raised in honor of two well-authored public administration scholars have provided MPA students opportunities to attend professional conferences since 2001. Read more ⇨
Department Data Shows Strength in Recruitment and Job Placement for Students
The Department of Public Administration was ranked #4 in Local Government Management and #15 in Public Finance and Budgeting, by U.S. News and World Report this year. Read more ⇨

Workforce Diversity: Does Formalization Matter?
Jaehee Jong is an Assistant Professor teaching Human Resources Management and Organizational Theory. One stream of Jong's research has focused on providing new perspectives on workplace dynamics. Read more ⇨
Online Opportunity for Career Advancement
Are mid-level managers in your organization looking to move up?

Mid-career managers can start graduate level course work with the Online Certificate of Public Management for Local Government and belong to an online learning community of peers who are facing similar issues managing local government. Read more ⇨
Share your news! We'd love to hear from you and add your accomplishments to our next newsletter. Drop us an email at publicadm@niu.edu.
----------------------------------
The NIU Alumni Association respects your privacy!
To make sure these communications are not mistakenly blocked in the future by your spam-blocker, please add 'email_watch@omnimagnet.net' and 'webmaster@myniu.com' to your approved-senders-list. If you no longer wish to receive correspondence of this kind from the NIU Alumni Association please follow this unsubscribe link:
http://www.myniu.com/unsubscribe.html?email=[email]
. You will be removed from receiving any further e-mails at that point. Please allow up to 72 hours to process.