NIU Alumni / Rockford Promise Night
Friday, Aug. 26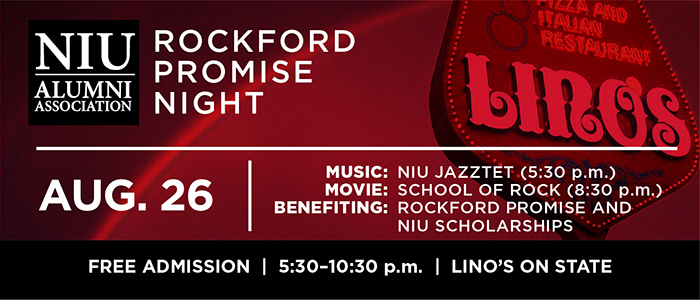 Join the Rockford Alumni Club and your fellow Huskies for an entertaining evening of jazz, networking, a movie screening and more!

Enjoy delicious Italian food and a Huskie-themed drink special or a refreshing pint of Dawgma from Pollyanna Brewing & Distilling while listening to the NIU Jazztet, under the direction of Reggie Thomas, as they perform a mix of classic jazz, American songbook standards and original music.

Following the Jazztet performance, stay and watch a screening of the film "School of Rock."

This event will take place on Lino's new patio space, Piazza de Battista. A portion of the food and beverage purchases will go to support NIU scholarships and Rockford Promise.

Questions? Please contact Senior Director of Alumni Engagement, Liz McKee, M.S.Ed. '14, at 815-753-7400 or lmckee1@niu.edu.
Event Information
Cost: Free
Please RSVP so we know who is coming
When:
5:30PM - 10:30PM Fri 26 Aug 2022, Central timezone

Where:
Lino's on State
5611 E. State Street
Rockford, Illinois 61108
[ Get Directions ]
RSVP today!

The NIU Foundation follows the protocols and guidelines established by NIU regarding how to navigate the COVID-19 pandemic, which is based on the recommendations from the Centers for Disease Control and Prevention (CDC) and local public health organizations. NIU's protocols and guidelines are located at: www.niu.edu/protecting-the-pack.

The NIU Foundation and NIU Alumni Association recognize that the pandemic is, and will continue to be, a fluid situation and will abide by whatever mandates and guidelines that have been established at the local and state level.

We deeply respect and greatly appreciate our donors, alumni, community and friends. As we move forward – together – the NIU Foundation and NIU Alumni Association are committed to following the above guidance and making every effort to reduce any threat to everyone's safety, health and well-being.

We hope that you will decide to join us at an upcoming event and we look forward to seeing you.

Hand sanitizer and disposable masks will be available at our events. We encourage you to consider your health and personal well-being when deciding whether to attend.

Be well, and stay safe.