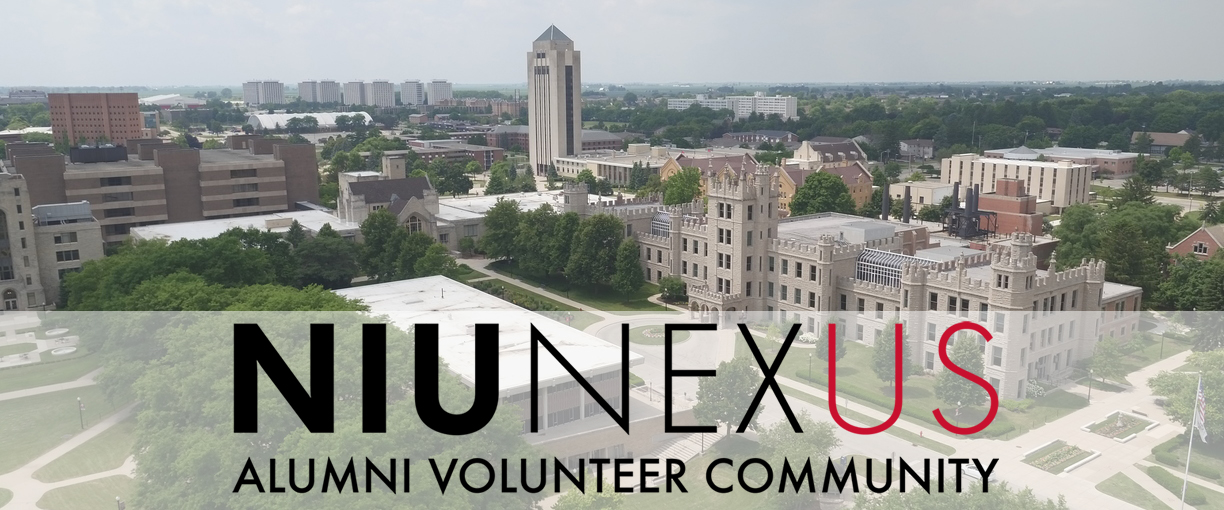 NIU Volunteer Opportunities
Many of the volunteer opportunities to get involved with NIU are featured below. Simply click on each category to learn more about them.

If you'd like to receive information about new volunteer opportunities, and opportunities geared toward your specific interests, please remember to complete your NIU Nexus Volunteer Profile.
**All in-person volunteer opportunities are currently suspended until the University resumes normal operations. Check the NIUAA COVID-19 activity update page here, and be sure to stay up to date via the NIU COVID-19 updates page.
On Campus Volunteer Opportunities >
Off Campus Volunteer Opportunities >
Share your professional expertise with students through the Living-Learning Communities (LLC) Alumni Career Network Series at NIU. Through this unique opportunity you can choose to bring LLC students onsite to your company or visit NIU and share your real-world experiences with LLC students. Visit the Living-Learning Communities webpage and learn more about LLC, and apply for the LLC Alumni Career Network Series here! We will begin reviewing applications on July 1, 2020. Applications will be accepted on a rolling basis and the application deadline is October 6, 2020. Contact Jeanne Baxter at jbaxter1@niu.edu or call 815-753-5062 with any questions.

Add your voice to the conversation and share NIU's legislative priorities with legislators in your district. Click here to learn more, or register for our advocacy platform and become an advocate!
Online Volunteer Opportunities >
Share your NIU Huskie story! (Ongoing)

Alumni stories are inspirational. They inspire current and prospective students who can see living proof that an NIU education will help them to be successful. Alumni stories also highlight the many things of which we can be proud and bolster the community. Help NIU tell its story by sharing yours. Take 5-10 minutes to record how NIU impacted your life by completing the Huskie Spotlight Profile Survey. Then, use your social media to share a favorite memory of time spent at NIU events such as Homecoming or Welcome Days. To make sure we see your stories and experiences on social, simply tag NIU and the NIU Alumni Association, or use the hashtag #HuskiePride.


NIU Social Media Accounts: Facebook, Instagram, Twitter, LinkedIn

NIU Alumni Association Social Media Accounts: Facebook, Instagram, Twitter, LinkedIn

Add your voice to the conversation and share NIU's legislative priorities with legislators in your district. Click here to register for our advocacy platform and to become an advocate!

The NIU Graduate School Career and Professional Development Portal provides professional development programming through use of educational strategies that engage graduate students in job discovery and diverse career opportunities. Alumni are key in helping students gain insight on what their field is demanding and how the job market is changing. To develop connections with alumni, workshops through the program show graduate students how to use LinkedIn as a networking tool to find alumni who have jobs of interest to them. Graduate students are then encouraged to conduct 15- to 20-minute online interviews with these alumni. Program staff seek alumni who are interested in participating in these interviews. Alumni can sign-up here to participate.

Join the NIUniverse to share your Huskie pride through your social networks! NIU social media ambassadors have first-look access to exciting content, can share and recommend stories on behalf of the NIU Alumni Association and can win Huskie swag by participating in contests and challenges. All you have to do is join, take a few moments each week to share our stories with your networks and participate in our contests! The more you participate, the better your chances at winning awesome NIU swag. Sign up here.

The Department of Communication, which includes Communication Studies and Journalism, seeks to celebrate their graduates' career accomplishments by featuring their success stories online. If you are an alumnus of the program who is interested in sharing their story, contact Laura Vazquez at lvazquez@niu.edu to have your profile added to the Department of Communication webpage.

Remember, you can always use the NIU Alumni Association's online form to refer a student that would make a great Huskie. Students referred this way receive a promotional code, which covers the application cost.