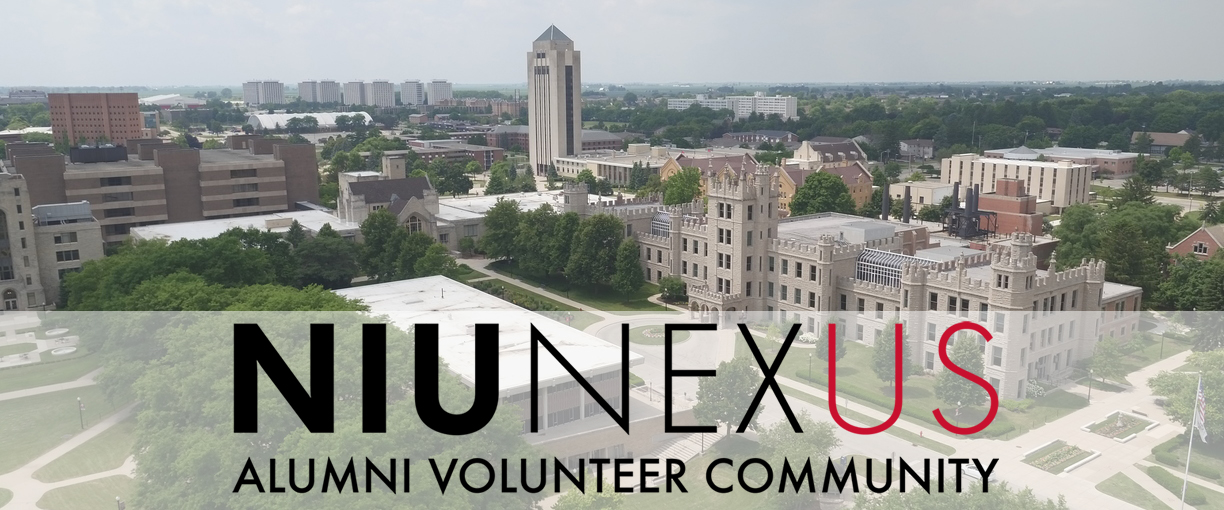 NIU Volunteer Opportunities
Many of the volunteer opportunities to get involved with NIU are featured below. Simply click on each category to learn more about them.

If you'd like to receive information about new volunteer opportunities, and opportunities geared toward your specific interests, please remember to complete your NIU Nexus Volunteer Profile.
On Campus Volunteer Opportunities >
Join the alumni "Team NIU" crew and help us roll out the red and black carpet for our newest members of the Huskie family. Our goal is to show our guests the true heart and spirit of being a Huskie and make their first official day on campus a memorable, stress-free day. Show off your NIU hospitality by assisting students with unloading their belongings, assisting NIU staff in the lobby, being a road guide, and/or sharing your Huskie advice in a quick video. Sign up to volunteer. Questions? Contact Jeanne Baxter at jbaxter1@niu.edu or call 815-753-5062.

The Early Literacy Reading Program: Alumni volunteers are needed to guide monthly reading sessions with preschoolers ages 3 – 5. The parents will remain with their child while listening to the story. Ages and themes will change and creativity is encouraged!

The Boys and Books Club: This program is geared specifically for boys in Grades 5 – 8. Male alumni volunteers who enjoy mentoring in a relaxed reading setting are needed to lead reading and discussion sessions.

Please register at the Literacy Clinic Volunteer registration site. If you have questions, please contact the Director of the Jerry L. Johns Literacy Clinic, Kristine Wilke, at Kwilke1@niu.edu or phone 815-753-8187.

Get involved in esports at NIU! Our fast-growing esports club program needs knowledgeable volunteers to support coaching students, presenting in esports classes, and organizing esports tournaments. There are so many opportunities for students, alumni and community members to have fun, play video games and help build our exciting esports program. If you're interested in volunteering, please contact Jeannine East or Aline Click at esports@niu.edu.

"Helping Huskies" connects accountancy alumni with students for one-on-one conversations about careers, academics, business and start-ups. Set your availability and choose the areas you'd like to mentor in. Then you'll be matched with students looking for assistance in those areas. Matches don't always occur instantaneously, but your participation in the mentoring network will greatly enhance the department's ability to provide accountancy students with strong mentors. Click here to join.

The NIU Communiversity Gardens are part of a community-wide approach to end food insecurity in DeKalb County by providing access to fresh organic vegetables that are locally grown for anyone in need. Volunteers have the opportunity to plant, weed and harvest for this cause while improving their gardening skills. Volunteers are typically needed for shifts a few days per week. Click here and sign up to volunteer for hours that fit your schedule.

The Huskie Food Pantry is an amazing NIU program that serves students who lack access to adequate food sources. The pantry is a nonprofit organization that relies on the support of generous donors, volunteers, interns and university partners to maintain the program. During the summer months, the pantry is in great need of volunteers to fill the roles left vacant by dedicated student volunteers who have gone home for the summer. Alumni volunteers can help by donating food, stocking shelves or serving on a pantry night. Click here and sign up to volunteer.
Off Campus Volunteer Opportunities >
Add your voice to the conversation and share NIU's legislative priorities with legislators in your district. Click here to learn more, or register for our advocacy platform and become an advocate!
Online Volunteer Opportunities >