Outstanding Huskies Recognized with 2023 NIU Alumni Association Awards


By Tony Scott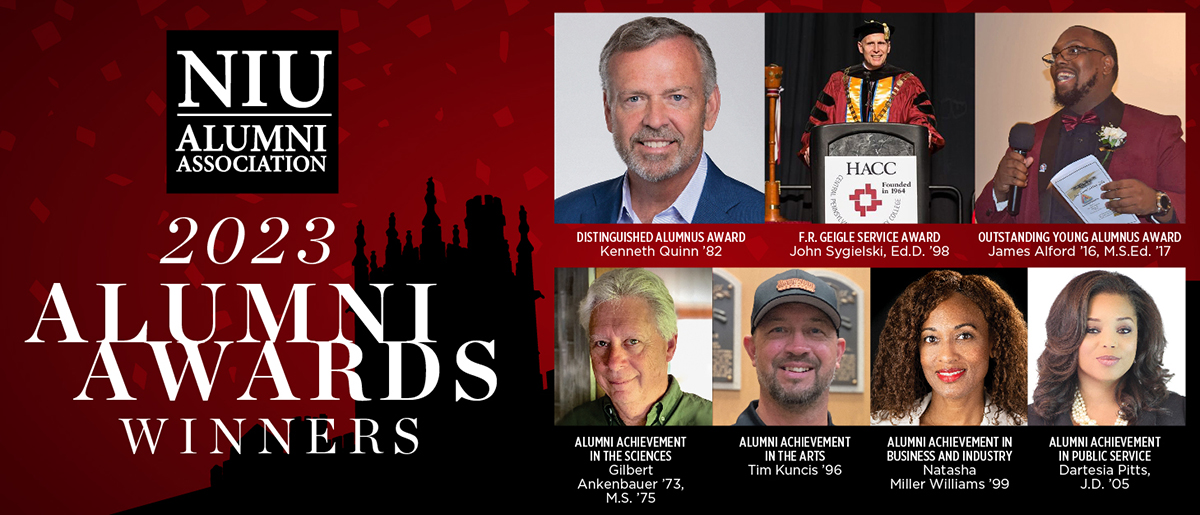 Each year, the NIU Alumni Association rewards the accomplishments of incredible alumni who have achieved outstanding professional and personal successes while pursuing civic, cultural or charitable activities.
The seven 2023 award winners embody many important characteristics that so many Huskies share, including integrity, innovation, empathy and grit.
"This is an outstanding group of alumni who have made such an impact on their communities and NIU," said Reggie Bustinza, executive director of operations and alumni engagement. "These individuals' brilliance has cast a radiant light upon their alma mater, inspiring all who follow to reach for the stars and strive for greatness."
•
Kenneth P. Quinn, '82 (COB) – Distinguished Alumnus Award
As senior equity partner for Clyde & Co LLP, Kenneth P. Quinn acts as litigation, regulatory, enforcement, antitrust, and commercial counsel to several domestic and international airlines, aerospace companies, lenders/lessors, private equity/hedge funds, online travel and social media companies, airport developers, and other aviation companies. He has represented many companies over the years on a wide variety of drone and high technology ventures. Quinn's experience also includes his positions as General Counsel and Secretary of the Flight Safety Foundation (1993 – present), Chief Counsel of the US Federal Aviation Administration (1991-1993), counselor to the U.S. Secretary of Transportation (1989-1991), and senior advisor to the U.S. Office of the President-Elect (1988). He was named a Fellow of the Royal Aeronautical Society in 1997, serves on the Board and as counsel to its D.C. Branch, and served on the RAeS Membership Services Board in London, England, since 2012. Quinn served on the Board (2012-2016) and as President of the International Aviation Club (2015-2016). He was Chair of the American Bar Association Forum on Air & Space Law (1994-1996), serves on its Executive Committee (1994-present), and was Editor-in-Chief of the ABA's The Air & Space Lawyer publication for 13 years.
•
John J. "Ski" Sygielski, Ed.D. '98 (COE) – F.R. Geigle Service Award
John J. "Ski" Sygielski knows first-hand how education can positively impact a person's future. Growing up in Cleveland, Ohio, he was a member of a working-class, devout, Roman-Catholic family, and worked hard at St. Ignatius Jesuit High School in Cleveland. He was the first college graduate in his family, beginning his collegiate experience at Marquette University in Milwaukee. He earned his bachelor's in philosophy and education with honors from St. Alphonsus in Suffield, Connecticut, followed by his M.S. and M.B.A. from Aurora University in Aurora, Illinois. Today, Sygielski has had a two-decade-long tenure as the first gay president of Harrisburg Area Community College (HACC), Central Pennsylvania's Community College in Harrisburg, Pennsylvania. Sygielski, known as "Dr. Ski" to his college community, sees himself as a student advocate, serving over 1,300 employees, 19 trustees and more than 20,000 students daily.
•
James G. Alford, '16, M.S.Ed. '17 (CLAS, COE) – Outstanding Young Alumnus Award
James G. Alford is a higher education professional dedicated to student success. With experience in academic advising, working with student organizations and mentoring programs, Alford has also been heavily involved in the Illinois TRIO organization that helps students from disadvantaged populations achieve post-secondary education success. Alford is currently a cohort advisor for the College of Business at the University of Illinois at Chicago (UIC). He was previously an academic advisor in the School of Media Arts at Columbia College Chicago and, prior to that, was a student success specialist in what is now the Office of Student Success in the College of Education at NIU. He has also been teaching courses for the past year at UIC and also been highly engaged there as a member of organizations including the Black Emerging Leaders Academy and the Advisory Committee for Black Student Access, where he was named co-chair this past June. He has also been involved in professional organizations including the Metropolitan Board of the Chicago Urban League and the Constitution By Law NIU Greek Alumni Committee.
•
Timothy R. Kuncis, '96 (CVPA) – Alumni Achievement in the Arts
In 2017, after two decades working for the Chicago Board of Trade, Timothy R. Kuncis followed his passion and founded Barnwood Sports LLC, a company that creates handmade museum-quality baseball memorabilia pieces. This perfect marriage of Kuncis' passion for sports and art has led to his company's pieces being carried by major league ballparks, The National Baseball Hall of Fame, and the MLB Network studios, to name a few.
• Natasha L. Miller Williams, '99 (COB) – Alumni Achievement in Business and Industry
Natasha L. Miller Williams is the CEO and founder of Work Hearter Consulting. Most recently, she served as the first vice president of diversity, equity and inclusion for Ferrara, Inc. Prior to her tenure at Ferrara, she held executive positions at the technology and media company Nielsen - as vice president of diversity and inclusion, and vice president of talent engagement and development. In addition to her bachelor's degree in marketing from NIU, Miller Williams has earned an executive M.B.A. from the Jack Welch Management Institute.
•
Dartesia A. Pitts, J.D. '05 (Law) – Alumni Achievement in Public Service
Dartesia A. Pitts serves as the Senior Government Relations Manager for San Francisco based direct-to-consumer digital health care company, Hims & Hers. In this position, she travels nationally to promote, educate and influence state policy related to ensuring access to health care for all. Prior to this role, she served as the General Counsel and Deputy Chief of Staff for Policy and Legislation for the Office of the Illinois Lieutenant Governor, Juliana Stratton. She served as president of the Cook County Bar Association during the 103rd year. Besides her traditional legal practice, she serves as a legal commentator on national cable and local network television shows, including Fox's "Swift Justice with Nancy Grace" and TVOne shows "Fatal Attraction" and "Justice By Any Means." She has been recognized as an Illinois Super Lawyer Rising Star, an Emerging Lawyer of Illinois and as a Forty under 40 recipient for both Chicago Daily Law Bulletin and the National Bar Association. In 2020, she received the National Bar Association's Young Lawyers Division Chairman's Award. Along with earning her juris doctor from NIU, Pitts, who hails from the South Side of Chicago, earned a bachelor's degree in history with distinction from Kenyon College in Gambier, Ohio. Additionally, in 2018, she was awarded for her excellence in leadership and service by the NIU College of Law, and in 2019, she was conferred an Honorary Doctor of Law by Kenyon College.
•
Gilbert A. Ankenbauer, '73, M.S. '75 (CLAS) – Alumni Achievement in the Sciences
Gilbert A. Ankenbauer credits NIU with sparking a passion that led to a 40-year career with the Chevron Corporation. NIU is where he studied under Dr. Samuel S. Goldich and developed his passion for geology, and it's where he made and deepened friendships that would follow him through his long and successful career in the oil and gas industry.

The annual awards banquet will be held at noon on Friday, Oct. 13, at the Barsema Alumni and Visitors Center on campus.

To RSVP, contact Dana King, '05, at 815-753-5421 or dking1@niu.edu by Oct. 5.